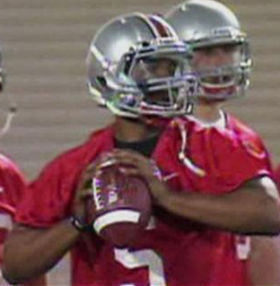 Good morning Buckeye fans and welcome to this start-your-week-off-right version of Monday Skull Session. Spring practice has been the buzz across the nation and thing's are no different in Columbus, Ohio where the weather is heating up and the position battles are as well.
There may not be a more attention-grabbing spring in the history of Ohio State football than the one we are currently going through. The story lines, emerging stars, coaching questions, and talented group of youngsters that have joined the fold for the spring session are headlining what is turning into an exciting April. Being that we are less than two weeks away from the annual spring game, we only have so much time to keep the excitement level up, unless of course you think the Indians can somehow play this quality of baseball for longer than the first 10 games of this baseball season.
News has certainly been calm this weekend, so while we normally use Skull Session to keep you abreast of the latest going on around Buckeyeland and the rest of the country, we figure we'll keep the buzz humming this Monday morning and add some more spring nuggets for your pleasure in addition to these gems Johnny provided you with over the weekend. It's time to sit back, relax, and let the sweet serenity of Skull Session take you over as we hop into your Monday morning madness now.
The Defense. Everyone is so worried about how OSU will replace Terrelle Pryor, DeVier Posey, Boom Herron, and Mike Adams that they totally forget about the reloading the team is trying to undergo on the defensive side of the ball. Luke Fickell and Jim Heacock need to replace Cameron Heyward, Dexter Larimore, Ross Homan, Brian Rolle, Chimdi Chekwa, Devon Torrence, Jermal Hines, and Aaron Gant from last year's edition of the Silver Bullets and it won't be easy.
Starting from the back and working up, CJ Barnett appears to be healthy and will take back over the strong safety position, while it appears Orhian Johnson grew some cajones this off-season and has brought a new attitude to the free safety spot. Christian Bryant and Nate Oliver are getting all the reps at the STAR position for now, but Tyler Moeller will surely at least be splitting time with Bryant there upon his return this fall from a torn pectoral muscle. At corner Travis Howard is continuing hsi journey to be the next big thing at the position, while Dominic Clarke has seen the majority of the reps alongside him on the first team. Dionte Allen and Bradley Roby are the second teamers as of now, but the battle for the spot opposite Howard will go down until the first game of the year between those three and freshman Doran Grant who enrolls at school in June.
Replacing Homan and Rolle are Etienne Sabino and Andrew Sweat. Sweat moves from the SAM position to the WILL position, and it appears he hasn't missed a beat in filling Homan's shoes both as a player on the field and a leader in the locker room. Sabino has seen the game slow down for him since taking a "voluntary" redshirt last season and will have two more years to dominate at the MIKE position for the Bucks. Taking Sweat's position at SAM is a battle between Jon Newsome, Storm Klein, and Dorian Bell, but if I had to call it right now, I'd say Bell has the early lead.
Finally, replacing Heyward and Larimore won't be easy, but this group of defensive linemen appears to be hungry for greatness. Nathan Williams returns at the LEO position and will be backed up by Solomon Thomas (after 5 games) and redshirt freshman JT Moore. The rest of the line will be made up of a rotation of Jonathan Hankins, John Simon, Adam Bellamy, Garrett Goebel, Melvin "Safari Planet" Fellows, Darryl Baldwin, David Durham, and surprising early enrolling freshman, Joel Hale. I'm not sure right now who will get the starting nod but one thing I do know is that this is one very talented group.
The Offense. The offense can basically be broken down into two seasons-one for the first five games (sans Tat Five) and one for when Pryor and company return from suspension. For the sake of spring ball and fall camp, we'll mostly be focusing on season one, as it will be imperative to find the right pieces to keep the ship sailing smooth through those first five games. Obviously everything starts with the quarterback battle, where Joe Bauserman currently has the lead. As Johnny mentioned, Bauserman looks the most poised and under control of the offense, something Jim Tressel will be looking for with an inexperienced receiving corps and moving pieces on the offensive line. It will be interesting to see where things go as Braxton Miller continues to pick things up from a mental stand point and I can definitely see a Bauserman-Miller combination being the formula used down at Sun Life Stadium during the third week of the season.
Other battles to note come on the offensive line, at running back, and at wide receiver. The line has done some shifting with Marcus Hall, Andrew Norwell, and Jack Mewhort all seeing time at left tackle with the hole Mike Adams is leaving. Hall is the likely man to win that job as of today, so expect to see him there on opening day. At left guard, Mewhort seems likely to fill the big shoes of Justin Boren, with Norwell providing some flexibility there as well. While Mike Brewster holds steady at center and JB Shugarts appears healthy at right tackle, the right guard position is being manned by Corey Linsley with super emerging walk-on, Ivan Blackman (as well as Mewhort/Norwell/Hall) backing him up. As you can see, the Bucks are running kind of thin on the o-line and the staff has taken some flack recently on the way they recruited that position the past few years.
At running back, Jaamal Berry and Rod Smith have been the talk of the town thus far and would make a really good one-two change of pace combo. Jordan Hall continues to make big plays, and it appears there may be a place for him as a do-it-all running back/wide receiver. Carlos Hyde is coming along nicely to and would start at pretty much every other Big Ten school, but right now it's looking like the other three are stealing the spotlight. At receiver DeVier Posey is head and shoulders above everyone else, but the pecking order after him is Corey "Philly" Brown, Chris Fields, Verlon Reed, T.Y. Williams, and James Louis. The two surprises here are that Verlon Reed is running with the second team and that James Louis is at the bottom of the barrel. If you asked us last year about these two, you would have heard that Reed would be a safety and that Louis was the next Santonio Holmes. Funny how things work out some times and it will be interesting to pay close attention to how things unfold the rest of the spring.
A guy walks into his car from a bar in South Bend. And his name is likely Michael Floyd. The stand-out, sure-fire first round NFL pick who decided to remain at Notre Dame only to get arrested for suspicision of drunked driving shortly after, was cleared to stay at the school. The incident was Floyd's third involving alcohol since arriving at the school, and somehow it's worse to sell something that appears to be yours rather than break a law for the third time. While coach Brian Kelly claims Floyd will have to earn his way back onto the roster, I'll be anything but shocked if the star isn't lining up at receiver to start the Irish's 2011 campaign.
Ever wanted your own life-size Time Tebow statue? Well now you can have one, kind of. All you have to do is take a little trip down to Gainesville, Florida where the Gators' athletic department has built three life-sized statues of the schools' Heisman winners, Steve Spurrier, Danny Wuerffel, and Tim Tebow. The sad part is that young Gators fans think the second guy is some type of breakfast dish and that while Spurrier and Wuerffel are pictured throwing the ball, Tebow's statue shows him tucking and running. When asked about the pose his statue was built to, the all holy one said "That's fine. You have to change it up. We can't all be throwing." Good luck trying to tell that to your new coaches in the NFL Timmy.
Just for fun. Not that they really have that much merit to them, but I often like to look at future mock drafts and see where the "experts" have OSU players being takenn. That's just what I did as I was squandering for any other bits to put into today's edition of Skull Session and I found some interesting stuff. NBADraft.net has taken Jared Sullinger and William Buford off their draft boards and has them going 5th and 29th respectively in the 2012 draft. Interesting not to see DeShaun Thomas's name anywhere on their list, but they did have David Lighty going 39th to Milwaukee in this year's draft.
Flipping to the gridiron, Walter Football has only one Buckeye being selected in the 2012 first round, and that is Michael Brewster. I think Mike Adams will be a definite first rounder as well when things are all said and done and Terrelle Pryor and DeVier Posey can also play themselves into round one with solid senior seasons when they return from suspension. As for 2011, the site has Cam Heyward going 26th to the Ravens this year, a move that would put a pain in most of our readers' hearts. It has been the consensus Heyward fits best in Baltimore, Pittsburgh, New York (Jets), New England, or Green Bay as a 3-4 end, so look for one of those teams to grab him in the first round.