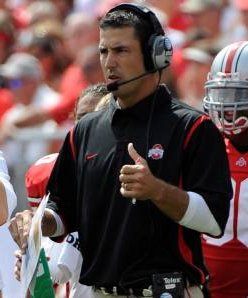 Exactly 21 Saturdays from now, Luke Fickell will be the first head coach not named Jim Tressel to lead the Buckeyes onto the field since January 1, 2001. That's quite a long time to have a known commodity leading your favorite program. 
Of course, it's not quite as dramatic as that considering Tressel's (tramp) stamp will be all over the team "24/6". Still, even if Fickell is more of a symbolic figurehead for a minimum of five Saturday's this fall, you have to believe the team will rally around him and sell out to avoid putting him in position to answer unfair questions.
Where it gets dicey for me is that I'm used to the head coach being the guy that runs the offense. With Tressel forced to watch on TV like the rest of us and Darrell Hazell having moved on to the top job at Kent State, that means Jim Bollman figures to be the man calling the plays as the Buckeyes attempt to score points with some fresh faces on the offensive line, a potential QB by committee and a slew of questions in the receiving corp complimenting a talented stable of running backs. Knowing Fickell's pedigree is ostensibly on the defensive side of the ball, one has to wonder if he'll have any input whatsoever on the offensive side with a few exceptions such as deciding whether to go for it on 4th down, punt, or attempt a field goal.
Regardless of which coach technically runs the offense on gameday, there's a very significant chance that Tresselball as you know it could feel more like an arena league attack compared to what we see early next fall based simply on personnel.
At this point, it's hard to fathom three QB's not seeing action in the first two games. While it could be necessary to truly determine which one sees the bulk of snaps at Miami in week three, it could also hinder the passing attack. Clearly, this team, sans Pryor, Posey and Dane, is largely unproven and inexperienced at both QB and the receiver spots and with rotations occuring at those respective positions, it seems logical to think in-game synergy and trust between QB and receivers might take awhile to develop.
Meanwhile, the offensive line charged with giving unproven QB's time to throw will be breaking in a replacements at left tackle, left guard and right guard. Miscommunication in pass protection and/or general blocking issues could further stunt the growth of the passing game led by QB's susceptible to youthful happy feet and green receivers not adjusting routes at the line of scrimmage.
As a result, it seems likely the offense leans on the strength of its running backs and virtually abandons the downfield passing attack in favor of an game plan that attempts to spread the field by passing laterally via bubble screens, traditional screens to running backs with some quick slants and outs sprinkled in. From what we've seen and heard so far this spring, we could also see the offense exploit the depth at running back by lining up guys like Hall and Berry in the slot, out wide or in the old Shot-Ginn formation in hopes of getting slippery speedsters the ball in space. Those passes, seemingly, will play second fiddle to a strong desire to run the ball with designs on controlling the clock and.
One exciting potential silver lining of having an offensive line attempting to break in three new starters should be the need for a mobile quarterback. Obviously, this creates an opportunity for Guiton and Miller to show their effectiveness when the play breaks down, something Pryor made a living off of during his freshman campaign behind a potentially similarly leaky offensive line in the early going.
With the current cloud hanging over the program and the probable impact the suspensions will have on offense, I'm looking at these first five games not as throw away games by any stretch but definitely with an eye on the future. These days, nothing short of a national title is the true goal and with all the adversity, with the season seemingly split in two, it's hard to imagine running the table and that doesn't even consider what happens when the suspended players/coach return just in time for a trip to Lincoln.
Regardless, the intent of my post is to get your thoughts on how you see the offensive attack unfolding without Pryor, Posey, Boom, Adams and Tressel. What happens at QB? How will the RB's be employed? Will any receivers emerge or will they be virtually hidden by QB play and the gameplan? How will the offensive line help or hinder the passing attack? Do you expect an ultra-conservative gameplan? Am I asking more questions than the end of a Batman episode?