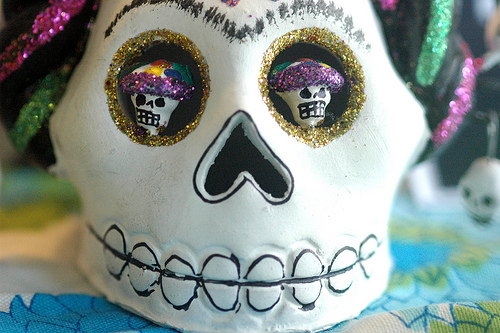 Happy Tuesday everyone, and welcome to your morning Skull Session. Regionality in Ohio fans with regards to Ohio professional and college sports teams has always fascinated me. I'm originally from southwest Ohio, about 30 miles north of Cincinnati, and the Reds and Bengals have been my teams since I was a little kid. I knew the Browns and Indians existed, of course, but I never really thought that anyone outside of Cleveland cared about them. Of course, then I get to college and find out that pretty much everyone north and east of the Miami Valley thinks Cincinnati sports suck.
I've had some similar experiences concerning college sports; Ohio State was always top dog in football, of course, but for college basketball Bob Huggins, the Bearcats, and anything involving a promotion for Skyline Chili was all I ever cared about. But even within so close proximity to UC, all of my Catholic friends were all about either the University of Dayton or Xavier (which in retrospect was probably the better horse to bet on in the long run). I remember the DJ giving the students constant score updates of the Crosstown Shootout during my freshman year homecoming dance, and then after Xavier came from behind to win, I remember very specifically telling everyone that in a couple of years Xavier would hire a guy from Butler and then he'd leave for Ohio State and they'd be mad, and I'd laugh and laugh and laugh.
New Bracketology! Probably not something too many of us would've predicted four or five games ago (although maybe more of us should have), but the basketball Buckeyes have now lost 2 of their past 3, albeit on the road to teams who combine for exactly zero losses at home. Still, in most seasons that would be enough to make any resume look a little shaky. This season is not most seasons, and with the top ten teams taking hit after hit in recent weeks, ESPN's Bracketology still has OSU as a #1 seed. Interestingly, instead of Xavier, a potential 2nd round matchup would now be Cincinnati, which despite what you may infer from the above would lead to absolutely no conflict of interest. Unless they tried to ply me with chili, I'm a sucker for that stuff.
Speaking Of March Madness... ESPN takes a lot of (justified) heat in the blog world, but sometimes they can pump out some pretty cool stuff, like this neat summary of a given basketball team's history in the NCAA tournament. Two cool things: Jerry Lucas, who grew up balling on a court literally two blocks from my childhood home, is pretty clearly still the man, and OSU is 7-2 all time against the SEC in tourney play, victimizing Kentucky a crazy 5 times.
See You Soon Matt Hinton, aka Dr. Saturday over at Yahoo Sports, summarizes the recent mid major hires in the college football world, including that of Darrell Hazell to the Kent State Golden Flashes. Hinton rates the hire a C+, citing Hazell's lack of experience actually being a coordinator. Which I guess makes sense on paper but Hazell has never received anything but universal acclaim from his players as a WR coach, and I don't think his other title (Assistant Head Coach) was anything to sneeze at. Hazell is a terrific football mind and definitely has the work ethic and personality to turn that program around.
For a maximum of five years. Then I feel like another position might open up for him. Just sayin'.
All Hail King Threebler In conference play Jon Diebler is attempting about 4 fewer three point shots than he did in non-conference play, but who cares about that because he's the new all time leader in three pointers made in the Big Ten. Number 333 was a pretty mundane basket, but 332 was a thing of beauty, awkwardly shot but impeccably aimed, hitting the bottom of the net as the shot clock wound down. Big ups to Diebs, who I'll refrain from giving the business to like I used to in his early playing days.
"It could have happened a year ago if he had shot well as a freshman," Matta said with a smile.
AW BUT THAD MATTA WON'T, YA BURNT SON. BLAMMO!
From The Great White North I'm always interested in outsider stories, and it seems like a young QB from Canada is attracting some recruiting attention. Not sure if he'll land an OSU offer, but hey, never say never.