Act like you've been there before.
Those are words a wise man once told me about being a sports fan and I've tried throughout my life to "act like I've been there before" when it comes to rooting for my favorite teams. In case you're not familiar with the phrase, it refers to having the mindset of a winner and acting professionally as a fan when rooting for your team, and more importantly when in the presence of opposing fans or even the players from the opposing team.
Acting like you've been there before doesn't mean you can't get excited when your team does well. It doesn't mean that you can't bask in the glory that comes with your favorite team's successes, especially when that said team isn't traditionally a winner. It doesn't mean you can't have a little fun or act in jest to visiting players and their fans. What it does mean, though, is knowing the line between having good fun and taking things a little too far in celebrating victory, a line that the Wisconsin Badgers fans apparently don't know exists.
Many people had a problem with Wisconsin rushing the court yesterday. I couldn't care less. Yes, the Badgers were two point favorites at home, had a 149-11 record under Bo Ryan at home, had never lost to OSU at the Kohl Center, and were the #13 ranked team in the nation, so I see the point that rushing the court isn't necessarily acting like you've been there before. I don't have a problem with it though because college basketball is about the culture and the fun that come with things like beating the #1 team in the country, who was 24-0 coming into the game. When fans rush the court following a victory like that, it allows college sports to provide fans with something that professional sports cannot bring to the table. What I do have a problem with is what apparently happened when the Wisco students stormed the court after the win, as told by Jared Sullinger via Twitter: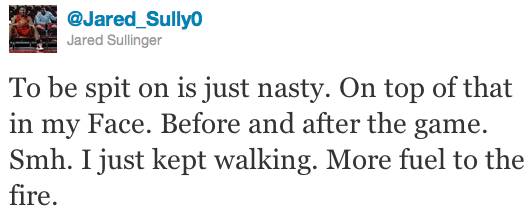 Now I don't want to pile on Wisconsin. That's not my goal here, and I've been to Madison before and have been treated just fine by the host school, but after hearing that fans spit in Jared Sullinger's face, I was fuming. It was the same feeling I had felt when I heard that Penn State students had thrown bags of urine at The Best Damn Band in the Land when the Bucks visited Happy Valley for a night game in 2005 (Tamba Hali from coming from the blindside still give me nightmares). It was the same feeling I had in 2007 when I saw a Nittany Lion fan punch a woman in the back of the head just because she was wearing Scarlet and Gray. It was the same feeling I had in Ann Arbor a few years back when I saw about 20 eggs get thrown at the OSU student radio staff, who were dressed up in suits and ties on their way to the game and not causing any conflict en route to The Big House press box.
It was a feeling of disgust and disbelief and I was in shock that someone could sit there and rationalize going up to a 18 or 19 year old young man who is a straight up class act (just look at his reaction to the incident), and just hock up a loogie right in his face. I'm sure Ohio State fans have done some pretty bad things to opposing fans over the years, but not once have I seen anything like this done by a Buckeye. Once again, I'm not saying it's never happened. People get drunk and do stupid things all the time at sporting events, and especially collegiate sporting events, but if I ever saw an action like this taken by a fellow Buckeye, I would be embarrassed to be a part of that fan group.
I write this post not to call out opposing fans or lecture you and your methods of rooting for your favorite teams. At Ohio State we preach excellence and expect it from our athletes, administrators, coaches, and most importantly, our fans. What happened to Jared Sullinger on Saturday should not happen to anybody at any level of competition and I hope that as Buckeye fans we can make a collective effort to ensure it doesn't ever happen in Columbus. 
In the coming weeks, months, and years, Ohio State will play in many heated games in which the opportunity that presented Wisconsin on Saturday will surely present itself to the Bucks. Go ahead, have your fun and rush the field or storm the court in celebration. But when you do, remember what happened to Jared Sullinger on February 12, 2011 in Madison, Wisconsin, and just think twice before you act irrationally and do something that would not represent Buckeye Nation well. I hope you all can act like you've been there before, because that's what is part of making rooting for Ohio State the great honor and privilege it has grown to be.