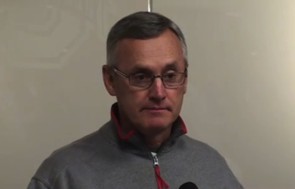 Welcome to your Wednesday Skull Session, ladies and gentlemen. Jim Tressel and selected players met with the media yesterday and right off the bat, the coach was asked about similarities between the Arkansas offense and other teams the Buckeyes have faced this year. While remarking about how all offenses share some of the same concepts, Tressel outlined a starting point to start putting the defensive gameplan together from:
Now, typically you comb through all the films and say, okay, which team are they attacking who deploys similar to the way we do, what's their conceptual thinking against our style of defense or our style of offense, so you have a little bit of time to do that.
Tressel then went into what makes a Petrino offense so dangerous:
They do a good job of getting a feel of how you are going after them defensively and then because of their versatility, they can say, okay, they're trying to stop this and we'll go to that. And they do spread the ball around. Ryan is a veteran guy.

I think just systematically, and I've watched probably more of their offense so far in this early time than I have of their defense, systematically, I think they do a great job of knowing what you're trying to do and attacking you with the thing they know hurts those coverages or those deployments or so on and so forth. You better not go in there with just one thought because they'll figure it out and they'll adjust and they'll stall you pretty good. So you better, in my mind, have a lot of different things ready to go and then get in the midst of that chess match. And what's fun about games is some games you're out there and you're always a step ahead of them and then there's other games that, man, it seems like they're always a step ahead of us, and that's football.
So, to summarize: study what they feel comfortable doing against similar defenses so Ohio State has an answer for that and then be ready to show a couple of different looks from the defense to keep Mallet and Co. on their toes. Oh, and they might just take a good look at the Auburn tape to see what worked on the way to putting up 65 on the Razorback defense.
In personnel updates, Tressel mentioned he put in (or is in the process of putting in) the NFL paperwork on five juniors, but he refused to name them. This is pretty routine and as a coach at this level, you owe it to your top players to at least seek an evaluation from the league. As for the five, there are only eight juniors that saw significant action this year: Williams, Sweat, Pryor, Boom, Posey, Adams, Brewster and Shugarts. You can cross JB off the list because of injuries and a case of the false-startsies and Sweat didn't see enough snaps and is nowhere near ready, so that leaves the six. Brewster, Posey and Boom are most definitely in that group, but picking the remaining two out of Williams, Pryor and Adams is a little trickier.  My hunch is that the final two are Pryor and Adams.
We also learned that Christian Bryant is back and practicing and that Pryor should be fully operational for the Sugar Bowl, after getting dinged in the Iowa game. Further, Rod Smith has been tearing it up in team's "showtime" sessions where youngsters are allowed to step up a little and show their growth. Ty Williams also apparently making some waves and if the two of them come into their own together, future offenses could be scary. On a similar note, word emerged that Marcus Hall has been getting looks at guard, which is where he might have to play next year if he wants to, though a switch back to tackle after Shugarts and Adams leave in 2012 is not out of the cards.
The disbanding of the Iowa football team was nothing like it was advertised to be. After a tumultuous couple of days that spurred rumors of dozens of players failing drug tests in the aftermath of the Johnson-Koulianos arrest, a long-awaited press conference was convened and head coach Kirk Ferentz and athletic director Gary Barta said... basically nothing. No additional suspensions, no booster run crack houses, not even a link between running back Adam Robinson's suspension and a mind-altering substance of any type (grades were the culprit in his case). Barta did say there was evidence to suggest athletes had found ways to beat drug tests in the past, but wouldn't elaborate.
At any rate, this is a team in disarray. If you can still make a Missouri bet, do so now, but be advised that some casinos have already taken the game off the books.
So you're visiting? Won't you stay a while? Plantation (FL) linebacker and Gator commit Ryan Shazier is in town today and will be through Friday. If the frigid air doesn't scare him off, there's a decent chance Ohio State can swoop in and steal the Under Armour all-American as he slated to make his final decision after he returns to Florida. They say you always want to get the first or last official visit, so this sets the Buckeyes up nicely and Shazier's close friendship with Jeremy Cash won't hurt our chances either. Speaking of final visits, the nation's top recruit Jadeveon Clowney (Rock Hill, SC) is set to visit Columbus on January 28th, which is great news, though when asked Monday to name his top five, he didn't have the Buckeyes in that group, so we'll keep treating his recruitment for what it is: not likely, but one hell of a lottery of Tressel and the staff can pull it off.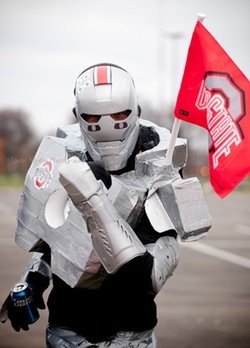 Finally, Glenville offensive lineman Audrey Walker just completed his official visit and was paired with former Tarblooder Marcus Hall as his host. He hasn't set a date for his decision yet and his top two are believed to be Ohio State and Michigan State.
A slap on the wrist for secondary violations might be a thing of the past. Every major power commits plenty of them, whether in the form of texting a recruit, providing a game-like situation on campus, exceeding call limits or making contact on social networks, but an AFCA proposal to attach suspensions for coaches guilty of these violations should be welcomed. So many of these are hard to catch and even harder to prove (except when they're not), but having penalties in the boks is a move in the right direction for the embattled NCAA.
Briefly: In the wake of Tennessee's road win over Pitt Saturday, the Buckeyes consolidated their hold on the #2 ranking in each major poll. Duke still sucks... The Mansfield campus could use a loan consisting Matta and Sully (and Lighty, and Diebler, and Buford) seeing as how they were trounced 157-57 by West Virginia Tech on Sunday. Yes, you read the correctly -- they lost by 100. But it's not a record for margin of victory. The Marion campus lost to Lincoln University by 123 points in 2006... Another fan hit up a tailgate tour this fall, but the photos from The Game set this one apart. Click for the coeds, stay for the WARNUT!