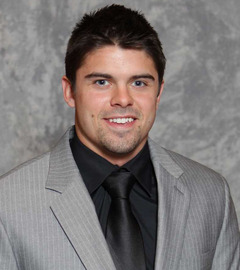 The Buckeyes held their annual football banquet this evening and I'm happy to report no hipster pop was played.  Awards were handed out however and Dane Sanzenbacher captured the team MVP for a season in which he led the team with 52 receptions for 889 yards and 10 touchdowns.
When Dane was running around as a freshman and sophomore getting popped in games, I questioned his size and whether he should be playing for the Buckeyes, but today I'm more than happy to help myself to a large serving of crow. The kid is a baller and will be missed when he's gone.
Other award winners:
Archie Griffin Award (Outstanding Offensive Player): Terrelle Pryor
Bill Willis Award (Outstanding Defensive Player): Cameron Heyward
Jim Parker Award (Offensive Lineman of the Year): Justin Boren and Bryant Browning
Jack Stephenson Award (Defensive Lineman of the Year): Dexter Larimore
Randy Gradishar Award (Linebacker of the Year): Brian Rolle and Ross Homan
Arnie Chonko Award (Defensive Back of the Year): Chimdi Chekwa and Jermale Hines
Rex Kern Award (Offensive Back of the Year): Dan Herron
Ike Kelley Award (Special Teams Player of the Year): Devin Barclay
Top Freshman Offensive Player: Corey Brown
Top Freshman Defensive Player: Johnathan Hankins
John Galbreath Academic Award: Jake McQuaide
SAE Homecoming Game Standout (Purdue): Andrew Sweat
Michigan Game MVP (WW Hayes Award): Brian Rolle
Jim Marshall Warrior Award: Brandon Saine and Aaron Gant 
Congratulations are in order not only for all of the winners mentioned above, but for all of the members of this senior class.
In a bit of other banquet news, athletic director Gene Smith told the attendees that the Sugar Bowl was essentially a lock.  So, we'll see you again in New Orleans on the 4th.