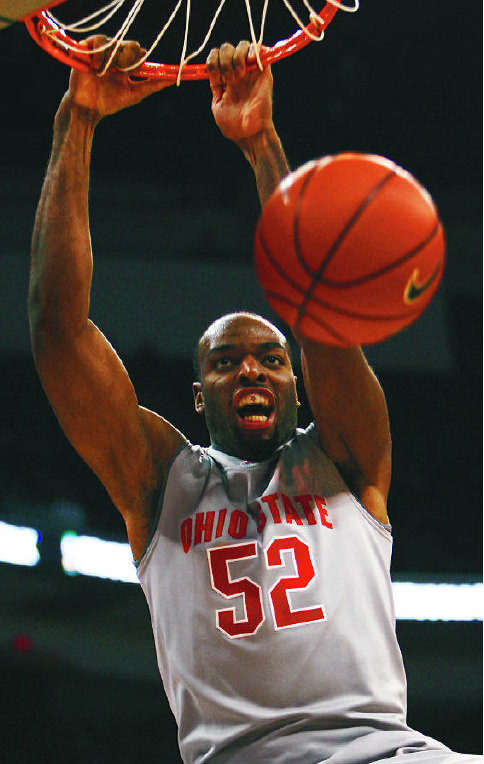 Early on it looked like it was going to be another pick your poison type game where one of Ohio State's stars would score 30 points. Jared Sullinger scored the first eight points, but was held scoreless the rest of the first half. Instead it turned into a balanced effort as six Buckeyes scored in double figures as No. 2 Ohio State rolled to a 92-63 victory over Oakland.
The win improves the Buckeyes' record to 12-0. It is the best start since 1990-91 when Ohio State won its first 17 games.  
Deshaun Thomas led the Buckeyes with 17 points. He also had six rebounds. Sullinger had 16 points and nine rebounds. David Lighty and Jon Diebler each had 13 points. Lighty pulled down four rebounds while Diebler dished out four assists. William Buford added 12 points and six assists. Aaron Craft had arguably his best game as a Buckeye, scoring a career-high 12 points with seven assists and four steals. He left the game with what appeared to be leg cramps late in the second half. Much of the excitement, though, came from Dallas Lauderdale's six blocked shots.
The Buckeye defense was active all night, forcing Oakland into committing 20 turnovers (10 each half). Meanwhile, Ohio State had a season-low five turnovers. The Buckeyes also had 11 steals and six blocked shots. It appeared that the fatigue factor might have had somewhat of an effect on an Oakland team that was playing its fourth game in six days. Ohio State limited the Golden Grizzlies to 38 percent from the field and behind the arc.
The Buckeyes held Oakland to three points the first six and a half minutes before the Grizzlies finally got things going. After taking a 12-3 lead, the teams scored an even 25 points the remainder of the half as the Buckeyes led 37-28. Much of the scoring for Oakland came when Sullinger picked up his second foul and left the game. Five of Oakland's field goals were of the three-point variety.
Sullinger had eight points and seven rebounds in the half while Lighty and Diebler each had seven points. Buford contributed six points and four assists. Ohio State had nine assists on 14 made baskets.
Thad Matta finally got his wish as the Buckeyes came out and hit the floor running in the second half. They went on an 11-3 run to build a 17-point lead that eventually grew to 37. The Buckeyes used a 32-5 run to put the Grizzlies away.
Oakland center Keith Benson, projected as a first round NBA draft pick by many, was rendered non-effective going up against Sullinger and Dallas Lauderdale. He fouled out with 8:3 remaining in the game and scored just eight points on four-of-eight shooting. Benson had 10 rebounds (three offensive) and one block.
The Grizzlies had been extremely competitive against Big Ten and SEC schools this season. They won at Tennessee and nearly defeated Michigan State. The Buckeyes encountered little resistance, though.
Jordan Sibert, Lenzelle Smith Jr. and JD Weatherspoon played the final four minutes. Sibert made a three-pointer while Weatherspoon had another monster dunk. Weatherspoon and Smith each had a rebound and an assist.
Ohio State returns to action Monday when they take on Tennessee-Martin at 8:30 at Value City Arena.