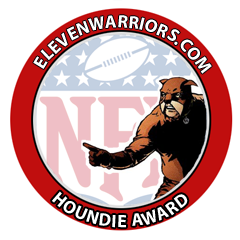 The Houndie is an award formerly known as the Buckeye NFLer of the Week.  After two years of existence, we searched for a catchier name, so with the help of a well placed typo and the ensuing 11W comments, the current title came to be.
This was the last weekend for byes in the NFL and through nine games, we're starting to find out which teams will be making a run into the playoff and which teams will be playing things out for a top draft pick.  The Jets, Falcons and Patriots appear to belong to the former group, while the Browns at 3-6 and the Bengals at 2-7 (including a fresh six-game losing streak) are slotted in the latter.
Fresh off a season-ender for the Colts' Anthony Gonzalez, kicker Mike Nugent was lost for the season after tearing his ACL in a 23-17 Bengals loss to the Colts in Indy.  Prior to the injury, Nuge hit a 27-yard field goal and was 2/2 on extra points, but you can't not feel for a guy who was just starting to emerge as a kicker in the NFL. In other injury news, Arizona running back Beanie Wells was inactive, but you're probably not too surprised by that.
Last night, the Buckeye Twitterverse was alive with commentary on Kurt Coleman's first career start as a Philadelphia Eagle. The former OSU captain turned in a strong performance, finishing with 4 solo tackles and a huge early interception that helped spark the Eagles to a 59-28 stomping of the Washington Redskins.  Can someone tell me again how this kid slid to the 7th round?  On the other side of the ball, Joey Galloway, 17 years Coleman's senior, was held without a catch on the evening.
In Buffalo, the Bills held off the lowly Lions for their first win of the season. Donte Whitner had six solo tackles to help spur Buffalo's defense, while Bobby Carpenter recorded one tackle and one assist for the Lions in the loss.
Unable to capture any Penn State-related mojo this weekend, former two-way stud Chris Gamble finished with a tackle and an assist in a 31-16 Carolina loss at the hands of Tampa Bay.  It's been a rather quiet year for Gamble, who is stil in search of his first interception of the season.  Meanwhile, Antoine Winfield, another former OSU defensive back, recorded five tackles in a loss to Chicago. Like fine wine, Winfield seems to coming on with age.  Rounding out the former members of Ohio State's secondary, Donald Washington continued to prove he belongs in the NFL with a two tackle performance in Kansas City's blowout loss at the hands of Denver.
Former Buckeye receivers had a nice weekend with Brian Hartline catching five balls for 98 yards in Miami's 29-17 win over Tennessee and Santonio Holmes chipping in five receptions for 76 yards, including the game-winning touchdown over the Browns.  The receptions and yardage numbers were both season highs for Hartline, who continues to prove many of us wrong by putting up numbers in the NFL.
The biggest game in the NFL over the weekend from a Buckeye perspective was unquestionably the 49ers overtime victory over the Rams in San Francisco.  Featuring a combined eight former Ohio State players on the two rosters, the Rams got defensive contributions from Na'il Diggs (three solo tackles) and James Laurinaitis (three solo tackles, two assists and a sack), while the 49ers got six tackles out of defensive back Nate Clements (Clements also had an early interception return negated by penalty) and three kick returns for 42 yards from Ted Ginn Jr.  The star of the game, however, was San Francisco quarterback Troy Smith.
Earning his second win for the 49ers in as many starts, Smith went 17/28 for 356 yards and a touchdown strike to Michael Crabtree to put the Niners up with just over two minutes to play.  The pass was vintage Smith as he was pressured and rolling to his left before finding Crabtree between two defenders in the endzone.  Prior to that, Smith completed passes to Frank Gore to convert both a 3rd-and-32 and a 4th-and-18.  Later, when the Rams tied the game with a late field goal, Smith hung in the pocket with a pass rusher on his back to deliver a throw to Delanie Walker which drew a pass interference call, moving the Niners into position for Joe Nedney to kick the game-winner.  He was making plays, having fun and inspiring his teammates for the first time since November of 2006 and Bay area fans finally have something to look forward to on Sundays.
With incumbent Alex Smith set to return, San Francisco coach Mike Singletary has yet to name a starter for next weekend's game but if he knows what's best for his team, he'll tab this week's Houndie winner to lead the 49ers again.