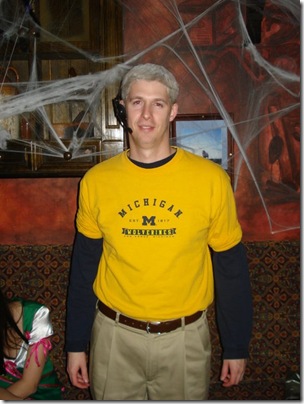 The season started out with so much promise: a convincing win at home in the opener against UConn, a surprising road win against Notre Dame, solid victories against UMass and Bowling Green. But fans and observers could see trouble coming when Michigan struggled to shake off a mediocre Indiana team. Still, at 5-0 the Wolverine football team seemed on the verge of greatness with a dynamic quarterback vying for the Heisman and an offense that was clicking on all cylinders.
But it has been all downhill since then. A stiff upper-cut from "little brother" Michigan State in the form of a 34-17 beating at Ann Arbor took the wind out of the sails of most fans. Another home loss to Iowa made it clear that this team was not a contender for the Big Ten title, but there was still hope among UM fans that at the end of the season, they could hold their heads up proudly and look back with fondness on a pretty good showing. But then they took a sobering trip to State College, PA.
Against the Nittany Lions in a night game seen by half of the country, Michigan's defense was pushed all over the field and slow-starting Penn State RB Evan Royster was the beneficiary on his way to 99 first half yards rushing. PSU went to halftime with a 28-10 lead and was never seriously threatened after that. While UM's star QB Denard Robinson made it respectable in the 2nd half, the Wolverines ultimately faded in a 41-31 loss. Adding insult to injury, the Lions were without starting QB Rob Bolden and had to go with former walk-on Matt McGloin. McGloin proved he could torch Michigan's secondary as well as everyone else has by throwing for 250 yards and a TD with no interceptions. He also ran for a TD. After the game, Michigan coach Rich Rodriguez admitted "We're doing a good job of making a lot of quarterbacks look pretty good".
In fact, UM's defense has been making a lot of offenses look good. The Wolverines currently sit at 106th nationally in total defense, just ahead of San Jose State and behind East Carolina, giving up over 440 yards per game. They actually improved their average against PSU, giving the Lions "only" 435 yards of total offense. Defensive coordinator Greg Robinson has earned the hatred of UM fans everywhere, and as the picture above indicates, some are taking it the point of extreme mockery. Ever-hopeful Michigan blogger Brian Cook is now calling the case for keeping Rodriguez "tenuous", meanwhile another blog site "Maize and Go Blue" has charted a "RichRod-ometer" that is almost to the point of boiling over into a coaching change.
At the beginning of the season, I figured that Michigan would probably have to win 8 games for Rich Rodriguez to keep his job after winning 3 and 5 the past two seasons respectively. But when I looked at the schedule, I couldn't find 8 victories. I gave them the first 5 games charitably, but then I penciled in 3 losses to Iowa, Wisconsin, and Ohio State. That would mean the Wolverines would have to win 3 out of 4 against MSU, Penn State, Illinois, and Purdue. Well, we know what happened in the first two of those games. So now, in order to get to 8 wins, they have to sweep Illinois and Purdue (not a sure thing by any stretch), and then somehow knock off either Wisky or OSU. Anyone like those odds?
While I would love to see them shatter Wisconsin's bid for a share of the Big Ten title, I have no confidence that they will get it done. And of course, I think they will be crushed by the mighty Buckeye juggernaut. I also think they lose to Illinois this week, which leaves only Purdue. That game is on the road, on natural grass that will surely slow down "Pacnard", and so that one is doubtful as well. I think 6 wins is the best they can do, and that is the optimistic forecast. 
So what do you think? Is RichRod gone after this season? Will he save his job by winning 6 or 7 and firing Robinson (Greg, that is)? Is there any way that the Wolverines can pull it out against Wisconsin? Are you grinning with glee over their plight? Well, I think I know the answer to that last one.
As for Michigan fans, I wouldn't be surprised if, at the end of this season, you find a few of them composing mournful soliloquies like this one*:
He should have been fired hereafter;
There would have been time to hire someone else.
Next game, and next game, and next game,
Creeps in this losing pace from week to week,
To the last tick of the stadium clock;
And all our yesterdays have lighted fools
The way to dusty defeat. Out, out, brief scoreboard!
The season's but a bowl-less shadow, a poor player
That struts and frets his hour upon the field
And then is heard no more. It is a film
Watched by an idiot, full of angst and profanity
Signifying nothing.
* Apologies to William Shakespeare, or Edward De Vere, or whoever wrote the plays.