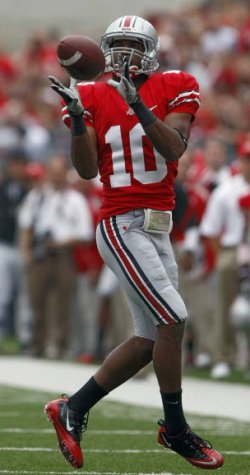 On a beautiful fall day built for football and beer, the Buckeyes shook off the Wisconsin hangover and exacted revenge against a decidedly lesser foe burying an injury plagued Purdue squad 49-0 in the 'Shoe. The first half was a flat out domination as OSU racked up 42 points, 417 yards and 22 first downs. Meanwhile, the Bullets locked down a one-dimensional (that might be too kind) Boiler offense allowing just three first downs and 47 yards in an epic opening half. I'm embarassed for actually thinking the Bucks would fall just short of covering the 23 point spread. Luke's prognostication expertise must be rubbing off on me...
A Tale of Two Cities
Corey "Philly" Brown saw just about the same amount of reps as he's been seeing lately, rotating in every other series as the third WR, but his actual involvment in the offense is growing. Saturday produced a modest two catches but both were of huge importance.
Already leading 14-0, Ohio State's third offensive series looked like it might stall and potentially allow Purdue to flip the field as the Buckeyes faced 3rd and 12 at their own 7 yard line following a Mike Adams false start but Pryor rolled right and hit a wide open Brown near the sideline for a 23 yard gain. The pitch and catch kept alive what became an 11 play, 91 yard TD drive putting OSU in command 21-0. Brown's effort wasn't anything spectacular but he did his job helping OSU move the chains. 
On OSU's next scoring drive, Philly was again in the mix, this time taking an end around 18 yards to the Purdue 24 yard line setting up Pryor's 22 yard TD toss to Posey two plays later. Finally, on the final possession of the half, Philly capped a five play, 40 yard march as he went high to snag a 15 yard TD, his first as a Buckeye, putting the Buckeyes in front 42-0 with :36 left in the half. Discussing Philly's day after the game, we pondered if this was the death of Taurian Washington? Probably not, but I think Brown is a true frosh that is growing tremendously and seems to be earning the trust of both Pryor and Darrell Hazell.
The day wasn't as great for the other Corey Brown, "Pittsburgh" to be exact, who suffered what appeared to be a very serious knee injury late in the afternoon. In a totally freakish way, Brown was basically walking after a play in which he had pursuit to the sideline and crumpled to the ground in obvious agony. We haven't heard anything definitive as of Sunday night regarding the specific nature of his injury but clearly he won't be back anytime soon. Brown was just getting a chance to show what he could do starting on the KO coverage unit for the first time in addition to his backup duties in the secondary. How many more injuries can this team possibly be forced to endure?
"D" is for dominate
Smarting from getting bullied in Madison coupled with the redemption factor for losing in West Lafayette a year ago, the defense came out smoking and didn't let off the gas in one of the most dominating defensive half's we've seen in a while. Bouyed by a defensive line that was non existent a week ago, Ohio State let Purdue run only 21 total offensive plays in the first half (excluding 5 punts) and held the Boilers to 47 total yards on three first downs. The running game Purdue brought to Columbus had rushed for 200+ in five straight games (longest such Boiler streak in 37 years) but hit a brick wall in this contest as the Bullets limited them to 22 rush yards in the first half (2.2 ypc) and 30 yards for the game (1.1 ypc).
Heyward, Larimore, Simon and Williams combined for 15 tackles, 4.5 TFL, a forced fumble and a sack. Their ability to disrupt and tie up blockers also paved the way for Sweat to roam free in pursuit. Filling in for Homan, Sweat responded with a career high eight tackles, 2.5 TFL, a forced fumble and a pass breakup. Sweat came up with significant plays in three of Purdue's first four possessions showing a great nose for the ball.
A guy I've not been high on, Aaron Gant, also had a nice day in the secondary contributing six tackles while Jermale Hines notched a fumble recovery (special teams) and Orhian Johnson added his first career interception. I'm still not ready to say this banged up secondary won't get exposed at Iowa but the effort was indeed something to build on. I hope.
You gotta like these first half numbers:
Punt (4 and out)
Punt (6 and out)
Punt (3 and out)
Punt (3 and out)
Punt (3 and out)
INT (1 play)
Half (1 play)
Boom, Blockers step up early and often
Though the BTN duo of Chris Martin and What's His Name can be tough on the ears ("that's the first time Boom has been on the field but didn't carry the ball" - wrong - he was in a split backfield with Hall two plays earlier) they were correct in assessing how Boom's recent efforts have allowed him to put a stranglehold on the #1 RB spot. Following Hall's smart move of letting Purdue's opening kickoff roll out of bounds, Boom went right to work peeling off a 17 yard run, through a gigantic hole, plus a facemask. The one play moved OSU to the Boiler 28, yards which Boom would cover over the next four plays, including an impressive 10 yard sweep around left end capped by a dive to the pylon for six. Great running, great blocking.
Boom was also active on the second series, an 11 play drive that featured the muffed punt by Purdue's Chris Carlino putting OSU in business at the Boiler 39. Herron rushed for 18 of those final 39 yards including a two yard TD run up the gut giving him 63 yards on nine carries with 2 TD after two OSU possessions.
Props to Boren, Brewster and Browning for mostly pushing around an admittedly soft Boiler front that seemed to have nothing other than Kerrigan, who really did most of his damage on the pass rush against an injured JB Shugarts. Now, even a healthy Shugarts would struggle against Kerrigan but an injured version was tough to watch at times. The punt muff was set up by a Kerrigan sack after he abused JB off the edge. Later on the same possession, Kerrigan blew by Shugarts on a 2nd and 7 but luckily Pryor got the ball off just in time to Posey for 23 yards. Finally, on OSU's fourth possession, Kerrigan overwhelmed JB contributing to Pryor's interception on 2nd and 4 from the Boiler 18. Pryor should've never thrown the ball but was definitely rushed by Kerrigan's pressure. Shugarts and the staff have virtually a month to get him healthy for November 20th. I hope we see lots of Norwell these next two games.
Overall, however, the run blocking held up as the Buckeyes ran for 145 first half yards, good for 5.2 per carry. The pass blocking was more spotty but Pryor was indeed given enough time to complete 16/21 for 270 yards and 3 TD in the opening 30 minutes of action. As with the d-line, I'm still not sold as to how they'll perform in Iowa City but it was nice to see the starting group pretty much push around Purdue.
My confusing love affair with Terrelle Pryor
Pryor is like that crazy, hot chick that you know is out of your league but you hold on for as long as you can anyway. He's amazing on many levels yet so frustrating on just as many different levels. Simmons wrote a piece about Randy Moss being like this a few weeks ago and I immediately thought of our beloved QB.Yesterday was another prime example of Pryor's crazy, hot girlfriend skills.
On the field, the kid blows up in a dominating first half completing 16 of 21 passes for 270 yards and 3 TD. He spreads it around to nine different receivers and smartly checks down at virtually every necessary opportunity. He engineers six scoring drives putting his team up 42-0 at intermission.
He also throws two bad interceptions, probably the victim of playing too loose knowing full well his team is thrashing the opponent. In fairness, one of the picks shouldn't have happened as the ball bounced off the receiver's hands but it was still a throw into double coverage. The second was much more disturbing in that the old bugaboo of staring down a receiver (Dane on a slant) came back to bite him. C'est la vie in the grand scheme of this game but Pryor wasn't yet done perplexing me, and maybe you.
After the game, for whatever reason, Pryor chose to offer up these words about Wisconsin:
"Not to take anything away from Wisconsin at all - I really don't want it to come off like this - but they weren't better than us. Everybody knows that if we play nine out of 10 times, we'd beat Wisconsin."
The quote was recorded slightly different here, with Pryor saying, ""Nine times out of 10, we beat Wisconsin," Pryor said Saturday, "but on that day when it all mattered, they beat us." "Not to take anything away from Wisconsin at all," he said, "those guys werent better than us."
On one hand, I can see backing him because he's a competitor still pissed at the loss in Madison but on the other hand, I think the comments would've been better left unsaid. Maybe he watched a different game but from what I saw, Wisconsin was better than us on that night and I'd be hard pressed to think OSU would win 9 out of 10 at home, on the road or on a neutral field. Maybe semantics here, and I'm not losing sleep, but this is the stuff I thought Pryor had overcome at this point in his career. Just take your medicine and move on.
A Time to heal and develop
With Purdue in the rear view, we're officially into the soft underbelly of the conference schedule. A trip to Minnesota followed by an off week before Penn State High comes to town provides the perfect three week stretch for OSU to deal with injuries and give some guys a chance to gain more game experience.
On the development front, I'd love to see Andrew Norwell get a start this week, or at least play 75% of the snaps. Shugarts is clearly hampered by a bum foot and needs the rest. This should be a win/win as Norwell has impressed my untrained o-line eye in spot duty and has earned the chance to get more experience. Jake Stoneburner should also have plenty of time to get fully healed, clearly he isn't yet 100%, as Fragel started against Purdue. Philly Brown should also see increased reps over the next few weeks and could be a guy that makes a big play in a game like Iowa.
Defensively, the next three weeks should allow Homan to get back to full strength. Lesser known is how long Christian Bryant will be out after a foot infection required surgery. His absence was going to ensure Pittsburgh Brown saw more action but with his injury Saturday, Aaron Gant figures to see continued action at safety with Hines sliding to Star as applicable. Though tackles Simon and Larimore aren't limited by injury, I'd like to see Heacock push more minutes on Hankins to further his development. I'd also like to see Storm Klein get as many LB minutes as possible. That kid's a player if you ask me. He's seemingly always around the ball and loves to hit.