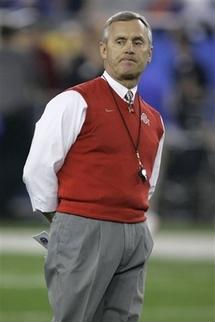 I'm a firm believer that there are many telling signs in games of lesser importance that show you what type of team you really have when the big game comes around. Many fans try to push these aside, hoping that their team just had a one-game slip-up and that the coaching staff will fix these things.
To get a better picture of what I'm talking about take a look at the Florida offense against Miami-Ohio in week one. That team struggled with the lowly Red Hawks for much of the game before they eventually strong-armed themselves to a victory. They continued to have trouble finding an offensive rhythm the next few weeks, excluding Trey Burton's outburst last week, and what happened when they went to Tuscaloosa to take on Alabama? A 31-6 shellacking at the hands of Nick Saban's team. Their offensive woes did not go unnoticed in that first week, but Gator fans made all the excuses they could to avoid admitting what they inevitably were forced to do last night in saying that their offense just wasn't that good this year.
Florida's not the only team that these signs have appeared for, as Penn State, Minnesota, Wisconsin, and many others have had weaknesses exploited against weaker opponents that later showed up in losses weeks later. Other teams have showed these signs of vulnerability thus far and have yet to lose (Michigan's defense), but it's only a matter of time before an opponent studies the film and takes advantage.
What all this nonsense brings us to if the Buckeyes' lackluster effort in Champaign this past Saturday. Could Ohio State possibly be one of these teams that are about to crack or are these problems that can be fixed with some simple coaching adjustments in practice? I don't know about you all, but I'm definitely concerned about some things I've seen from this team the last few weeks and if Jim Tressel doesn't make the adjustments after looking at the film, I'm afraid to say I think the Bucks will lose a game in the near future. Let's take a look at some of these issues and what the Buckeyes can do to fix things before it's too late.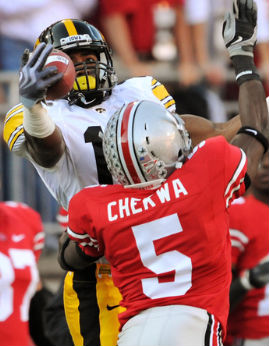 The Pass Defense
I don't know how many of you were able to listen to the Big Ten announcers yesterday, but I was going to get sick yesterday if I heard how good Chimdi Chekwa was one more time. I'm not sure what everyone sees, but I'm tired of everyone thinking Chek is a number one corner. He continually can't stay with top receivers, serves as an average tackler, gets beat at the line of scrimmage when trying to jam his opponent, and most importantly, never turns his head when the ball is in the air. Devon Torrence has been OK as a second corner and I'm fine with him there, but when it comes to the top dog at Ohio State, we expect more out of you Chimdi, and I think your play thus far has not given this defense what it expects on a weekly basis.
It's not all Chekwa's fault though, as Orhian Johnson has been extremely underwhelming at safety, the linebackers continue to be faked out by any play action roll-out pass, Jim Heacock decided he shouldn't blitz any extra men this season, and the defensive line has not gotten to the quarterback enough. Tyler Moeller's injury hurts the pass defense even further, and while Christian Bryant looked good against Illinois with five tackles, will he be able to come up and make the big plays on John Clay?
The Buckeyes need to start playing more agressive like they did last year to hide their weaker secondary unit and provide the defensive line up front with some help in breaking the pass protection. This defense is just not an elite Buckeye defense and until some players improve their play and the coaches come up with some new strategy, the game is going to be up to the offense to outscore their opponents. Indiana will come in next week slinging the ball all afternoon, and while I'm sure TP and the offense will be able to score at will against the Hoosier defense, the passing defense will be challenged by Ben Chappell's arm on Saturday.
The Offensive line/Running Game
I'm not sure whether the offensive line or the running backs are responsible for the weak production on the ground thus far this season, but one or both need to be accountable. Yes, the rushing stats are there if you look in the box score, but many yards have been collected late in the blowouts this season and Terrelle Pryor continues to rack up a majority of the team's yards on the ground. 
It seems Brandon Saine decided the last few weeks that once he touched the ball he would run right into the closest defender and fall down. Where is the running back we saw against Marshall? The staff needs to find a way to put Zoom in space where he can use his straight line speed and get the ball and head to the end zone. As for his counterpart, Boom runs hard and I appreciate his effort, but the bottom line is, he's just not as physically talented as other OSU backs in past years. I think Boom provides the offense the best every down option right now due to his ability to block, but I'd like to see the staff mix in Jordan Hall a bit more, as he's proven he can handle carries in a big game. I also understand their tentativeness with Carlos Hyde and Jaamal Berry, as they are virtually unproven, but both players do bring something to the table that other players can't and I think you have to start integrating them into the game plan to make your offense as deep as possible.
As for the line, Justin Boren is the only player I see as an elite run blocker. There is a reason Dave has been run up the left side about 85% of the time this season and that is number 65. Bryant Browning has been second best, but "Block O" has been a tad disappointing. I don't know if it's me, but Mike Adams looks like he just doesn't care out there, and the gentile giant in him appears way too often. Shugarts at times looks like a boss out there and is a true road grader, but at other times looks completely overwhelmed by the opposing defensive lineman. Brewster is great and I think his play overall has been solid, especially in pass protection, but I think he has played under his potential and talent level when it comes to the running attack. 
Once again, I don't have the film or the time to re-watch all the games, but the running game issue has to be fixed. I think this will be a very simple thing for the staff to do in practice and changing up the game plan a little to pass more early to open up the run can help a bit too.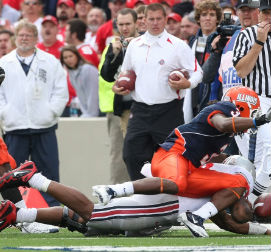 The Injury Bug
This isn't something the staff can control so much, but it is a reality of the game of football and Jim Tressel will need to figure out answers to personnel that has gone down this year. Tyler Moeller will be replaced by Christian Bryant, but as previously mentioned, will Bryant be able to handle the STAR position as a true freshman? I think he is a safety, rather than a hybrid linebacker/safety and I think that's a problem against a run oriented team like Wisconsin. You may see the staff make an adjustment by keeping an Andrew Sweat on the field more or working in a bigger guy like a Nate Oliver against those teams, but it will be interesting to see what happens without the team's best blitz option.
Other injuries that have bothered the team are the season-ending one to CJ Barnett, minor issues with Dorian Bell, Andrew Sweat, and Travis Howard, and the recurring issues with Chimdi Chekwa. The staff needs to prepare some of the team's younger players to step up and develop quicker, as the team appears to need more depth immediately with the way players are dropping like flies.
Maybe the most important injury everyone is scared to talk about is Terrelle Pryor's. Yes, the junior did come back onto the field running yesterday, but didn't you find it a little strange that the Bucks barely passed the ball and TP didn't run it once he came back into the game? I'll bet that was Tressel's doing as a precaution, as Pryor looked visibly upset with the way the game was being called, but I also have a strange feeling Pryor got a little bit more dinged up on that hit he took against Eastern Michigan than we thought. With the injury he suffered last year in the NMSU game, the hit he took against EMU, and his scare on Saturday, I'm definitely nervous Terrelle is hurt worse than we think. It will be interesting to see how #2 comes out next week against Indiana and his play in that game should tell us how hurt/not hurt he really is.
SUmming it all Up 
While the above issues and JT's play calling this past week definitely need to be addressed, I could certainly be overreacting to a single poor game by Ohio State. I do know that I have seen the writing on the wall for other teams and when there is smoke there is usually fire coming down the road. The Buckeyes could have just had their usual trouble with the Illini, but there is no excuse for a team with as much talent as OSU has to come out as flat as they did against the Zookers. The players and coaches both need to look themselves in the mirror and decide if they want to win a National Championship this season. If the answer is yes, I expect to see a better team on the field next weekend.