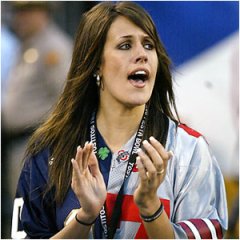 And So Forth. Tressel met with the media yesterday and while there were few golden nuggets, he did discuss a couple things of note. On the injury front, Tress indicated Orhian Johnson is 100% and Nate Williams is healthy but in the case of Williams, though he's been practicing, it sounded like he won't be ready for a full work load due to a lack of game conditioning. I think the logical guess is Nate gets in an early rotation, plays in all passing situations and Heacock will gauge his wind from there. Considering dude's motor, I gotta believe he'll play more snaps than Tressel might be comfortable saying on a Tuesday.
Asked about the O-line, Tressel mentioned Brewster and Browning had winning performances in what he called a "fair" performance and also noted what we all feel - they must take that next step if OSU is to win on Saturday. Behind the line, Tressel chose to praise Boom for the most impressive running of the night, on OSU's scoring drive to start the 2nd half, instead of touting Zoom's homeruns. I found that a little interesting though I had no doubt Tressel plans to keep the carries balanced between those two for the moment. 
Coach also commented that Rod Smith isn't an automatic redshirt, probably almost entirely due to Hyde's gimpy ankle as the lone "power" back. I found that comment surprising but what wasn't surprising was the fact his comments on Smith contained two "and so forth" bombs in back to back sentences. The man is on his game.
On Sabino, JT remarked that he's a "day to day redshirt" and with Storm Klein now fully recovered from a problematic hamstring, it sounds as if all signs definitely point to what we reported awhile ago and Sabino will take the shirt.
AP Poll: What have you done for me lately? Not that it's a shocking revelation AP voters tend to knee-jerk a little when it comes to the weekly poll, but a recent study conducted by the Journal of Sports Economics (HT: The Wiz) had some pretty interesting data. Looking at the 2007 AP polls against an aggregate of numerous recognized computer ranking systems, the study found:
Ranking increases .65 spots if team is in voter's home state
Ranking increases .80 spots if team is televised on ABC, Fox, CBS or NBC
Ranking increases .77 spots if team is on ESPN or ESPN2
"The Rock" is still a professional doofus. I'm not overly familiar with the dialect Dwayne Johnson is throwin' down but here's a video link and sample of his commentary:
To all you Buckeyes out there I hope you're boarding your doors, boarding your windows because you gotta all day long pack your lunch sweater vest stompin' ass-kicking Hurricane style. If you don't understand what I'm saying don't try to understand, because it's a Cane thing. You simply wouldn't understand it.
Allrighty, then. Thanks, Dwayne. See you Saturday. Just promise me you won't suffer from selective amnesia after a Silver Bullet Beatdown.
Turning our attention away from the sidelines, the aforementioned offensive line has to produce Saturday and their big task will be slowing the Miami pass rush. Defensive end Olivier Vernon recorded 3.5 of Miami's eight sacks last week and while Allen Bailey was shut out, he tied for 5th in the ACC last year with seven. Fellow D-liners Marcus Forston and Marcus Robinson also notched sacks. Mike Adams and company best be ready. Of course, this could also be the week OSU neutralizes the rush with more screens and such. Another matchup to watch will be 'Cane corner Brandon Harris on DeVier Posey. Todd McShay has Harris as the 29th best NFL prospect and the junior was a Thorpe Award semi-finalist last season thanks to 15 pass breakups, good for 2nd nationally.
Finally, loved yesterday's headline from Dr. Saturday.