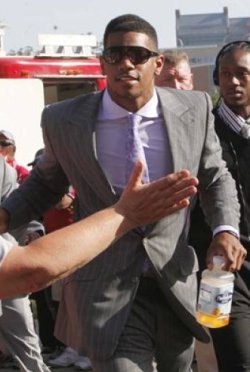 Though we must take into account the caliber of opponent, it's impossible not to feel pretty damn good about how the Buckeyes kicked off the 2010 season. The way the game unfolded made it decidedly more fun than last year to pen the kickoff version of Five Things so here we go...
PRYOR PROGRESSION
On the surface, Terrelle Pryor's passing numbers of 17/25 for 247 yards and 3 TD without a pick jump off the page but what we saw beneath the surface was even more impressive. Again, it was Marshall so there are no absolute guarantees the greatness will continue but I'm willing to take a risk and expect what I witnessed to be more the standard than an anomaly. In no particular order, here's what I took away from his performance:
Even though we saw increased comfortability in the pocket back in January, I was further impressed as Pryor stood tall in the pocket consistently and kept his feet underneath him while scanning the field. Though I'm sure the mostly solid protection helped the cause, I was also incredibly pleased with Pryor's willingness to stay in the pocket and go through his progressions instead of reverting back to the quick tuck and run as his defacto "second progression" choice from last year. His willingness to go through the progressions also signaled an increased familiarity with the offense which was likely aided by the notion he also appeared very involved with Brewster in calling the protection packages. I just got the feeling he not only knew what each of his guys was doing on the play but he was also intuitively watching defenders to truly understand where they would be as the play developed. This contributed to a much improved accuracy rate (68%). Also impacting accuracy looked to be improved footwork and an overflowing confidence as he stepped into throws.
Speaking of throws, it was good to see him so sharp on virtually every type. When he needed some zip, he delivered a strike as we saw on the second TD toss to Posey. The ball not only had some steam but it was perfectly placed, low and away, so that only DeVier had an opportunity to make the catch. The 65 yard post to Sanzenbacher for six was also aerial poetry as he stepped up in the pocket and hit Dane in stride to give the Buckeyes a 21-7 lead. Personally, I think his most impressive toss was a 28 yarder to Dane on 2nd and 7 during OSU's third possession. Watching Dane run a seam route, Pryor placed the ball perfectly over the linebacker and in front of the safety sending shivers down my spine. Last year, I didn't even want him to throw over the middle but as he confidently let this one go I found myself excited for the outcome. Two plays later, Pryor lobbed what looked like a sure TD down the sideline to Posey but it was just a bit long. Some called it a misfire but from my vantage point, it looked like Posey slowed down on what was an almost perfect throw. Another play that wrecked havoc on my salivary glands occurred on the opening drive of the 2nd half. On the fourth 1st down play of the drive, Pryor looked off the safety and delivered a 20 yard strike to Dane, again in stride. Once again, it was an attempt that gave me heart palpitations a year ago but not so in 2010. Lastly, you gotta love that TP shared the sugar with Stoney, Posey, Sanzenbacher, Schwartz, Fields, Boom, and Homan while also unsucessfully attempting to connect with Saine and Washington.
For me, the only glaringly poor throwing decision came on 1st and 10 with OSU at their own 29 early in the 2nd quarter as Pryor dropped back, locked in on Posey and heaved a ball into double coverage that probably should have been picked off. I know some thought another poor decision came when he bobbled the snap then lobbed a prayer off his back foot on 3rd and 3 toward the left pylon but I felt that was more of an attempted throw away than an effort to complete a pass. He definitely should've thrown the ball out of bounds but I think his intentions were pure. Either way, two questionable decisions in 3+ quarters of action is something I'll take every time. What a great start to the season for LiC.
RB DEPTH WOULD MAKE JACQUES COUSTEAU BLUSH
Thanks to personal and read observations from spring through fall camp, I knew OSU had a stable of backs but Thursday night was ridiculous. Marshall or not, this team has some flat out burners in the backfield. First of all, Brandon Saine is without a doubt the best RB on this team. His burst is inSaine - once he's past you, it's over. There was no better example than when he found a huge hole off right guard and raced 45 yards untouched to give OSU a 28-7 lead. BTW, props to Bryant Browning for opening a hole so big that a pulling Justin Boren didn't have anyone to block. Anyhoo, Saine needed just nine carries to gain 103 yards (11.4 avg) with two scores. I'm sure he'll find tougher sledding next week but his blend of speed and power is simply not something I thought he could deliver a few years back when he couldn't stay healthy and was more myth than substance. Throw in the fact he might have have the best set of hands on the team and he could end up being the most underrated back in the Big Ten thanks to positional depth and Pryor's national exposure.
Though it was in mop up time, Jaamal Berry kept the fans in their seats with a seven carry, 80 yard night (11.4 avg) flashing speed to the hole and into the second level that damn near scorched the turf. Dude has quicks and though he's shifty, I like that he seemed focused on keeping a north/south mentality. Boom also had a solid, though unspectacular night with 7/44 (6.3 avg) including a 30 yarder and gashes of 11 and nine yards on the final TD drive. He's never going to be as exciting as some of the other guys but his experience is more valuable than the naked eye can detect. I was arguing last night that he might actually be the 4th most purely talented back on the roster (more likely 3rd) but his blitz pickups and intangibles are harder to measure. I thought Jordan Hall looked decent though he received the fewest touches (5/32, 6.4 avg) in the run game. He did haul in a 13 yard pass and I think he's fine on punt returns. Like Berry, he's shifty but doesn't forget running north as soon as you catch it, then making moves laterally, is usually key on punt returns. Collectively, the RBs rushed 29 times for 264 yards (10.98 avg) and caught three passes for 29. I expect the receptions to increase as we move forward though Tressel may go to a more smash-mouth approach next week since Miami can be beaten physically.
TRESSELBALL?
Though we saw a glimpse of what was to come in the Rose Bowl, it was still eye catching to see Tressel dial up 14 passes on 25 first down plays (1 sack). Keeping that mix will obviously allow Pryor a greater chance to succeed as we all know the old formula of passing predominantly on 3rd down did little to keep the defense off balance. Additionally, I know all of Buckeye Nation is excited about the fact Stoneburner hauled in three receptions, including the first of the game, which I firmly believe was a tip of the hat from Tressel to the OSU faithful that drive him crazy.
I know OSU brought in backups for spot duty early on but I was a huge fan of Tressel's decision to keep most of the starters on the field until early in the 4th quarter. Game conditioning can be drastically impacted in a way that can't be simulated in practice due to the crowd, shots of adrenaline etc so I thought it was very important to give the starters extended minutes with Miami coming to town next Saturday. Tressel could have easily taken the safer route of resting guys to avoid injury but I think he made the right call. Now, if next week was against Eastern Michigan, I would have an entirely different take.
The only downside to the substitiution pattern was that Kenny Guiton didn't get in the game until it was really too late to let him run a wide open offense. I wanted to see Kenny G get some game experience passing the ball but to no avail. In Tressel's defense, the 2nd half saw both teams manage to extend drive times in the 3rd quarter thus decreasing the amount of possessions. Looking at the numbers, OSU had eight 1st half possessions (not counting the "take a knee" 1 play drive before half) but only five in the 2nd. Unfortunately, I still came away with the notion that if OSU ever has to rely on Bauserman or Guiton for a full conference game, it's not going to be pretty. That said, I'd still take Guiton over Bauserman without a second thought.
Also, props to Tressel and staff for being more unpredictable on 1st down while still maintaining the type of balance you need to win games against legit foes. When the dust settled, the Buckeyes rushed for 280 and passed for 249. Me likes.
NOT-SO-SPECIAL TEAMS
Watching the OSU special teams is becoming a little damaging to the corneas. After a few sleepness nights following the Rose Bowl coverage debacle, we were treated to another confidence shaking dose of mediocrity from this group. The 63 yard KO return after the Buckeyes had taken a 14-0 lead was definitely a tough pill to swallow. The XP/FG unit also had a tough night. It's unacceptable to have an extra point partially blocked even though the kick still went through the uprights. Additionally, I know all Buckeye fans trembled when McQuaide allowed penetration right up the gut on a 53 yard FG try that Ahmed Shakoor returned for a 45 yard touchdown. Tressel said afterward there were no issues with the snap and Basil got the kick off in the required timeframe but on such a long kick that requires lower trajectory, the hogs up front have to hold the wall.
In fairness, it wasn't all bad news. The opening kickoff saw Dorian Bell lower the boom on Andre Booker forcing a fumble that OSU would recover. Four plays later Pryor hit Posey and the season was off and running. The KO coverage also tightened up a little after surrendering the 63 yard return. OSU would kick off five more times following that train wreck holding Marshall to starting field position at their own 24, 16, 19, 23 and 27 yard lines respectively.
The point to all of this, however, is that even one big letdown on special teams can mean the difference between a win or loss against top tier opponents and that's exactly what Ohio State faces next week.
DEFENSIVELY SPEAKING
It's hard to evaluate the defense when facing a spread type attack but when you weigh everything, I think you have to be pleased with the results. The Silver Bullets held Marshall to 44 yards rushing (2.1 avg), 4/14 on 3rd downs and a 51% completion percentage which is even more impressive when you consider most of those throws were incredibly short. The D also forced two turnovers with Rolle taking his INT to the house and Chekwa causing a fumble near the goal line. Good stuff.
I've read some grumbling that the line didn't get much pressure but it's difficult against a dink and dunk attack. If anything, there's some value in hanging back a bit and getting your hands up because so many of the passes are of the short variety right over the top of the line of scrimmage when they aren't virtually lateral. Heyward will be the first one to say he blew a sack by not breaking down just prior to contact with the QB but overall, I thought Simon (2.5 TKL, 1 TFL) and Larimore (3.5 TKL, 1 TFL) were active. Solomon Thomas didn't show me anything but that is no longer a concern with Williams ready to strap it up against The U.
The LBs didn't overly impress me with their coverage but it seemed like Heacock employed plenty of zone. Somewhat surprisingly, the LB's were down the list in tackles with Rolle and Homan tallying three each and Sweat picking up 2.5 on the night. Rolle was the most active factoring in his pick six, a TFL and a pass break up. Still, there's no need to be concerned about this group whatsoever. I imagine both Rolle and Homan will be two of the top three or four tacklers next week.
In my opinion, the play of hybrid Tyler Moeller and safety Jermale Hines served as the highlight of the defensive night with Moeller winning my defensive player of the game honors. He led the team with six stops, two TFL, a forced fumble and a sack. Not bad for a dude with holes drilled in his head. Hines was also active registering five stops and a near pick on Marshall's third possession. The rest of the secondary didn't stand out as much though I felt Chekwa had a solid game with a forced fumble, a pass break up and 2.5 tackles. Travis Howard struggled giving up a 24 yard completion on 2nd and 14 near the end of the first quarter as he failed to look back for the ball. Two plays later he surrendered a 10 yard completion in soft coverage and he also picked up a PI call before his night was done. Devon Torrence also earned a PI flag to go along with zero tackles. A somewhat mixed bag from a group that will be busy next weekend.