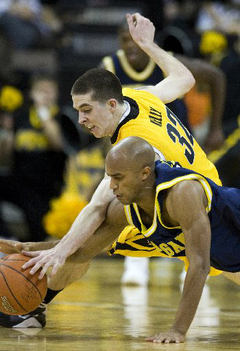 When we last left you, Jared Sullinger was a National Player of the Year waiting to happen. That happened. The Villain is undoubtedly up next, but other than that, Thursday on paper, is looking to be a pretty slow news day as we collectively coast until Friday at noon. That doesn't mean the idle time can't be spent reviewing what you missed during the first 3/5 of the work week and preparing for what lies ahead.
The Bucks will draw either 8th seeded Michigan or 9th seeded Iowa Friday at noon (plan for a long lunch now, or if you're really a rockstar, call in sick and make the drive to Indy). To scout out the opposition, set your Slingboxes or fire up ESPN360 and take in the opening game of the Big Ten Tourney at 2:30 (those afflicted by the economy or still lucky enough to be studying something can check out the affair in stunning high definition on ESPN2HD). Game reactions can undoubtedly be found as the game unfolds over at the Hippie's Digital Tree Fort or over deep in the asylum of BHGP (kids: ask your parents for permission to disable NetNanny before wondering over yonder).
All your Gold wrestling tights are belong to us (for at least 24 more hours until Brent Metcalf redeems himself in the most super human fashion possible) RossWB has your NCAA wrestling (and culinary) brackets needs taken care of. Giant killer Lance Palmer will have absolutely no time to dwell on his newfound super powers, as he enters the championships as a #1 seed. Joining him in the meet are Nikko Triggas, Ian Paddock, four seeded Reece Humphrey, fifth seeded Colt Sponseller, Dave Rella, ten seed Mike Pucillo, and C.J. Magrum. Check out either of the previous two links for more comprehensive matchup field information. Best of luck to all the gentlemen in Omaha.
Blades of not awfulness Mazel tov to Ohio State forward Zac Dalpe on his naming to the 2009-10 All CCHA All-Conference First Team. The sophomore (whose NHL draft rights are held by the Carolina Hurricanes) improved upon a 13-goal, 25 point freshman year putting up 20 goals and 40 points and has been a critical cog in keeping Ohio State's post season hopes alive. Ohio State's season faces an uphill challenge traveling to No. 1/2 Miami this weekend for a best of 3 quarterfinals. Despite some murmurs that coach John Murkel's job security may be in question, the Bucks keep surviving and advancing after sweeping Notre Dame in a best of 3 series a week prior.
The rest: The recently operated on The Shark dropped his must read farewell to his playing days, his most stirring, honest (and serious) post to date. Drop by and thank him for everything he's done for the university and community (and certainly for entertaining us all as well). This NYT article from December discusses the value of the NBC contract (~$15 mil) relative to the Weis buyout ($18 mil.) and ND's willingness to stay steadfast/independent; flash forward to the present, and the Irish could be singing a far different tune. Finally, don't even try to argue: all black penguins are awesome.