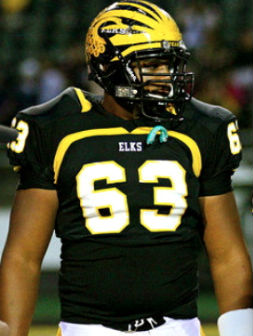 While many of the "recruiting pundits" out there criticized the slow, lengthy process in which the Buckeye coaching staff took to evaluate 2010 talent and offer scholarships, it seems things have changed a little bit in regards to the outlook on the 2011 recruiting class.
JT and the staff have wasted no time in dishing out the offers to the next crop of potential Buckeyes, leading to a couple of early verbals from Top 60 players in Kenny Hayes and Steve Miller, and plenty of elite talent considering the Buckeyes at the top of their respective lists.
Clearly the staff has either learned from past mistakes, or just found this 2011 class to be more to their liking, especially in the home state, where the talent is much more plentiful than that of this past year's group. Either way, a new approach has been taken in regards to recruiting strategy and it's time to take a look at where the efforts stand at the current moment.
On the offensive side of the ball the Bucks have wasted no time in targeting the offensive line and the quarterback position within state lines. Braxton Miller is considered not only the state's, but the nation's best signal caller, and is said to slightly favor the Buckeyes over the rest of his top five that includes Alabama, Florida, Georgia, and Notre Dame. It would be a real surprise to see Miller not become a part of this class by the time spring ball is out and if he comes on board soon, he could have a Brewster-like effect on the rest of the class. As for the in-state linemen, the staff has sent offers out to tackle Aundrey Walker of Glenville and guards Michael Bennett (pictured above) of Centerville and Chris Carter Jr. of Cleveland JFK. Walker is definitely a candidate to continue the Buckeye pipeline to Glenville and Carter is said to be liking OSU right now. Bennett is a player who can go both ways (OL or DL) and has garnered a lot of interest of late from some of the country's top programs in Alabama, Nebraska, Oklahoma, and others. He is very athletic for a big guy and could be dominant at whichever side of the ball he plays on in college.
Another position the staff has targeted early for the state is tight end. Their lone in-state offer to this point went out to Westerville Central's Nick Vannett. Vannett fits the OSU mold of tight ends perfectly as he has tremendous blocking skills, while being able to catch the ball in space as well. Offering a local kid was smart, especially if the staff isn't able to reel in some of their national targets to fill the position of need in this class. Finding elite tight ends is always hard when you don't throw the ball their way, so offering Vannett early seems like a good idea to me.
Unlike tight end, a position not necessarily of need is wide receiver. The Bucks have brought in some quality talent the last two years to supplant the loss of Dane Sanzenbacher and Taurian Washington (and possibly DeVier Posey) after this season, but they did indeed send one offer out to an Ohioan. That offer comes in the form of Shane Wynn, another Glenville Tarblooder. Wynn is a speedy athlete who, at 5-8/160, can slip behind defenders to beat them deep or can catch the ball in the flat and make things happen with his burning speed. It is no secret Wynn is a Buckeye fan and if I could bet any Tarblooder to be a Buckeye come Signing Day 2011 it would be him.
Looking at the offers for out-of-staters on offense, there are offers out to Pennsylvania tight end Ben Koyack, New Jersey guard Angelo Mangiro, Illinois center Brian Bobek and wide receiver Evan Spencer, Maryland QB/ATH Darius Jennings, and Florida wide receiver Phillip Dorsett and QB/ATH Jerrard Randall. All of these players would be tremendous additions to the stellar talent inside the Buckeye State that could end up in Scarlet and Gray, but expect the staff to offer more out of state talent in addition to this current group as they receive and evaluate more film.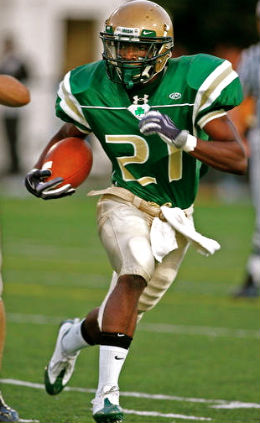 On defense, the state is also very rich in talent and more specifically on the line. As mentioned before, the Bucks already have commitments from two of the nation's best ends in Hayes and Miller, but have also targeted lineman Chase Farris of Elyria. Farris, who measures in at 6-6/265, wants to play defensive end or tight end in college, but many project him more at offensive or defensive tackle. After wanting to bring in two defensive tackles in the 2010 class, but only nailing down one, I think the staff would like Farris to come in and play there. His speed and athleticism that he shows at end could certainly help him in the OSU scheme that allows more athletic, yet lighter tackles to have great success.
Other than on the line, the state also has a plethora of talent at linebacker and defensive back. While there are plenty of talented backers, there just isn't much space for all of them to get offered and the one in-stater the staff has their eyes on is Trey DePriest of Springfield. DePriest has offers from Alabama, Oklahoma, Virginia Tech, Michigan, Notre Dame, and others. He is quickly rising as the most sought after outside linebacker in the country and it will be a tough fight to keep him in the state. One thing going for the Buckeyes is that he is very good friends with Braxton Miller and if Tress can convince Braxton to don Scarlet and Gray sooner rather than later, DePriest may follow his good friend to Columbus.
?
At defensive back, the staff has offers out to cornerbacks Doran Grant and Derjuan Gambrell, as well as safety Ron Tanner. Grant is getting the most national attention out of the three with offers from Michigan State, LSU, Penn State, Notre Dame, Georgia, USC, and others. His father played for Sparty back in the day, and the Green and White could prove to be the biggest challenge for the Bucks regionally, while the offer from the Trojans could be enticing should Grant want to take things out of state. Gambrell is a recent offer and seems pretty set on being a Buckeye, so expect that news soon. The same was thought to be in regards to Tanner, but it seems the process may wait itself out a little bit. In the end, expect Tanner to choose the Buckeyes although he could take a look around a bit as his offer list continues to grow.
The net has been cast out of state for defense as well. Offers are currently out to Michigan linebacker Lawrence Thomas, Georgia linebacker James Vaughters and defensive back Damian Swann, Florida safeties Jeremy Cash, Wes Lyons, and HaSean Clinton Dix, Indiana cornerback Ken Mullen, Tennessee cornerback Jabriel Washington, and Pennsylvania DB/LB Michael Caputo. It would be an outrageous addition for the class to add half these prospects, in particular Vaughters or Thomas, both who are on every powerhouse's wish list. Word is Jeremy Cash is close to committing and that could come at the end of the month or sometime in early March. As with the offense, expect more offers to go out, especially at defensive tackle and in the secondary, as the staff receives and evaluates more game tape.
The Class of 2011 outlook is certainly seeming bright as of now and the staff's new found approach to be aggressive with offers could pay big dividends early on in the process. While it is certainly early, we may see the picture a little bit more clear come next weekend when the Buckeyes host a Junior Day on the 27th when the basketball team takes on Michigan at VCA. I expect 2-3 players, if not more, to verbal to the Buckeyes on this day, with word of a few more offers coming as well. Stay tuned as we'll keep you posted as things unfold with the recruiting class of 2011.