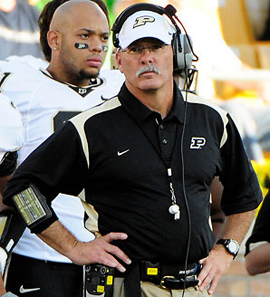 As if by divine intervention, my home internet was knocked out shortly after the end of yesterday's stunner in West Lafayette. Comcast was able to restore service in the morning, but at that point, I was a little spent and not really up for recapping something so incredibly frustrating. But, we've recapped every other game, so consider this your tardy, abbreviated and angst-packed recap of the shot to the groin that was Saturday afternoon.
So here's what happened: Purdue, losers of five straight, rode the smart and efficient throwing of Joey Elliott to 26-18 victory over a flat Ohio State team that seemed to regress in several areas. For the first time since the opener, the defense had a bad outing and their refusal to play man coverage worked right into Danny Hope's smart and well executed gameplan. On the other side of the ball, what had been a pretty terrible Boilermaker defense took on the form of a dominant unit by forcing Pryor to beat them with his arm. And we know how that story ends at this point in his career.
There's a lot of anger out there in Buckeyeland. If Tressel's nine year honeymoon with the fans was over after the USC loss earlier this season, the fanbase is now sleeping on the couch. I can't speak for everyone, but to me, this isn't about losing. Okay, losing is never a pleasant experience, especially when it's a 1-5 Purdue. But what this is really about is the sudden realization that the Buckeyes are in a lot of trouble offensively. This was supposed to be the primer year, when a solid finish set things up for huge things next season. Instead, we have a situation where, 16 starts later, the franchise player is stuck at square one.
It wasn't all Pryor's fault, of course. The line might have had its worst outing all season and he faced pressure all afternoon. As mentioned, the defense was off with several missed tackles and I really can't credit enough Hope's gameplan on each side of the ball. But it's football and he's a quarterback. And supposedly one gifted enough to make up for some of the shortcomings of his teammates.
At what point does Tressel have to come to terms with the way the staff has developed Pryor? Of what the offense is trying to do? What do you do now after teams have figured out the simple zone read that you put in place after scrapping the pro style offense you spent all year working? Do you go back to the pro style? Do you have to think about giving the backup a series or two of he comes out against Minnesota like he has the last two weeks?
I also worry about Tressel's love of superstar youngsters that outgrow the program once, oh, every seven years or so. They're brasher, sometimes say things to get themselves in trouble with the press, supremely talented and Tressel loves them. One of the things that arose after Chris Brown's devastating indictment of the offense after the USC game was the fact that Pryor wasn't carrying out bootleg fakes on his handoffs. What other little things aren't happening because of perhaps a longer leash?
Right now, the questions far outweigh the answers and it will be interesting to see what the staff does over the course of the rest of the season and into the offseason. The Gophers come to town this weekend and normally, OSU wins on talent alone. But with Pete Carroll's blueprint on neutralizing Pryor and the Buckeye offense out there and perfected by Purdue (PURDUE!!), all of a sudden you have to wonder a little. New Mexico State will be a much-needed breather, but how does that Penn State-Iowa-Michigan sandwich to end the season sound right now?