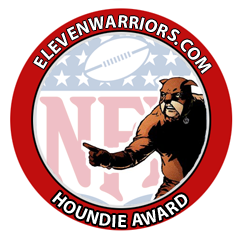 For us at 11W, one of the great aspects of being an Ohio State fan is watching the former Buckeyes play it out on Sunday. Over the last couple of years, we have tracked the progress of the alum and awarded the prestigious honor of "Buckeye NFLer of the Week."
However, we felt the award name never rolled off the tongue properly and so over time and with the help of an all important typo, the "Houndie" was born, which will live forever in 11W folklore and be considered the highest honor for former Buckeyes playing in the NFL.
It wasn't a tough decision this week, as only a couple of guys stepped up in their first games and made an attempt to capture the trophy.
We could have gone with James Laurinaitus, who made his debut for the Rams by recording 14 tackles (10 solo) in their 28-0 loss at Seattle, but we like to pick players from winning teams. The Rams aren't very good, giving up 446 total yards, but it looks as if Lil' Animal is going to get plenty of stops in his rookie year, so don't be surprised to see him nominated each week.
Beanie Wells actually made it through his first game unscathed, but only got 7 chances for 29 yards. He did outgain teammate Tim Hightower on the ground and local writers think he may get increased playing time in week 2, but Hightower caught 12 passes for 121 yards and will be tough to replace as a starter.
In other news: Anthony Gonzalez sprained a knee ligament and will be out 2-6 weeks. Brian Hartline caught 2 passes for 13 yards, while Ted Ginn Jr. had 4 touches for 35 yards. Nate Clements recorded 5 tackles (4 solo), held Larry Fitzgerald to 6 catches and snagged an interception, while the Gun Show got on the board with 3 solo tackles, which was good for second on the team.
But the winner this week is a guy that closed last season with a Super Bowl MVP award and opened the 2009 season with the exact same numbers. Santonio Holmes caught 9 balls for 131 yards and a 34 yard TD, as he not only lead Pittsburgh to a win, but more importantly, my fantasy team. Woot! Pittsburgh uncharacteristically threw the ball 43 times, as Ben Roethlisberger tossed for the second highest total of his career with 363 yards.
Holmes barely lost out to Antoine Winfield last season for the 2008 Houndie, but looks determined to capture the award this year, as long as he can remember to smoke the good stuff in the comfort of his own home.