The first weekend of conference play is in the books and with that, we have somewhat of a better feel for how good the teams in the Big Ten really are. For instance, despite some heavy preseason love (including around these parts), Mark Dantonio and the Spartans are now entertaining thoughts of staying home for bowl season. And Wisconsin? Really?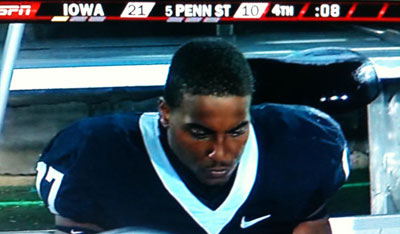 Obviously, if you're talking about who has looked good so far, the Hawkeyes would have to be at the top of the discussion. Saturday night's win in Happy Valley pushed Iowa's record to 4-0 and they have the distinction of having handed every team on their schedule their sole loss on the year. Despite losing Hampton in fall camp and tackle Brian Bulaga, they've come out and played very physical, mistake-free football. After punking Penn State, they look like the real deal1 and despite throttling the Hawkeyes in the last two meetings, I'm happy to catch those guys in the Shoe this season.
The only other Big Ten teams with unblemished overall records are Wisconsin and Michigan. Both teams are breaking in new quarterbacks and doing a good job of it. The Badgers' Scott Tolzien and the Wolverines' Tate Forcier are currently one and two in the league in pass efficiency.
Although it's fun to snicker, winning at Fresno State goes into the "decent win" column topping Fresno State is a quasi-decent win these days and then the Badgers followed it up by dominating Michigan State. Team Dantonio might not have been in the right frame of mind coming off two straight heartbreakers but Wisconsin never gave them a chance to make it a game. Wisconsin travels to TCF Bank Stadium this weekend before heading to Columbus and then welcoming the Hawkeyes to town the next two weeks. If the 2009 Badgers are a good team, we'll know after that stretch.
Undefeated through September, the Wolverines have bested last season's win total in the first month of play and one of sports most insufferable fanbases is getting its swagger back. So much so that a high priest of Tribe Arrogance ventured out of his hippie hole to post nonsense like this.
4-0 is four-and-oh, but the four wins have come against questionable competition. The win over Notre Dame has lost a bit of its luster and needing a comeback at home against the Hoosiers is... interesting (with some help out of the referees, no less). Who among us would be surprised to see them drop the game in East Lansing this weekend? Exactly. If they do survive the Spartans, Iowa and Penn State, though both at home, loom as the next tests for Rodriguez Year Two.
The Gophers join the Buckeyes as the last two unbeaten teams in conference play and can lay claim to unofficial champion of the Northwestern-Minnesota-Syracuse round robin, but the close loss at home to Cal doesn't look so great all of a sudden. They get the Badgers this weekend at home, then catch a breather with Purdue before setting out for back to back road games at Penn State and Ohio State. So, basically, Tim Brewster's positive energy shield should be neutralized by mid October.
At the top of the one-loss league teams is Penn State. The Lions reaped a bit of the fine cupcakage they spent their out of conference schedule sowing and were shoved around and humiliated at home by the Hawkeyes. The good news is that they won't run into too many teams that are as physical as Iowa is on the trenches, but the bad news is that Clark just might be missing his top three receivers from a year ago. If they let Illinois hang around or pull the upset in Champaign this weekend, it could be the most glorious fall ever watching the whiniest fanbase on earth meltdown in front of our eyes (Pro tip, gents: every time you bring the bravado it backfires on you2).
Speaking of the Illini, they're still capable of doing some damage. There's just too much talent on the team. Sure, they might quit on Zook or otherwise self-destruct four games out of five, but in that fifth game, they will sneak up on someone. Northwestern won't challenge for the league title, but I'd be surprised if they didn't pull at least one upset as well. Indiana, who knows? Ask me again Sunday.
As for the Buckeyes the defense is providing cover for an offense that's still trying to find its way. There's still that small irritating fear that we could even end up with our own Trent Dilfer (although no matter what he does through the air, edge to Pryor over Dilfer as a runner) to our Ravens defense at the end of the season, but I have to keep the optimism vibe because no matter what you do in life, the more times you do it, the better you become at it, right? Right?
1 I'd love to hear any theories as to how the Hawkeyes are four spots behind the Nittany Lions in this week's Coaches Poll.
2 I still have fond memories of the "We're Going Undefeated, Deal With It" slogan that adorned the site after beating the Buckeyes last year. Adorable, really.