41-14. 38-24. 35-3. 24-21.
It's come to Redemptiageddon IV and the Buckeyes have yet another chance to win an out of conference game against an elite opponent. Everyone, save for perhaps half of the 10 million or so people living in the state of Ohio, aren't giving the team a chance. Not that we can blame them -- the scores listed above are reason enough to see why the program carries the big game bust label.
Ohio State starts just two seniors on offense and perhaps three on defense and as you would expect, there are quite a few questions about how up to the task certain position groups are.
If you're looking for reasons to feel optimistic, now is as good a time as any for the team to snap out of the funk. They have to do it eventually, right? USC enters Ohio Stadium for the first time since 1990 and puts a freshman quarterback under center in his first road game and second game overall at the collegiate level. At night. In front of 105,000 of college football's best hooligans. The opportunity is there for the taking, but will it be taken?
The Trojans enter the game with a 12-9-1 lead in the all-time series, including victories in the last six games between the two national powerhouses. Not all twelve of those victories were of last year's 35-3 fashion, and in fact, six of the games have been decided by a touchdown or less. There have been seven shutouts (five by Ohio State), but that certainly does not look to be the case this weekend as both offenses are filled with star power.
Despite the Buckeyes' narrow escape from Navy, this team is full of potential and extremely talented. With Terrelle Pryor behind center Ohio State always has a strong chance to win and fans should expect no different in this tilt. The game has been tagged "The Showdown In The 'Shoe" and the stage is set for it to be just that. I hope you have your 3-D goggles on because you should be in for a ride on Saturday night.
Opponent
USC enters this game with a 67-27-2 record vs. the Big Ten, including a 17-9 record in bowl games (albeit in front of some home cooking). They have won 13 straight non-conference games, 11 straight overall games, and 9 straight non-conference games on the road. There is no reason to think this time around will be any different, especially with the roster they will bring to Columbus.
There may not be a team with more offensive weapons than USC has. Going five running backs deep, their running game is one of the best in the country. Joe McKnight, Stafon Johnson, Allen Bradford, CJ Gable, and Marc Tyler make up the Trojans' stable of backs that combined for 337 rushing yards and 6 touchdowns against San Jose State last weekend. They are an electric group of players that can beat you in a variety of ways, and expect Pete Carroll (a member of the '79 Ohio State staff) to use each of his backs to their strengths. Don't forget about full back Stanley Havili either. Marcus Freeman knows plenty about Havili after he beat him on a wheel route in last year's blow-out, and with the Buckeye's troubles with these type of players in the past, look for Havili to be a target of Jeremy Bates' play calling.
The Trojan running backs don't do all the work, as their offensive line is one of the best, if not the best in the nation. Their star, center Kristofer O'Dowd, returns from a knee injury this week, making the unit even stronger. The acting center, Jeff Byers, a former Gatorade National High School Player of the Year, moves back to his original position of left guard, while RG Alex Parsons, RT Tyron Smith, and LT Charles Brown make up the rest of the offensive line. Last week's left guard, Butch Lewis, will see action as well and will likely get a bunch of snaps at different positions depending on how much O'Dowd can play. If the Buckeyes want to have a chance at this game, their front seven will have to penetrate the Wall of Troy, which will prove to be a very difficult task.
Last, but not least on offense, is quarterback Matt Barkley. Barkley had a stellar first game against SJSU, throwing for 233 yards and a touchdown on 15-19 passing. The Trojans kept their play calling very conservative last week, making most of Barkley's throws roll out passes and screens, but the young signal caller showed the ability to be successful at the college level. This week is a whole new beast for Barkley, as he enters Ohio Stadium, one of the most hostile environments in college football, in just his second career start. Barkley doesn't seem to think the crowd will bother him, but until he sees the sea of red rooting for his failure, I don't believe he can truly imagine what it is like to play in that environment. The kid has only played in one college game in his life and if he thinks the Buckeyes are not going to try to get to him at all on Saturday, then he is in for a rude awakening
On defense the Trojans lost a lot of star power in Rey Maualuga, Brian Cushing, Clay Matthews and others, but bring back maybe the best of the group, Taylor Mays. Mays gave up a chance to be a Top 10 pick in last year's NFL draft to captain USC's defense for one more year and try to lead the Trojans to a National Championship. Big Deuce is not all alone, though, as recruiting at USC never leaves the cupboard bare. Chris Galippo, Malcolm Smith, and Michael Morgan step into the vacated linebacker spots and look to be the next great crop of Southern Cal linebackers. Everson Griffen anchors the defensive line that will look to take full advantage of any inadequacies that OSU's front five may have shown last week against Navy.
Griffin and the line will force pressure, often rushing five and the fast linebackers will guard the underneath stuff while the Trojan secondary lines up mostly in man-to-man coverage. They didn't allow a touchdown to the Buckeyes last season and no doubt have plans to deliver a repeat if possible. One thing you have to admire about the way USC plays is that they don't back off on either side of the ball. Although the scoring slowed after the third quarter, Pete's crew was blitzing well into the 4th quarter last year in the Coliseum.
One vulnerability on the USC side might be with their special team units. Their return game, particularly McKnight on punt returns is explosive, but punter Billy O'Malley (traitor Ohio native) averaged only 34.7 yards on six punts last week. Kicker Jordan Congdon was 8/8 on extra point attempts last weekend against SJSU, but he last saw significant action in the 2006 season when he was 5 of 7 on field goals.
Buckeye Breakdown
The Buckeyes enter this week's game dropping from #6 in all polls to #7 in the USA Today/Coaches Poll, #8 in the AP Poll, and #10 in the BlogPoll. Their 31-27 win against Navy did nothing to convince critics, fans, and even themselves that they would fare any better this time around against the Trojans. Not everything about last week's game was negative though, as there are certainly some things to be confident about heading into Saturday night's prime time contest.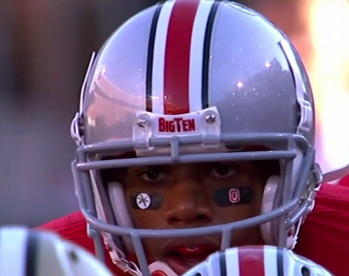 Terrelle Pryor seemed much more confident throwing the football in the game against Navy, and until the interception in the fourth quarter, he pretty much played a flawless game. Instead of getting out of the pocket and running when pressured, Pryor seemed to want to find an open receiver and make the plays through the air which is certainly something you want to see when looking at a young quarterback. If you go back and watch tape of the Navy game, you'll notice he's looking downfield this season when flushed when he would first look for running lanes last year. His legs are a weapon though and you would have to imagine he will be running a lot more this week to keep the USC defenders on their toes. The Trojans will not be looking to stop Pryor, but rather will try to take away his running ability and slow him down, forcing him to have to make the big plays with his arm. After watching last week's game and practice this week, I am confident he will be able to do just that when it counts.
Carroll is first and foremost a defensive tactician and he definitely learned something when Vince Young burned him for the MNC. Pryor will be spied heavily and must contend with Trojans coming off the edge, so look for Tressel to call for more than a few inside draws similar to what he drew up for Craig Krenzel against Miami. Pryor was effective on both draws and rollouts last year in the Coliseum and he's not the same guy he was as a wide-eyed freshman seeing his first significant minutes.
When Pryor looks to pass, he will have the completely healthy services of Dane Sanzenbacher, Ray Small and Duron Carter. DeVier Posey and Taurian Washington, though both recently nicked, are expected to be available from the start as well. Small has cracked back into the top four and doghouse or not, he brings something to the table when he's on the field. He, Posey or Washington will need to provide a vertical threat to pull Mays off the line of scrimmage. If that happens, Carter, Sanzenbacher, Ballard, Stoneburner and the other underneath guys will be able to provide much-needed safety looks to Pryor.
Another reason to be confident is that OSU has seemed to form a little running back tandem of their own. Boom Herron had a stellar game, running for 72 yards on 14 carries, while Brandon Saine had 53 yards on 9 carries. Freshmen Jaamal Berry and Jordan Hall didn't even see the field against Navy, telling me they probably won't against USC either, but with Boom and Zoom leading the way the Bucks have options both running the ball and throwing to backs out of the backfield. Even without Beanie, OSU was able to run on the Trojans a little bit last season before the score got out of hand, particularly the zone option read, which could play a bigger factor Saturday.
The offensive line is an area to be concerned about, but if you watched the game over again (as I did twice), you will notice that the line wasn't all that bad. They had trouble picking up zone blitzes but a lot of the missed blocks actually fell on the full backs. Andy Miller, making his first start at left tackle last week, looked solid against the run and even better in pass protection. Bryant Browning looked much more comfortable at guard rather than tackle and Justin Boren is, well, a beast. Mike Brewster surprisingly disappointed me, but I am not too worried about him. One thing that does worry me is Cordle at right tackle. He admittedly said he was trying too hard to get out and hit people off the line rather than rely on his technique and it showed on the film as he looked very uncomfortable at the position. This makes Mike Adams' situation even more disappointing, as Bollman can certainly use him at left tackle and JB Shugarts over on the right side. Cordle won't have to be outstanding at tackle this year, but must hold his own if Pryor wants to stay in the pocket at all on Saturday.
I said after the game that I won't judge this defense until after the USC game. I am by no means using the Navy offense as an excuse to play that poor of a fourth quarter, but the schemes the defense had to prepare for were very different than what they will face the rest of the season. I was very impressed with how the line handled the cut blocking of the Midshipmen (no significant injuries is a major win), but this week they will have to blow up blockers rather then avoid them if they want to make plays. The defensive line's play is something that can win or lose the game and the guys in that unit know they will have to step up their game. Thaddeus Gibson and Nathan Williams off the edge are huge factors. If they can establish pressure and hit Barkley early, we could be in for a fun night.
The linebackers not named Brian Rolle were mediocre at best last week, and as previously mentioned Austin Spitler in particular looked very slow. His lingering injuries could be bothering him, but speed like that could lead to something like this, as well as some more playing time for Etienne Sabino. Ross Homan looked like he was playing very fast in practice yesterday and I expect a big game out of him. The secondary will certainly be helped by any pressure the line and linebackers can get on Matt Barkley, but they will still have their hands full with the Trojans' receiving corps. To the approval of almost everyone in Buckeye Nation, Jermale Hines will see more time with Anderson Russell taking on a secondary role this week. The move should certainly add more energy to the Buckeye defense and help in run support, something the Bucks may need against the powerful USC rushing attack.
As always, special teams will play a big part of Tressel's gameplan. Both Thoma and punter and Pettery at kicker looked solid last week. Thoma averaged nearly 45 yards on two punts including a deft 53 yard coffin corner that pinned the Middies in the beginning moments of the third quarter. Pettrey was 3/3 on field goals last weekend including a 52-yarder. He did miss on an extra point, but kickers are usually good for one and only one XP shank a year, so at least that's out of the way.
Prediction
After watching Ohio State dominate the big game in the first half of Tressel's tenure in Columbus, we have watched as the Buckeyes have flopped on every big stage since the 2006 National Championship Game. It seems the recent losses have broken into the psyche of the Buckeye players, but with the last group of players moving on to graduation and the NFL, this new group is trying to turn things around. The losing trend has to stop eventually, but the question is, will this be the week?
It pains us at the 11W headquarters to have to pick against the Buckeyes, but with a young team struggling to find their identity early in the season things do not look good for the Buckeyes. We think the game will be close and a turnover or a single possession (like a certain dropped pass against Texas in 2005) may indeed decide the outcome of the game. Nonetheless, you have to hope for the best and expect the worst.
Ohio State 26, Southern Cal 31