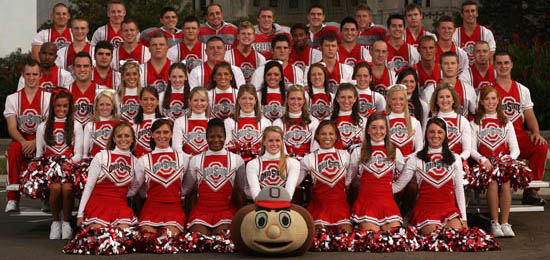 Though the Buckeyes are losing their top two receivers from last season, many fans actually welcomed the infusion of new talent, especially the speed that will be accompanying DeVier Posey, Lamaar Thomas, Jake Stoneburner and the other youngsters vying to step into the starting lineup.
Now, you can add Josh Springer to that list. The 5-11, 185-pound walk-on receiver is fresh off a stint with the OSU cheerleading team (yes, you read that correctly) and supposedly turned some heads after clocking a 4.47 forty. Not too bad for a guy that didn't even play a down of football in high school (oh, how that first stick is going to sting).
Save for Tank Whaley, and a few other notable exceptions, walk-ons rarely see the light of the playing field. Instead, they spend their time serving as live tackling dummies and paying for their own food at the training table. In Springer's case, we can only hope he gets on to the field for a touchdown in Ann Arbor some day as I can't imagine anything else that would give us as much smack-talking ammunition.
It's clinic season for coaches and Tressel ventured into the South last week for the Championship Coaching Clinic. While there, he went on record saying something the SEC has known recently, but being the part of the country that's perhaps quickest to perceive slights and lack of respect, they just had to get on tape:
"I think the SEC might be the roughest conference there is, top to bottom," Tressel said in an exclusive interview. "I can't imagine what they go through week-in and week-out.
Thus the article headline: Tressel to WVLT: SEC "might be the roughest conference". And yes, Southern Man, your penis is gigantic. Please do expect our Chinpokomon shipments.
And in other clinic/speaking tour news, it turns out that the JHC is knife collector. No word on whether Desmond Howard's name appears on any of them.
Finally, the McDonald's All-American Game is coming to Columbus in 2010. The Schott will host the event on March 31 and we're hoping it turns into the Jared Sullinger Show ahead of him hitting campus later in the year.