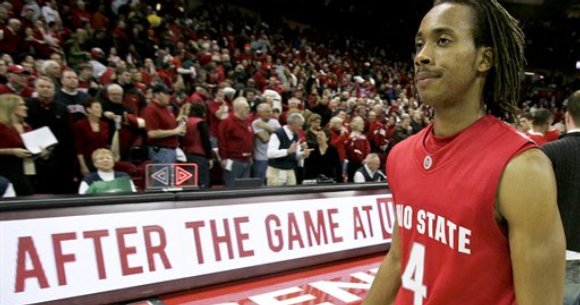 Ohio State fell to 7-5 in conference after surrendering 14 offensive rebounds and 19 turnovers in a 55-50 loss last night in Madison.
The -11 offensive rebounding margin allowed Wisconsin to take 17 more shots offsetting another hot shooting night (21/38, 55%) by the Buckeyes.
Evan Turner led Ohio State with 23 points (9/13 FG), 5 rips 5 assists but his sixth turnover was a back breaker as the Buckeyes lost possession trailing 50-48 with 48 seconds left. Forced to foul, OSU would be outscored 5-2 the rest of the way erasing any chance of popping their cherry at Kohl.
It's easy to wrongfully blame Turner but once again he was basically forced to shoulder the offensive burden creating a scenario where he felt forced to do too much. The sophomore scored 15 of OSU's 27 second half points while no other Buckeye contributed more than five points (P.J. Hill) in the final 20 minutes.
Without Turner to offset the pathetic second half efforts from Buford (2 pts), Diebler (2 pts), Lauderdale (2 pts) and Mullens (1 pt) it's not even a game with 48 seconds remaining.
Jeremie Simmons stunk it up (0/3 FG, 2 TO) allowing Hill to tie a season high with 26 minutes and he played a serviceable game with the five points, three rebounds and two assists against one turnover. Even with Hill's effort, it's pretty safe to say poor point guard play and rebounding issues will likely be the nails in the coffin to an early out in March.
Still, Buckeye fans must keep perspective and realize this was not a game penciled in as a win at the start of the season so there's no cause for panic. Ohio State can still do some things and the fact they were even in the game on the road considering the rebounding and turnover woes is a testament to their growing mental toughness.
The loss does make the trip to Evanston increasingly important on Wednesday night with Minnesota, Wisconsin and Penn State all sitting at 7-6 and nipping at OSU's heels.
If players not named Turner can show up for 40 minutes a win is very realistic.