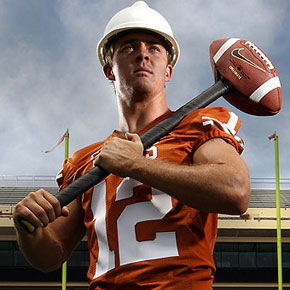 | | |
| --- | --- |
| Name | Colt McCoy |
| Year | Junior (R) |
| Number | 12 |
| Position | QB |
| Size | 6-3/210 |
As electrifyingly awesome as Vince Young was for Texas, it may be the Opie Taylor-like kid from the small town that replaced him who will wind up first in the hearts of Longhorn fans.
Colt McCoy doesn't possess Young's size or physical skills, but since taking over as the starter in 2006, he's been consistently excellent on the field and perhaps even better off of it1. Heisman or not, he's likely the smartest signal-caller in college football and when you surround a guy like that with the superior talent that seems to flow continuously into Austin, it's easy to see why he already owns the school record for victories at quarterback with 31.
After dominating 2A high school football in Texas, McCoy came to Austin as a three-star recruit and was redshirted his freshman season. The next year, he was given the ball as the starter and faced his first big test as a collegian when Ohio State came to town in week two. The thing I remember most about McCoy in that game is that Mack Brown didn't appear to trust him throwing downfield, much like we saw with Pryor at times this season. The Longhorns went on to lose that game, but McCoy led the team to 10 other wins as he put up numbers not normally seen out of first-year starters in BCS conferences: 2,570 yards and 29 touchdowns. For his efforts, he was named The Sporting News' Freshman of the Year.
Last year, as a sophomore, McCoy slipped a little. For reasons that are still beyond my feeble grasp, he threw 18 interceptions, or only four fewer than the number of touchdown passes he connected on. In a tough loss to Kansas State, he was intercepted four times and in a narrow win over Oklahoma State, he was picked off three times. The hangover was partly due to the fact that the Longhorns were breaking in so many youngsters in 2007, but McCoy managed to finish the year on a high note, winning game MVP honors in the Holiday Bowl after toying with Sun Devil defenders for a little over three quarters.
Using that bowl performance as a springboard, McCoy has put up a season for the ages, rewriting several Texas passing records along the way. The completion percentage of 77.6 is bonkers -- and a new NCAA record, and the 9.19 YPA is disgusting. His 3,445 yards passing and 32 touchdown throws against only seven interceptions are slightly better than numbers Troy Smith put up his last year in Columbus and just for good measure, McCoy is also his team's leading rusher with 576 yards on the year. When I watch footage of McCoy, I can't help but think "Steve Young" because the rushing threat and heady decisions are there in both of them.
From a pure numbers perspective, McCoy really didn't have a bad game this season. He did throw a pick-six that proved costly in the Tech game, but he's been a consistent stream of quality quarterback play for Mack Brown and I wouldn't expect Monday night to be any different. The good news for the Buckeyes is that the Longhorn offensive line is good, but not outstanding and the unit is susceptible to pressure.
The front four and the backers will have their hands full because they will be called upon to zone the short game where McCoy and the Texas receivers earn their living, but at the same time be around to stop any scrambling attempts. I touched on this in the profiles of Cosby and Shipley, but each receiver seems to be in tune with Colt and will break for touchdowns when it appears he's in trouble in the pocket.
Buckeye defenders have been saying all the right things about the guy, including how cool they think his first name is. Let's hope it's just his name and not a night of precision strikes we're left admiring on Tuesday morning.
---
Highlights from the McCoy File (Source)
Favorite movie: Gladiator
Nobody knows how much I like to: Hunt and fish
Favorite music group: George Strait
---
1 Academic All-Big 12 selections, volunteer work, Fellowship of Christian Athletes. Let's face it, McCoy is the boy your mother wanted you to be. Good guys do win, after all.