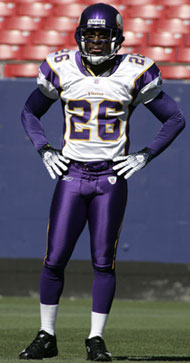 UPDATE: Winfield wins the award in close voting over Holmes (who, a day later would go on to win Super Bowl MVP honors) and captures the inaugural "Houndie".
---
We're just days away from the Super Bowl and with that brings the nominations for our first-ever Buckeye NFLer of the Year award. Most players will readily admit that winning this award would be the highlight of their careers, so please take a minute to review the candidates below and then vote in the poll to the right.
Chris Gamble, Carolina Panthers (CB)
Gamble was the only three-time winner of the award this season as he once again turned in a stellar campaign for the Panthers finishing with 93 tackles 19 passes defensed, good enough for third in the league. He was a big part of helping his team take the NFC South championship and was rewarded for his play with a six-year $53 million contract extension.
Antoine Winfield, Minnesota Vikings (CB)
Winfield won the award twice this season, in week 17 and 3, and if not for some controversy, would have captured the award a third time. His 95 tackles led all NFL corners as his Vikings captured the NFC North crown. That and he's my favorite Buckeye player of all time, so he'll probably still make this list in retirement.
Santonio Holmes, Pittsburgh Steelers (WR)
The only former Buckeye in the Super Bowl, Holmes had an impressive season finishing 2nd on the Steelers with 55 receptions for 821 yards and 5 touchdowns. He captured the award in weeks 14 and 16 and his return game played a huge role in getting the Steelers to where they are.
Ted Ginn Jr., Miami Dolphins (WR)
After a rather non-productive rookie season last year, Ginn started 2008 slow as well, racking up only 8 catches for 75 yards through his first three games. In week five, he captured his first NFLer of the week award with a 7 catch, 55 yard performance and then blew up against the Bills in week 8, winning his 2nd award after hauling in 7 receptions for 175 yards. From that point on, he continued to play a significant role in the Dolphins offense as new coach Tony Sporano seemed to have a handle on how to employ the burner.
Anthony Gonzalez, Indianapolis Colts (WR)
Gonzo continued his evolution into a latter day Brandon Stokely, winning the weekly award twice and finishing with 57 receptions for 664 yards and four touchdowns. His finest game came during week two, when he torched the Vikings for 9 catches and 137 yards and he registered at least one reception in every game this season, though his production did tail off towards the end of the year.
---
So, quite a few worthy candidates. Picking a winner won't be easy. If you could also be so kind as to suggest a new name for the award next season, we'd appreciate it. "Buckeye NFLer of the Week" doesn't exactly roll off the tongue.