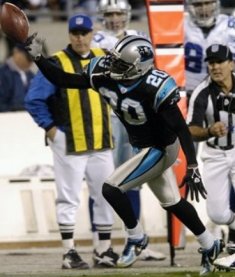 I must admit, I didn't get to watch as much NFL as I normally would for this week. The unfortunate part of traveling to Chicago is the trip back on Sunday and the inability to form complete sentences until Monday night.
However, after looking at the important games that included former Buckeyes and getting some help from Flip, it wasn't that hard of a decision for this week's award.
The duo of Michael Jenkins and Ted Ginn continued their improvement of late with strong performances in their team's win. Jenkins had his fourth straight 50+ yard game, with 6 catches for 72 yards in Atlanta's 34-20 win over New Orleans. The six catches were a season high for MJ, as the Falcons stayed one game out of first in the NFC South.
Teddy started Miami's scoring with a 39 yard TD catch, capping off an 11 play, 90 yard drive to open the game. On the day, Ginn lead the team with 4 catches for 67 yards and returned 3 kick-offs for an average of 29 yards in Miami's 21-19 win over Seattle. The Dolphins have now won three straight and sit just one game back in the AFC East.
Antonio Pittman got the start again for St. Louis, but struggled on the ground, gaining only 28 yards on 13 carries in the Rams 47-3 loss to the Jets. Surprisingly Pitt lead the Rams in receiving yards with 38 on two catches and now has 14+ touches in each of the last three games.
On the defensive side of things, our man Antoine Winfield and Mike Vrabel helped their teams pull off much needed victories to pull even with their respective division leaders.
Winfield recorded 6 tackles and helped hold the Packers to 184 total yards, as no Green Bay wideout went for more than 46 yards in Minnesota's come from behind 28-27 victory. Meanwhile, Vrabel had 5 stops, including one for a loss, in New England's 20-10 home victory over the Donte Whitner-less Bills.
For the second time in four weeks though, Chris Gamble takes home the Buckeye NFLer of the week for his performance in Carolina's ugly 17-6 win at Oakland. It pains me to give this to someone playing against the Raiders, but Gamble's interception early in the fourth at the Carolina 39 helped seal the win.
Gamble's stats also included 5 tackles, one for a loss and 2 passes broken up, as the Panthers have won 5 of their last 6 and hold a one game lead in the NFC South. The Raider wide receivers were held to 2 catches for 27 yards, while the entire passing game misfired to the tune of 147 total yards and 3 turnovers.
I said it last time he won, if the Panther's defense continues their dominance, Gamble has to get some consideration for All-Pro. He has already set a career high in passes defended with 15 (4th highest in the league) and is on pace to break his career high of 75 tackles. They play the Lions this weekend, so another win is on the horizon.