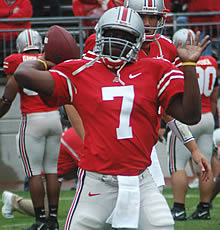 You know we're making strides around here because only weeks after utilizing our vast reader base of dozens to locate the whereabouts of former safety Tito Paul, we're now getting tips from "insiders".
This is not our normal tipster bum that sleeps behind a dumpster on Chittenden, so we have no way of verifying the following statements, but they're sure as hell fun to talk about:
In the last few practices in Columbus, the Buckeyes spent quite a good amount of time working in spread sets with Henton at quarterback.

Laurinaitis did not practice for two sessions and was on the sidelines, in sweats, for both sessions.

Overall, the defense is having trouble stopping the scout team offense. Lots of missed assignments, people out of position, folks forgetting their man and leaving them to make a perceived play, etc. They look earnest, and are focused, but are struggling defensively.
And:
The best receiver on the team, bar none, is Albert Dukes, but he's spending his time in the doghouse. He is faster, runs better routes, has better hands and makes better cuts than anyone else on the team.
Like we said -- absolutely no way to vouch for these statements so take them for what they're worth. Saying that, the Henton stuff wouldn't surprise us one bit -- the Shot-Ginn in the 2004 Alamo Bowl proved the Vest can mix it up just as well as Miles can. No idea what to make on the Dukes statement. Your thoughts?