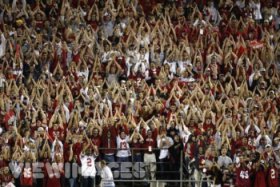 If your needing a Buckeye fix tomorrow afternoon, tune into NBC at one o'clock and watch Tressel's newest batch of seedlings play in the U.S. Army All American game. Ohio State will have 7 players participating in the game and an 8th, Michael Brewster is out due to injury.
Rivals has been covering the game all week and provide a top 11 players list after each day of practice. Michael Adams impressed the first three days, earning Rival's top player each day. Devier Posey, Jake Stoneburner, Etienne Sabino, and Lamaar Thomas have also been mentioned.
While I don't think Ohio State will have any commitments announce during the game, there are plenty of targets who can fill the final few spots, including Josh Jenkins and Terrelle Pryor. With 5 of Ohio State's 7 seedlings making headlines, it is hard for these uncommitted kids not to take notice and hopefully they will be reassured again on Monday night.
If you are good with the remote, at 2pm you can also watch Andrew Sweat in the Under Armour game on ABC.