It's game time.
Time for some redemption. Time to end silly debates about conference speed. Time to kill all of the "overrated" talk and recognize the run of the past 5 years for what it has been -- dominant. Time to defend the pride of an entire nation of fans and alumni. Time to end the 0-8 talk. Time to shred the DVD.
The Buckeyes have crossed the Rubicon. Win and they'll accomplish the above and more. If Ohio State loses -- get ready for the "Buffalo Bills" talk. But only after enduring a long night of invisible hand signals..
The foe could not be more perfect. In LSU, the Buckeyes get the loaded team, from the stacked conference. A team that was so good, they were selected to play in the national championship game despite having suffered two losses (cough.. undefeated in regulation.. cough.).
LSU was the champion of the nation's deepest conference despite missing the services of Glenn Dorsey, Early Doucet, Matt Flynn and Trindon Holliday for various stretches of the season. In Jeopardy-speak: Who are the potential #1 pick in the NFL draft, an all-conference wide receiver, the senior quarterback and the nation's fastest player.
Tale of the Tape

| OHIO STATE | OFFENSE | LSU |
| --- | --- | --- |
| 32.0 (39th) | SCORING | 38.7 (11th) |
| 397.1 (58th) | TOTAL OFFENSE | 448.2 (21st) |
| 201.3 (20th) | RUSHING | 218.9 (11th) |
| 195.8 (87th) | PASSING | 229.2 (55th) |
| OHIO STATE | DEFENSE | LSU |
| 10.7 (1st) | SCORING | 19.6 (16th) |
| 225.3 (1st) | TOTAL DEFENSE | 283.9 (3rd) |
| 77.1 (3rd) | RUSHING | 103.1 (10th) |
| 148.2 (1nd) | PASSING | 180.8 (9th) |
This "damn strong football team" is bursting with senior leadership on both sides of the ball and about as talented as they come.
They have gone 3-0 in BCS games and hold a 12-4 all-time Superdome record thanks in part to playing a mere 80 miles down the road from campus.
This is the team that, when healthy, confirmed slapping was once again fashionable.
These guys recruit from the backyard of the largest per capita producer of NFL talent on Earth.
The challenge is out there, but to convert, the Buckeyes must play with the type of speed and precision that only comes along a few times a year. The offense from the Penn State game playing alongside the defense from the Michigan game, if you will.
Since both squads enter the game healthy. The loser of this game will have no room for excuses and weak justifications.
To the winner, the honor of becoming the first team to win two BCS Championships and in doing so, stamp its place as one of the preeminent programs of this decade.
To the fans, a validation or shattering of the prevailing wisdom regarding conference strength.
---
OPPONENT
The backbone of this LSU squad is the core group of seniors (all Saban recruits) that have willed the team to several close, come-from-behind victories through a combination of their own moxie and their coach's titanium balls.
Nowhere is that leadership more evident than right in the middle of the Tigers' defensive line. Engraved hardware collector and likely future Dolphin Glenn Dorsey (#72) will be noticeably better than anyone else the Buckeyes have faced. A two-year All-American, he represents the double-team magnet to free up his front-seven mates to stop the Ohio State rushing attack. Doresey has missed some time this year due to back problems and a pretty dirty shot to the knee, but is 100% for the first time in months heading into the game.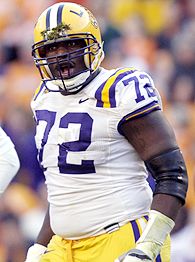 Lining up at end next to Dorsey is junior Tyson Jackson (#93). After recording 8.5 sacks and 10 TFLs as a sophomore last season, Jackson has underachieved a little this year, but for one game, he can be a force as well. On the other side at end, Kirston Pittman (#49) is making the most of his last year, leading the team with 6.5 sacks on the season.
At linebacker, LSU is lead by junior Ali Highsmith (#7) and junior Darry Beckworth (#48). Highsmith caught the eye of the Vest and both backers are great runners, but it should be pointed out that LSU doesn't have a single defender ranked among the nation's top 100 tacklers. Regardless, as Dorsey clogs, they make plays.
The Tiger secondary, considered the "weak" spot of the LSU defense, features senior Chevis Jackson (#21) who has great range, but has been plagued by the same stone hands members of the Buckeye secondary have exhibited this season. The other corner spot is held down by Jonathan Zenon (#19). Both Jackson and Zenon are generously listed at 6-0 and don't have blazing speed to lock down elite receivers in man-to-man, so they'll play a lot of zone. At safety, another senior, Craig Steltz (#16) is great at stuffing the run, but suspect in pass coverage. The Tiger version of Donnie Nickey.
In spite of this, or thanks to the front-seven, the Tigers were one of only two teams in the nation to hold opposing quarterbacks to under 50% on completions. In fact, they held opponents to a 27% conversion rate when passing on 3rd down. That's pretty nasty.
Senior running back Jacob Hester (#18) and senior quarterback Matt Flynn (#15) are the heart and soul of the Tiger offense.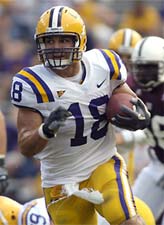 Hester, a rare white running back and former 2-star high school recruit is riding a 1000 yard season finishing with back-to-back 100 yard games against Arkansas and then Tennessee in the SEC Championship. When LSU needs a 1st down on a 4th and 1, Hester is their man. Did I mention that he has exactly 0 fumbles in his college career?
Backing up Hester is the bigger and more talented Keiland Williams (#5) -- a guy with half of Hester's production on 1/3 the touches. Although neither are receiving threats out of the backfield, the change in tempo created by the two of them have given opposing defenses fits all season.
While Flynn won't be confused with Colt Brennan any time soon, he has shown the ability to sling the ball around when needed. In consecutive weeks in the 2nd half of the season, he hung 319 yards and 3 touchdowns on Auburn and then 353 yards and 3 more touchdowns against Alabama. The Bama game also saw the only time he had any real interception problems this season as he gave the ball back 3 times. Flynn is thought of as a decent running option out of the quarterback spot, but with a season long run of 22 yards and a game high of only 53 yards on the ground, we beg to differ.
When Flynn had to miss the SEC Championship game due to a shoulder injury, sophomore Ryan Perriloux (#11) filled in admirably. The former highly sought after recruit has the size and real running skills to create problems for the Buckeye defense when he sees the field. His passing numbers are pretty impressive for the year, though with Flynn around, he hasn't received the snaps to really shine. He will see short yardage and red zone looks in the game in addition to anything else Miles has cooked up (LSU offensive coordinator Gary Crowton has indicated that Perrilloux has 10 plays scripted for him - possibly more).
When the Tigers look to throw the ball, they'll look to wide receiver Early Doucet (#9). Doucet started off with a bang by grabbing 15 receptions in the first two games of the year, but a groin injury has limited his production this season. He has size and speed to exert pressure on the Ohio State corners and will be looking for a big game to make up for a disappointing season. Outside of Doucet, the other receivers are pretty inconsistent. Demetrius Byrd (#2) has some speed and is most famous for catching a touchdown to beat Auburn with 1 second on the clock. Buckeye fans may know him as the guy that said he'd played against better all year when asked about Donald Washington.
Tight end Richard Dickson (#82) is a more than capable outlet as well, but the Buckeyes have seen better in the form of Wisconsin's Beckum and Purdue's Keller.
Like the Buckeyes, the Tigers have a pretty huge offensive line. Only the LSU unit isn't quite as good. They have played pretty well when blocking for the power running game, but have struggled at times in pass-protection this season. The LSU line has allowed a full sack more per game than their Buckeye counterparts, so they have to expect Flynn to take some shots.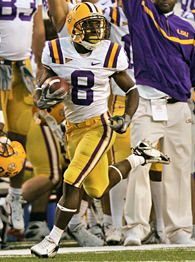 The one x-factor the LSU offense has is sophomore Trindon Holliday (#8), he of the 10.02 one-hundred meter time. His speed will require the Buckeyes to know where he is every time he is on the field. If he gets into the open field either running the ball or on special teams, it could spell trouble for Buckeye fans. He's tiny and was knocked out of the 2nd half of the SEC Championship against Tennessee, so there's a chance he can be neutralized with some good hitting. On the year, he only has two receptions, so of course that's jumping out at us with big red flashing lights.
Junior Colt David (#6) has been more than adequate kicking this season, converting on 25 of 32 field goal attempts, though he did miss a 30-yarder in the SEC Championship and has never hit anything from 50+. You may remember him for catching the fake flip for a touchdown against South Carolina earlier in the season. Patrick Fisher (#36) is averaging 43.9 per punt this year, good enough for 13th-best nationally. LSU punt coverage is nothing to write home about and they've had trouble settling on a kickoff guy this year. Unfortunately, the Buckeyes have been pretty terrible at the return game, so there's not much of a chance of exploiting this.
Maybe I lied a bit ago when I mentioned that Holliday is the one x-factor for the Tigers. Coach Les Miles earned the reputation of a riverboat gambler from some of the.. ahem.. curious calls he made this season. You can call him a little crazy, but chances were, whatever gamble he made ended up working out. A native Ohioan that played and coached at Michigan, he has been dreaming of this matchup for probably most of his life and there's no telling what wonderfully wacky ideas crept into his mind during the long layoff leading up to this game. A fake punt, kick, reverses, flea-flickers -- expect all of that and more.
NOTES: LSU trails the all-time series to Ohio State 0-1-1 (13-13 tie in 1987 and lost 33-27 in 1988)... WhatIfSports.com has simulated the game and they're calling for a 22-21 LSU victory... The Superdome is said to have helped save over 35,000 lives during Katrina... The SEC is 6-2 in bowl season this year.
---
BUCKEYE BREAKDOWN
All season, the Buckeyes have had the luxury of playing with a giant chip on their shoulders. The Chip only grew once it was announced that they'd be one of the participants in the BCS Championship game. The pundits were saying the team didn't belong and that it had backed into the game. They were saying that the team was going to get waxed by the Tigers and it was going to be yet another embarrassment for the Big Ten conference on the biggest stage. The Chip grew once more when Tressel and the staff compiled the now famous "Take Home Talk" DVD and sent it home with the players to study over Christmas break.
The Chip and the Chip alone will be the final difference in what should come down to a very close game. LSU caught some late breaks when Michigan finalized a new coach and the Trojans and Bulldogs blew up in their bowl games, starting up talk of a potential split title, but the Chip has staying power. It's been around for 364 long, haunting days. The Chip has so much cred right now that every preview of the game you can read is calling for a close score despite a supposedly overrated Buckeye squad playing a fully healthy "gorilla with a chainsaw where its dangly bits go" -- in its own backyard.
Unfortunately, the Chip won't be able to do it alone. The Buckeyes will have to do it on the field and doing it on the field really means playing the game of their young lives.
The offense starts and ends with Beanie Wells. How will Ben Person fare against Glenn Dorsey? How often will Cordle have to help on double-teams, freeing up the LSU linebackers to make plays?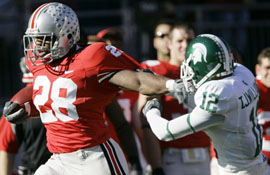 Establishing the rushing attack is paramount to the team's success for several reasons. First, it will force Pelini to come out of his cover-2 and move into more of a cover-3, bringing the safety, Steltz, up to try and stop the run. This will open up play-action plays and even space on suspected passing plays for Boeckman so he can avoid the dreaded drive-killer -- the heave into double coverage that he's been so fond of this season.
Second, this defensive shift will put more pressure on Danny McCray, the Tigers nickelback, when covering slot guys like Ray Small. This is a matchup we're practically drooling over.
Last and perhaps most importantly, if the running game is having success, that means that Glenn Dorsey is seeing a lot of snaps. Monster defensive tackles, no matter how good they are, wear down when left on the field all night.
When Boeckman does line up to throw in passing sets, he should have more time to scan the field than Troy Smith saw last season against the Gators. For one thing, the LSU defensive ends aren't nearly as talented or as fast as Jarvis Moss and Derrick Harvey. Barton will likely see the matchup with Jackson, with Boone seeing Pittman most of the night, but both have improved vastly on their edge protection techniques and should be able to give Todd protection for most of the night.
Robiskie on Jackson is an interesting matchup. Chevis is certainly respected and is a tremendous player, but the height (and possible speed) edge to Robo should show in the game. On the other side, Hartline will have his hands full with Zenon, but he should be able to get in space.
What offensive wrinkles will the Vest introduce? We all suspect that Antonio Henton will see some snaps in an attempt to spread out the Tiger defense and give them different looks to deal with, but will Saine see any significant action? We can't see Schoenhoft getting into the game ahead of Ballard and the other tight ends, but that could be something else to watch out for.
Defensively, the Buckeyes must be prepared to stop a team that doesn't always line up to punt on fourth down. In their win over Florida, LSU converted five times on 4th down on their way to victory. You know what stops that type of stuff? Third and longs.
If OSU can stop Hester, who always seems to fall forward for another yard after being hit, keep Keiland Williams in check and force Matt Flynn to beat them with his arm, you have to like their chances. Doucet, although finally healthy, isn't a game-changer at the wideout spot. Byrd and Dickson, the tight end, can make plays, but neither bring an element to the game that the Buckeyes haven't seen (like Winslow in 2002, for instance). Jenkins, Washington, Russell, Coleman and Checkwa are more than capable of sticking with the LSU receivers.
As mentioned above, Flynn has taken his shots in the pocket this season and he should expect to take more tonight. Vernon Gholston seems to play biggest in big games (witness his 7 sacks combined against Wisconsin and Michigan) and his matchup with right tackle Carnell Stewart had have given the LSU staff fits all week just thinking about it. Bowls are traditionally a place for emerging freshman to shine, so in that sense, we expect Cameron Hayward to make his presense known. With all of the attention Gholston will be getting, he should see favorable matchups throughout the night.
Because of the lack of size in the interior of the Buckeye defensive line, we expect LSU to be able to get some hats on Laurinaitis and Marcus Freeman. Still, the duo will make plays - LSU hasn't seen a linebacker corps that runs or tackles as well as what they'll see with the Buckeye group. One or both of these guys will certainly have huge assignments when Perrilloux takes the field and the staff seems to have learned their lesson when they didn't turn the guys loose against Illinois.
You have to like the Buckeye kicking game playing indoors. While LSU may have the edge at punter, the Buckeyes have the clear edge at kicker and with this game expecting to be so close, each team's respective kicker could play a huge role in the outcome. One thing I hope was given extra-special love during the preperation for this game is OSU's kick coverage teams. They have looked half-dead during parts of the season and if Holliday catches even the slightest window on a return, it could be trouble.
While much has been made of Leslie the riverboat gambler, Tressel will take his chances when presented with them. He went for a fake field goal against Miami in '02 and then there was the failed 4th down attempt deep in Buckeye territory in the first half of last year's game. He's caustic, but not stupid and you can bet he'll have something or another up in store for Miles.
NOTES: ... Tonight marks the first time Jim Tressel has coached a game in the Superdome... The underdog has won 6 of 9 BCS Championship games... Rapper Juvenile will be a sideline guest of Buckeye Abdallah Nader... Exactly 10 seasons ago, Jim Tressel lead an Ohio school (Youngstown State) to a national championship over a Louisiana school (McNeese State).
---
We should all be in for one hell of a game tonight. Both teams play a similar style of ball and are equipped with exceptional athletes. But after being told for a year that they weren't any good, how could you not like the Buckeyes' chances?
PREDICTION: OSU 23, LSU 17