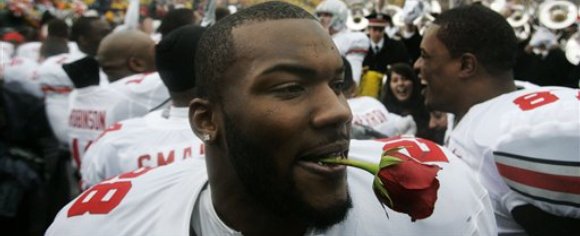 Beanie Wells left no doubt as to who is the Big Ten's best back this season with a 39 carry, 222 yard, 2 TD performance leading Ohio State past an outmanned Michigan team in what was most assuredly Lloyd Carr's last beatdown at the hands of Jim Tressel.
Tressel became the first coach in OSU history to wax the Wolverines 6 times in 7 tries as the Buckeyes clinched the outright Big Ten title for the second consecutive season, winning at least a share of the conference crown three years running.
Even sweeter, the loss moved Mike Hart, Chad Henne, Jake Long and Shawn Crable to 0-4 against OSU, capping their careers in grand style while Lloyd dropped to 1-6 against The Vest.
Michigan looked like they might have a chance taking a 3-0 lead late in the first quarter capping a 49 yard drive with 33 yard FG behind Mike Hart's 5 carries for 31 yards but the Silver Bullets allowed just 42 yards of offense the rest of the afternoon behind a dominating defensive line that held Mike Hart to 44 yards on 18 carries while forcing Chad Henne into an 11/34 performance through the air.
With rain falling throughout the game and Todd Boeckman looking like a deer in headlights, Tressel opted to wear down the Michigan front with a steady dose of Beanie on the ground. Wells etched his name in the history of the rivalry chewing up the most yards by a Buckeye back in 104 years of The Game and put the game on ice with a 62 yard TD run giving OSU a 14-3 lead on their first offensive play of the 3rd quarter. Beanie's career day pushed his season total to 1,463 giving him a realistic shot at a 1,600 yard season.
The win secured at least a Rose Bowl bid although OSU still has an outside shot to get back into the national title hunt. Meanwhile, the Wolverines are left with a 4 loss regular season that began and ended with 2 game losing streaks. Most likely, they'll also be coachless with Carr expected to announce his retirement at a Monday news conference. See ya, Lloyd. It was fun kicking your ass while it lasted.
---
OFFENSE:
Beanie Wells is a freaking madman. His 222 yards represented 80% of the Buckeye offense on a day where Tressel was not going to let Todd Boeckman have a hand in determining Ohio State's fate. With the big boys up front dominating the line of scrimmage in a steady rain Tressel called 59 running plays (229 yards) to just 13 pass plays, two in the second half. Even though Michigan knew the run was coming, they couldn't get a big play when they needed it allowing OSU control the ball for 38 minutes compared to just 22 for the Wolverines.
Early footing problems for Beanie combined with Boeckman's panic stricken play (slips, 2 fumbles, INT) stalled 6 of OSU's 7 first half drives but Beanie's 1 yard TD plunge capped a 44 yard drive giving OSU a 7-3 lead with 10 minutes left in the 2nd quarter.
After the Buckeye defense forced a 3-and-out to start the second half, Beanie took OSU's first offensive play of the 3rd quarter 62 yards to paydirt providing a 14-3 lead paving the way for another methodical Tresselball win.
With the defense shutting down the helpless Michigan offense, Tressel called 30 runs and 2 passes the rest of the way chewing up 19 of the last 27 minutes including 12 of the final 15. It wasn't pretty but it got the job done and that's all that matters against Michigan.
---
DEFENSE:
The Silver Bullets proved too much for Michigan's beat up offense allowing just 15 yards rushing amongst 91 total yards.
As usual, Mike Hart was stricken with diarrhea of the mouth in pregame and during the opening quarter as he rushed for 37 yards on his first 6 carries but became increasingly quiet as his final 12 carries produced just 7 yards. His 44 yards marked a career low for a game in which he had at least 17 carries complementing a horrific passing attack that connected on just 12 of 37 attempts.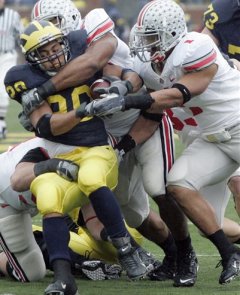 Like Boeckman, Henne struggled with grip under consistent pressure from the Buckeye front four. Vern Baby, Vern was unstoppable registering 5 tackles (4 TFL) and 3 sacks while linemates Dexter Larimore (sack), Cameron Heyward (3 tackles, 1 TFL) and Todd Denlinger (sack) helped dominate the Michigan offensive line without the aid of many blitzes.
With the big boys clogging the line of scrimmage, the linebackers were able to roam free. Marcus Freeman led the Buckeyes with 9 stops while fellow LB James Laurinaitis recorded 6 tackles.
The secondary did their part however they didn't need to do much with a banged up Henne floating ugly incompletions on half his passes with WR Mario Manningham dropping the other half.
Overall, the defense held Michigan to just 3-18 on third down and forced 12 punts. The 3 points allowed marked the 4th best defensive effort ever by the Buckeyes against the Maize and Blue and the 91 yards allowed was the worst performance by a Michigan offense since 1962. Sure, the Wolverines were banged up but today's effort is firmly entrenched in the record books.
One more quick nugget - Vern's 3 sacks gave him 13 to tie Mike Vrabel's single season record set back in 1995.
---
SPECIAL TEAMS:
A.J. Trapasso booted a career high 11 punts but put just 2 inside the 20 averaging only 37.4 yards per kick. That said, the punting unit should be commended for getting off all 11 punts without a low or bobbled snap and holding Michigan to 5.3 yards per punt return.
The Buckeye return game showed signs of life for the first time this season with Ray Small contributing several nice returns including a touchdown off a Michigan punt to start the 3rd quarter, although the play was negated due to a blocking penalty.
---
NOTES:
The outright title gives OSU 32 conference crowns including back to back outright titles for the first time since '54-'55...The Buckeyes are now 57-3 when leading at the half under Tressel...OSU has now beaten Michigan 4 straight times marking the 3rd time that's happened in school history...Robo has at least one catch in 24 consecutive games.