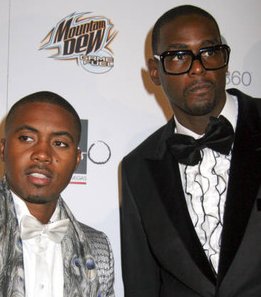 It's time to wave the white flag.
Last week, I posted a paltry 1-3 mark while Jason went 3-1 to move his season record to 23-17 against my rancid 19-24 tally.
Logic says I should retire to the Indian casino Clark W. Griswald visited in Vegas Vacation and try my hand at "Heads or Tails" or "Pick A Number Between 1 And 10" but I'll soldier on through the end of the season.
Since we're headed north 'til we smell it and west 'til we step in it, we reached out to Chris Webber to be this week's guest. It wasn't easy as C-Webb charged us his standard fee of 280k and a handful of prostitutes before agreeing to join our elite guest picker fraternity.
To his credit, C-Webb didn't lie to us like he did the grand jury and came through with his picks. Let's see how he stacks up.
Now on to the picks:
West Virginia (-6.5) @ Cincinnati (ESPN 7:45)
UC's hopes for an upset rely on their ability to stop the nation's third best rushing attack. Past history says that might not be possible as Slaton and White have combined for 240 yards rushing in the last two meetings between the schools.
Chris: I never learn. WVU 31-23.
Jason: The Mountaineers are shaky. The Bearcats win outright 28-17 (sorry Corey).
C-Webb: Timeout! I mean, er, nevermind. Bearcats 21-20.
---
Kentucky (+7.5) @ Georgia (ESPNGP 12:30)
GeorgiaSportsBlog says getting hyped for Kentucky won't be an issue following last year's game in which Georgia QB Matt Stafford was hit after his helmet had come off. Last year's 24-21 victory is considered the game that got Wildcat football back on the map. Okay, if you say so.
Chris: Georgia's on a roll behind Knowshon. 'Dogs cover 30-20.
Jason: I agree. The Dawgs are looking tough right now. Georgia 31-14.
C-Webb: Can I buy an ounce of Kentucky Bluegrass? Wildcats 23-20.
---
Boston College (+7.5) @ Clemson (ESPN2 7:45)
Clemson has it sights set on earning a trip to the ACC title game but needs to win at home against BC to clinch. The teams are heading in opposite directions as BC has lost two straight while the Tigers are on a 4 game win streak.
Chris: I don't trust the Bowden clan. Clemson wins but doesn't cover, 27-21.
Jason: Maybe wacky picks like this are what have helped me this season, but I think BC wins a close one, 20-17.
C-Webb: This is one of the week's best games?!? Sad. Tigers 30-21.
---
Oklahoma (-8) @ Texas Tech (ABC 8:00)
Tech coach Mike Leach was fined 10k for his comments regarding the refs in last week's loss to Texas and now his Red Raiders must face the Sooners in Oklahoma. I didn't see the game and don't doubt the refs were horrid considering the state of officiating in college football but at least it happened to a jerk like Leach this time around.
Chris: Eight's a lot of points but no way Tech stops the Sooner offense. OU 34-24.
Jason: Sooners big 45-20.
C-Webb: You think Stoops can get me a job at local car dealership? I got's court costs! OU 42-23.