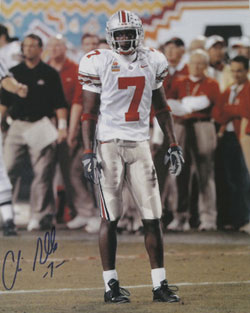 Our third contest had the most participation so far and not coincidentally, OSU has won all three games in convincing fashion. I guess that fact ensures the next edition will be for a certain game to be played November 17 in Ann Arbor.
With a prediction of 41-17, reader David L. emerged victorious winning an autographed photo of Penn State killa Chris Gamble.
That's such a fine prize that we're having internal discussions about renaming the site Generous Warriors.
Anyway, congrats to David L. and keep your prediction skills sharp in prep for Showdown Saturday.