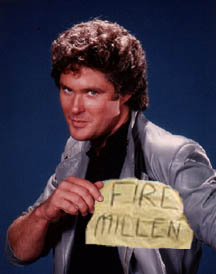 Can you feel that momentum shifting? After nearly a month of horrific picks, I put up a 3-1 effort last week while Jason wore the collar going 0-4. Damn it feels good to be gangsta. Well, not really. On the year, Jason still leads the way at 18-13 while I'm closing in on .500 at 15-16. Let's hope the Rally-Bandage on my mangled finger will keep the wins coming.
With a trip to Happy Valley on the schedule I wanted to accomplish two things when selecting this week's guest picker and I think I've hit a homerun. First, I wanted a Penn State alum. Second, I wanted to invite someone who knows little about football. Ladies and gentlemen, please welcome Detroit Lions President Matt Millen. You know, the guy who's been the subject of more protest rally's than Civil Rights. Did I say homerun? I meant Grand Slam.
Now on to the picks:
Boston College (+3) @ Virginia Tech (ESPN 7:30 ET Thurs.) The unbeaten Eagles travel to Blacksburg to face the Hokies, who are 13-2 on ESPN Thursday night football. Sounds impressive, but those two losses are against BC. Get ready for all the hype you can handle about Beamer and his special teams. That broken record never ends. Va Tech's 2-QB system could be hampered if freshman Tyrod Taylor can't go.
Chris: I'm not sold on BC, but I think Beamer and his troops are overrated. BC covers easily by winning outright 23-16. Jason: I'm still not sold on BC and Tech is playing good ball these days. VT wins outright 21-10. Millen: That BC squad got any talent at wide receiver? BC 24-12.
---
Cal (+3) @ Arizona State (10:00 ET) The Cal Bears look to end a two game losing streak in Tempe against Dirty Dennis' Sun Devils. Cal WR Robert Jordan recently admitted the team gagged as a result of their #2 ranking and thinks they are now ready to roll. We'll see. It's more likely they were just overrated from the start.
Chris: I'm drinking reader Dave's Sun Devil kool-aid. ASU 30-24. Jason: This is the biggest game in Tempe in 10 years. I like the Devils to cover 38-28. Millen: Trust me, winning on the road is tough as evidenced by my 7-44 record as GM. Devils 28-27.
---
USC (+3) @ Oregon (3:00 ET) I know Oregon's not a football power but did you know this will be the first game in the 41 year history of Autzen Stadium to feature two Top 10 teams? It could also be the 2nd straight year USC records at least two losses if they can't stop Dennis Dixon. On the other side of the ball, Pete Carroll will have to choose between his two mediocre QB's if Booty-time has recovered from a broken finger.
Chris: I think/hope USC is ready to unravel. Oregon 34-28. Jason: Oregon puts 50 on everyone, but not USC. Oregon 31, USC 20. Millen: Ducks rhymes with sucks so I'll take Oregon 30-28.
---
Florida (-9) @ Georgia (CBS 3:30 ET) This year's edition of the World's Largest Outdoor Cocktail Party features Heisman frontrunner Tim Tebow against a 5-2 Georgia team coming off a bye week. If Georgia pulls the upset, it will be just their third victory in the last 18 matchups.
Chris: Past history tells me all I need to know. Tebow goes wild in a 34-13 Gator romp. Jason: I'll take Meyer and Tebow, but they don't cover. Florida 28, Georgia 24. Millen: I bet Tebow would make a fine NFL wideout. Florida 40-17.