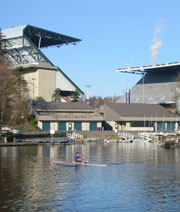 Think for a minute about the last time you were genuinely nervous before an Ohio State football game. It's been a while, hasn't it? I know that I haven't been nervous before a game for at least a good year and a half. I was maybe a little nervous heading into the Michigan game last season, but I was pretty sure we'd take that one because it was played at the 'Shoe. I should have been nervous heading into the BCS Championship game -- perhaps the team should have been as well, but this trip to Washington has a lot of Buckeye Nation justifiably worried, myself included.
The margin for error going into this game is as low as it's been for a long time. Do the Buckeyes have an offense that can go out and get points when needed, like last year's squad? How will the young players respond to their first game on the road -- and a West coast roadie at that? The PAC10 is off to a hot start this season and the conference may need a Buckeye win just as much as the faithful. One thing is for certain: this game has the potential to either sink a season or be the springboard towards continued improvement.
---
Opponent: Tyrone Willingham's Huskies are off to an impressive 2-0 start, having blasted Syracuse 42-12 in their opener and then stopped Boise State and their major college best 14-game winning streak last week. The resurgent program will be looking at the Buckeye game as a chance to put Washington football back on the map.
You really have to be happy for Willingham considering Notre Dame pretty much pissed on him and sent him packing. There seems to be a different set of rules for Crewcut, and yet Ty has handled it all with nothing but class. I want him to do well in Washington. I just need him to lose this game.
Willingham has to like his odds considering the Huskies have Tebow 2.0 in redshirt freshman Jake Locker (#10). He's is big (6-3, 225), fast and likes to run having gone over 10 carries and 80 yards in back to back games. His rushing numbers alone are pretty sick: 167 yards (6.4ypc) and 3 TDs. Toss in the 335 and another touchdown through the air and you have a tough guy to defend. Rivals thinks high enough of Locker to have him pegged as the #25th best quarterback in the nation. Hometown bloggers think even higher of Locker, leading them to say things like the Huskies will win by 14.
When Locker isn't running or throwing the ball, he'll look to handoff to Louis Rankin (#9). He popped off to the tune of 147 and 3 TDs against Syracuse, but Youngstown State could probably beat Syracuse this season. Against stiffer competition in the form of Boise State, Rankin was held to 17 for 45 which is just shy of 3 yards per carry.
Several Husky receivers will see balls thrown their way. Locker particularly likes to go to senior Marcel Reece (#3) and why not, he is 6-3/240. The JUCO transfer had 4 catches for 102 yards, including a 58-yard touchdown to put the Huskies up 24-7 last week against Boise State.
Washington's offensive line has only given up one sack on the season, but the team did allow Boise State to block a 41-yard field goal attempt. The Huskies have already shown reverses, the option and a halfback pass and we're only two weeks into the season. Expect there to be a trick or two up Ty's sleeves, which has a chance to work against a fast, aggressive defense like Ohio State's.
As good as the Husky offense has been this season, the defense may be even better. Coordinator Kent Baer, fresh off winning the award that won the award for longest award name, The National Defensive Coordinator Player of the Week, will try to keep everything in front of them without giving up the big play to the Buckeyes. He has a veteran front, fast linebackers and a secondary that collectively notched 7 sacks against Syracuse and picked off Boise State 3 times. Baer's boys kept Ian Johnson out of the endzone and held Boise State to its lowest output in 2 years. They'll be ready.
Although relatively small with a capacity of only 72,000, Husky Stadium can be a tough place to play. Because most of the seats are located between the endzones, the noise amplifies. During a 1992 night game against Nebraska, ESPN measured the crowd noise at 135 decibels. Outside of Camp Randall and Happy Valley, this will be the toughest environment many of these Buckeyes will ever play in.
Notes: Washington is 2-0 for the first time since the Neuheisel era... The line opened with the Huskies as 3.5 point dogs, but has since risen to 4.0 points... Huskies have a blogger shortage.
---
Buckeye Breakdown: The Buckeyes will be making their 5th trip out to Husky Stadium in a series that Woody started in 1957 as a way to get the team prepared for West coast trips. Like the big one to Pasadena. Although the Buckeyes hold a 7-3 lead in the series, the last two visits to Seattle haven't been kind to them. Washington beat the Buckeyes 25-16 in 1994 and before that drilled Earl's 1986 team 40-7 in the rain. That game and the continued 9-3 seasons ultimately lead to Earl's firing, which begat John Harold Cooper and many years of suffering at the hands of Michigan. Ohio State defeated Washington 28-9 in their last meeting, the Buckeye's 2003 season opener in Columbus.
It's true that the offense didn't show anything whatsoever in the opening two games, what with running the ball on 75% of first downs and forcing the power game when the corner was there and that's fine. The Vest knows what he's doing and if he wants to work on some things, he's got more career victories than I do. This will be the first game that Tressel has actually game-planned for the opponent at hand instead of working through a fairly generic plan.
I'm still high on the play of Todd Boeckman at quarterback, despite the so-so performance last week. One pick he gets back because of the slip and you can bet he's seen enough tape of the safety coming across to snatch the other one that he'll know where the safety is for every play the rest of his career. This will be a good test for Boeckman and unless he starts terribly, expect to see little or none of Bellisari the 2nd. Robo will create openings based on his route-running and the long-awaited appearance of Ray Small should help to take some pressure off of the offensive line by forcing the UW safeties to back up a little. This is important because if the Huskies can add the safety to the mix with their talented front and linebackers, Boeckman could be forced to run. He is supposedly faster than Troy Smith, but I'll believe it when I see it on the field at game-speed.
Fresh off of his first career 100 yard outing, Beanie Wells should have some momentum heading into the matchup. After using questionable technique at times for 7 quarters, he unleashd the the "Mother of All Stiff-Arms" (captured nicely by Keith) and seemed to get it going late against Akron. I believe Tressel will throw to setup the run against Washington. We won't see the team that ran the ball on 75% of its first downs against YSU and Akron. Also expect to see Saine utilized in more and more situations. His speed, whether on kick returns or as part of a two-back backfield with Wells could present some matchup problems for the Washington defense.
On the defensive side of the ball, Laurinaitis will be tasked with making sure that Locker doesn't go off. If there's ever a game where you like your linebackers to be fast like the Buckeye corps, it's this one. The strength of the front and the speed of the linebackers should bottle Locker up early and force Ty into throwing the ball more than he'd like to or early trickery. I expect for Heacock to let the boys get after it a little and really try to apply pressure to the young quarterback. We've hardly seen this team blitz much, but they will Saturday.
As always, special teams are huge on the road. Early on the Huskies could have success stopping the Buckeye offense. The good news is that the Buckeye defense should enjoy similar success. The punting game must be on so the Bucks can establish an early field position edge.
The Huskies of 2007 provide a real test for these Buckeyes. To win this game, the team must take care of mistakes. If the Buckeyes take care of the ball and limit the penalties, they have too much talent and the defense is too well-suited for Jake Locker's skill-set to lose this one. If they come out and make the same kind of mistkes they made against Youngstown State and Akron, it could easily be ucler-city for Buckeye fans Saturday afternoon.
Notes: Jim Tressel will be going for win #200 against Washington... Ohio State is ranked No. 1 in the nation in total defense, giving up 122.5 yards a game... The 8 points allowed by the Buckeyes are the fewest to start the season since the 1996 squad opened with 70-7 and 72-0 victories... OSU fell from #9 to #10 in the unofficial (but highly accurate) BCS standings this week... Jack Arute will be patrolling the sidelines for ESPN and will check in every 10 minutes to let viewers know how loud it is... The coaches finally selected an offensive lineman POW with fist-year center Jim Cordle winning the honor for the Akron game.
---
Jason: OSU 24, Washington 10
Chris: OSU 20, Washington 13
---
Lastly, a small programming note: if you like free things and want a chance to win a Buckeye hat, be sure to get your score prediction in the comments of this post by kickoff.