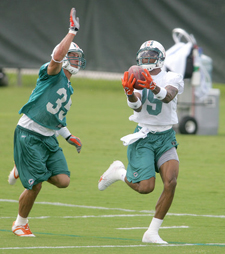 Just a mere two days after defensive tackle Vonnie Holliday's derisive quotes about Ted Ginn appeared in an SI article, he has started the backtrack two-step. After Ginn hit the practice field for the first time all season on Friday, Holliday sought out the rookie:
Ginn said teammate Vonnie Holliday met with him to clear up any potential misunderstanding between the two as a result of the defensive tackle's comments in an SI.com report on Thursday, in which he appeared to criticize the Dolphins for taking Ginn over quarterback Brady Quinn. Holliday said the quote was misconstrued.
Jason Taylor said the quotes turned into something as ridiculous as the Paris Hilton stuff and while Holliday didn't claim that he was misquoted, he did complain that his quotes were taken out of context:
"He turned it into me bashing the organization. I'm not criticizing the organization and Ginn. That's not what I did. It was my initial shock of the selection. I'm a player. I have no idea about Ginn. There were quarterback concerns and Brady Quinn is just sitting there and I think we're picking him with the ninth pick and we don't."
Could have something to do with Holliday seeing that speed up close for the first time. Ginn declared himself pain-free and connected with fellow rookie John Beck on a touchdown strike during the afternoon session. Team owner Wayne Huizenga summed up what Dolphin fans and Ginn teammates can look forward to: "He looked fast."