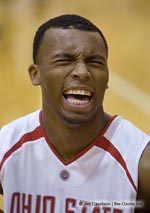 Daequan got off to a shaky start at the NBA Pre-Draft camp today in Orlando according the the scouts writing for Draft Express and Andy Katz over at the WorldWide Leader. DraftExpress noted Cook showcased his poor ball-handling and lack of concentration throughout the day but gave him a bit of a reprieve since he's the youngest player in camp while Andy Katz reported Cook shot 3-10 from the floor with 4 rebounds and 8 turnovers in 20 minutes. Sound familar? Even with today's typical 'Quan performance, it appears he's still going to be a late first rounder with zero chance of returning to Ohio State. At the very least, his words don't indicate a lack of confidence:
"I'm committed to this game and I love to play and want to play at the highest level," Cook said. "This is my opportunity to show that I can play. I'm confident that I'm going to play and be a dominant player."
I hope he's right because I'm sure his posse is out test driving Escalade's as we speak.