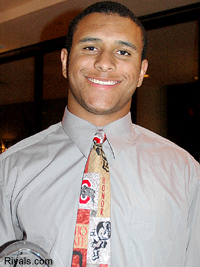 Brandon Saine (Rivals.com Image)
Parade has released their 2007 All-America Football Team with future Buckeyes Brandon Saine and Eugene Clifford making the cut.
Saine, of course, is the the current Mr. Football in the state of Ohio after turning in a 2200 yard senior season for Piqua. Oh yeah, he's also the two-time defending state champ in the 100 and 400. You think he might return a kick or two this year?
Clifford is part of the excellent crop of defensive backs that The Vest was able to land. Rated the #2 safety in the nation by Scout.com, he obviously has a good chance to join Saine on the field this fall.
Congratulations to Brandon Saine and Eugene Clifford for earning this honor.
Ohio State has certainly had better years in terms of hauling in Parade All-Americans (2005, 2002), but before you go jumping off any bridges, consider that Justin Zwick, Maurice Wells and Maurice Hall all made the squad, while AJ Hawk, Troy Smith, Antonio Pittman and Anthony Gonzalez did not.
Even if you dive into that fabled Buckeye class of 2002, the three Parade members from that class don't have that great of a collective plate appearance:
Justin Zwick (QB) - STRIKE
Maurice Clarett (RB) - FOUL TIP
Mike D'Andrea (LB) - STRIKE
Even more amusing is to look at just the six receivers on that 2002 squad:
Marcedes Lewis
This guy actually panned out. In 2005 Lewis was an All-American tight end and won the Mackey Award playing for UCLA. He saw some limited action during his rookie season with the Jacksonville Jaguars.
DiShon Platt
Ranked the #16 overall prospect in the country, Platt failed to academically qualify at Florida State. Academics also kept him out of South Florida. Currently MIA.
Marquis Johnson
Grades forced Johnson to go the JuCo route instead of Texas and he finally ended up at Texas Tech. He blew up with a 13 catch, 74 yard season in 2005 before getting suspended for the Cotton Bowl and is now off the roster.
Ben Obomanu
Obomanu caught 33 passes for 357 yards and 5 touchdowns in his final season at Auburn. He went in the 2nd round (#41) of the 2006 draft to Seahawks but didn't even sniff the field his rookie season.
Joe Newton
A tight end at Oregon State, Newton turned in respectable, but not awesome, statistics in 2006 and is considered the third or fourth best tight end prospect in the 2007 NFL draft.
Ryan Moore
The heavily hyped Moore went to Miami and turned in an unspectacular career that saw the loss of his 2004 season due to injury. He was suspended for the first seven games this past season for an off the field incident with a female. Career numbers of 93 catches for 1,437 yards and 11 TDs.
As we turn our attention towards national signing day tomorrow, remember that the art of recruiting always goes down better with a grain of salt.