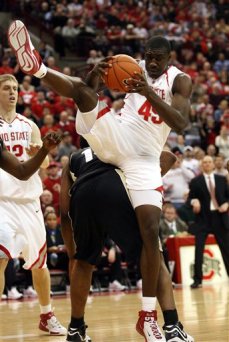 The Buckeyes overcame Greg Oden's foul trouble and a pesky Purdue squad to pick up their ninth straight win and their 16th consecutive at home. While I wasn't overly worried, there was certainly cause for some concern when Purdue's David Teague hit his 5th wide open three of the game to give the Boilers a 51-46 lead with 7:58 left to play. Unfazed, the Buckeyes responded by outscoring Purdue 17-5 the rest of way. The run was fueled by a more aggressive attack as OSU used their quickness advantage to drive the lane. The drives often led to layups or free throw opportunities as Purdue hacked away. Ohio State shot 12 free throws in the final 8 minutes (8-12) while Purdue managed just four trips to the stripe. Greg Oden contributed six points in the run including 4-4 from the line.
Ohio State led 33-26 with 1:21 left in the first half after a dunk by Ron Lewis but Coach Matta killed the momentum by foolishly leaving Greg Oden on the floor. Since Lewis was fouled on the dunk, Matta could've taken Oden out to ensure he didn't pick up his second foul. Instead, Oden remained in the game and picked up his second foul 23 seconds later. Carl Landry and Tarrance Crump then hit back to back jumpers to trim OSU's lead to 33-30 at the half. Matta's poor decision to keep Oden on the floor at the end of the first half only became more magnified after Oden picked up his 3rd foul just 1:14 into the second. OSU played the majority of the next 11 minutes without Oden and got outscored 21-13 until Oden hit two free throws to kick off the aforementioned 17-5 burst to close the game.
Nine Buckeyes cracked the scoring column led by Oden and Mike Conley with 14 apiece. Oden also grabbed 9 rebounds and blocked two shots in just 21 minutes. In his absence, Matt Turdwiggler had another decent game off the bench with 5 points and 3 rebounds in 14 minutes. Jamar Butler and Ron Lewis finished with 9 and 7 points, respectively. It was a cold shooting effort by the guards, OSU shot 17% (3-17) from downtown. Fortunately, Purdue likes to hack (22 fouls) leading to a 21-6 advantage on free throw attempts. OSU scored 14 points at the line to Purdue's five which turned out to be a key stat in this game.
David Teague led Purdue with 17 points (5-9 3FG) and Carl Landry added 13 points and 9 rebounds. Purdue shot only 29% from deep (5-17) and turned the ball over 17 times. Lastly, I'd like to say Congratulations the roughly 30 "fans" near my section that left to beat the traffic with five minutes remaining in a very tight game. Rest assured, I heckled more than a few of them. Losers.