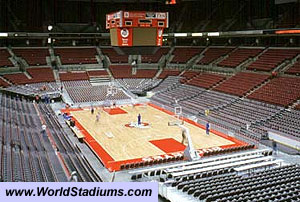 Where: The Schott – Columbus, OH
When: 8:00pm EST
Records: OSU 15-3 (3-1); Hawkeyes 10-8 (2-2)
Opponent: Leave Early Arena hosts Steve Alford and the Iowa Hawkeyes, who look to rebound from a 71-64 defeat suffered Tuesday night in Bloomington. Iowa managed just 17 points in the first half and found themselves in a 56-35 hole midway through the second before staging a late rally that fell short. Iowa's dismal 3-point shooting (2-10) was the difference in the game however OSU will need to respect their shooters tonight. On the season, the Hawkeyes are hitting 37.7% from downtown, good for 2nd in the conference behind OSU at 38.9%.
Players: Senior Adam Haluska leads the conference in scoring at 20.3 per game and is second in three pointers made with 54 (37%). Haluska led the way against IU with 21 points along with Tyler Smith who put up a solid 17 point, 6 rebounds and 6 assists in 39 minutes. The 6'7" freshman has reached double figures in 12 straight games and in 16 of 18 this season. On the inside, 7'0" junior Seth Gorney (6.3pts, 3.9reb) and 6'10" junior Kurt Looby (4.2 pts, 4.8 reb) will draw the assignment of containing Greg Oden. Tony Freeman (6.9 pts, 37% 3pt FG) and Justin Johnson (6.2 pts, 46% 3pt FG) join Haluska as the primary deep threats.
Notes: Iowa owns a three game winning streak against OSU including a 67-60 win in last season's Big11Ten Tournament championship game…The Hawkeyes are also riding a 4 game winning streak against ranked OSU squads that dates back to 1992…After the Indiana game, Alford threw his point guard under the bus with some comments that you would never hear come out of Matta's mouth...Alford is 145-100 at Iowa including two straight first-round NCAA Tourney exits after failing to get the Hawkeyes to the Big Dance in the three years prior…Alford has produced just one NCAA tournament victory and one winning conference record (9-7 in 2004) in his seven seasons at Iowa. <Butthead voice>Uhhh...huh …that like sucks or something.</Butthead voice>
Buckeye Breakdown: Tuesday, OSU jumped out to a 34-15 halftime lead and never looked back in a 73-41 rout of cold shooting Northwestern. Coach Matta used a 2-3 zone for much of the night forcing NU to launch 25 threes out of 49 total FG attempts combined with 16 turnovers. One highlight of the evening was watching arrogant, argumentative and overly dramatic referee Ted Valentine slap a technical foul on Wildcats coach Bruce Carmody while about 40 feet away from their bench. Hollywood Ted went with a double-slide-step shuffle move as he thrust his outstretched hands into a giant "T" ensuring he got his air time. For those of you unfamiliar with Ted, back in 1998 Coach Knight called his officiating "the greatest travesty" he had seen in his coaching career after the Big V hit Knight with 3 technical fouls and ejected him in a loss to Illinois. The guy is a clown.
Key Players: Oden barely touched the ball against Northwestern's sagging defense as Matta decided not to force what wasn't there since the Bucks weren't having any trouble knocking down open looks. Expect the team to take a different approach tonight, attempting to get him a few looks in the early going. 11W is still waiting for Daequan to break out of his slump. Hopefully, an up-tempo game will provide him a few more touches in transition. Cook is shooting just 7-27 in the last 3 games. Conversely, Conley has been on fire, shooting 14-23 in his last 3, including 4-5 from downtown and 19 assists.
Notes: Conley is averaging 6.6 assists per game…Kelvin Ransey is the only Buckeye to average at least 6 assists for a full season with 6.3 per game in the 1980 season…Next up: at Northwestern (Weds 1/24 @ 8pm)