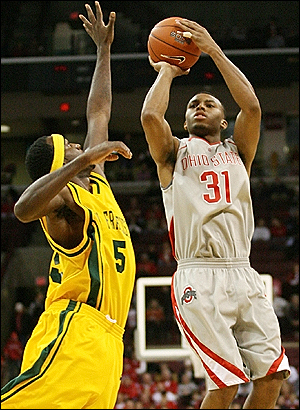 Where: Value City Arena
When: 4pm EST
Records: OSU 7-1; Cleveland State 5-5
Opponent: Out of the Horizon League, Cleveland State limps into The Schott riding a two game losing streak. The Vikings took it on the chin Tuesday night at Kansas State losing 93-60. This one was over at halftime as Bob Huggins' squad raced out to a 50-23 halftime lead and cruised to victory. How bad was it? CSU had 22 turnovers, shot 32% from the field, including 13% from 3pt land, and didn't post a double figure scorer. Yikes. The whippin' prior to the KSU debacle was delivered by conference foe Butler who downed the Vikings 70-45 last Saturday night. Again, CSU couldn't throw it in the ocean shooting 33% from the field including 21% from behind the arc. For the season, the Vikings FG% is just 40% including 30% from 3pt land. These dudes are some first class brick layers.
Key Players: 6-4 Sophomore J'Nathan Bullock comes in leading the team in points (14.1) and rebounds (6.4) following up a freshman campaign in which he led the team in scoring. Bullock is CSU's only player averaging double figures in points, however the squad features nine players getting at least 10 minutes of game time. Bullock is joined by four senior guards in the typical CSU starting lineup: Victor Morris (9.3 pts), Raheem Morris (8.7 pts), Carlos English (6.6 pts), and Patrick Tatham (5.4 pts).
Notes: The smallish Vikings have actually posted a +3.3 rebounding margin thus far including a 45-28 advantage against Kansas State…CSU defenders are holding opponents to 30% 3pt FG%...Head Coach Gary Waters is in his first year at CSU following stops of five years at Rutgers and five at Kent State, including two NCAA Tourney appearances…CSU plays their home games in the Wolstein Center, previously named the CSU Convocation Center…The site played host to one of the most underrated Phish shows in history back on December 5, 1997.
Buckeye Breakdown: Ohio State hasn't played since last Saturday's drubbing of Valparaiso otherwise known as Greg Oden's Collegiate Debut. The week between contests should only benefit the big man's surgically repaired right wrist. As you know, Oden wore a bulky brace last weekend and shot his free throws left-handed but still finished with 14 points, 10 rebounds and 5 blocks in 23 minutes of action. It will be interesting to gauge the progress and mobility of the most valuable right hand in college basketball. Also worth studying is how players like Daequan Cook, Mike Conley Jr. and Ron Lewis play off Oden in the post and just how quickly the team gels offensively now that the final piece is in place. Coach Matta has made it clear he plans to keep the up tempo style and believes Oden will thrive in part because of his ability to rebound, outlet, and fill the lane. Look out below when this cat comes roaring down the lane on the backend of a fast break. We are going to be sick.
Key Players: Greg Oden is a manchild, however freshman Daequan Cook has been arguably OSU's best player thus far boasting averages of 17.6 points and 7.0 rebounds off the bench. He is the real deal and looks to have the makeup of a pure scorer who wants to take the big shot. Senior Ron Lewis has come into his own and leads the team in scoring (17.8) and has been lethal from the field (57% FG) and beyond the arc (47.7%). Freshman point guard Mike Conley Jr. continues to play beyond his years and is ranked sixth nationally in assists at 6.6 per game.
Notes: Cleveland State will be OSU's third victim from the Horizon League this season…OSU beat Loyola 87-75 Nov. 11th and Youngstown State 91-57 Nov. 24th…OSU's next game is a week from today in Indianapolis against longtime coldwar rival, the Cincinnati Bearcats…The game will be nationally televised by CBS…Cook leads the Big11Ten in defensive rebounding (5.63), 4th in scoring, and 7th in overall rebounding.