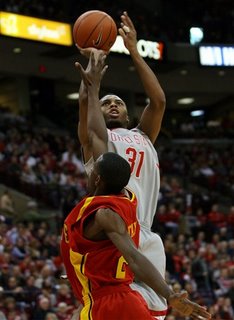 The first 33 minutes were about as satisfying as a foot cramp, but OSU peeled off a 22-5 run in the last seven to run away with a 75-56 victory over a pesky Iowa State team. 11W 's main man Daequan Cook led OSU with 21 points on 8-12 shooting including 3-5 from treyville while Greg Oden scored a career high 18 points and grabbed 9 rebounds. Mike Conley Jr. also set a career high with 15 points and made 7 of 7 free throws during the decisive run in the second half. Leading 53-51, OSU went on a 9-2 run before giving up an ISU three pointer that closed the gap to 62-56 at the 3:48 mark. From there, the buckeyes closed the game on a 13-0 for the final margin.
ISU trailed just 29-28 at halftime by way of a 20-13 rebouding advantage and six threes. Two of those threes were bank shots high off the glass courtesy of wildman Mike Taylor who led ISU with 24 points, 6 assists, 5 assists and 5 turnovers. Wesley Johnson was the only other Cyclone in double figures with 10 points.
Even though we won by 19, this was a disappointing effort. The Bucks had an opportunity to put ISU away after a 15-0 run gave OSU a 19-8 lead with 9 minutes left in the half but ISU responded with an 8-0 run of their own fueled by two offensive rebounds and two threes. At the break, Matta made some adjustments and OSU came out in full court pressure in an effort to speed up the tempo and the OSU guards began driving the lane instead of settling for long jumpers. As a result, OSU was able to create some turnovers and superior talent finally took its toll on the Cyclones. Hopefully, this young team learned a lesson tonight about looking ahead. Now, it's time to get ready for the showdown on saturday against the defending national champion Florida Gators!