Own the group chat with The Weekender, highlighting the biggest stories in college sports, standout writing from Eleven Warriors, and a glance at what's next.
All Ewers, All the Time
It's impossible to consume enough Quinn Ewers news as the overall No. 1 prospect and generational quarterback in the 2022 class continues making the rounds at camps and in Columbus. 
Boasting a perfect rating on 247 to go with a perfect haircut, Ewers shed some light this week on why he's planning to leave Southlake, Texas to play his college football. 
"Probably because a Texas team hasn't been in the running for a national championship in a little while. And I don't know about other guys, but like me I just, I just want to compete at the highest, highest level. Obviously, one day they will get back there and it'll be great. But right now, it's just, I'm just tired seeing that happen. Obviously, Texas A&M was really close last year."
Despite his elite talent, the dude is working to improve his overall game, one he's tailoring after Aaron Rodgers and Pat Mahomes. Seems like a solid idea. 
Be still my heart. 
Jim Tressel's Remaining Wish
During a charity event in Youngstown earlier this week, former Ohio State head coach Jim Tressel left no doubt of one happening he'd like to see before his time on Earth is complete. 
"I hope I live long enough for that day when we're over .500. Then I can go to sleep happy."
After going 9-1 during his own tenure at Ohio State, the Buckeyes have continued closing the gap under Urban Meyer and now Ryan Day, winning eight of nine with the lone defeat coming during Luke Fickell's transition year following Tressel's abrupt departure. 
Michigan still leads the series 58-51-6. Ohio State can pass Michigan with eight straight wins starting this fall, meaning 2028 could be the magical year. Tressel would be 75 years young. 
Mike Doss and James Laurinaitis Set For Another Shot at the College Football Hall of Fame
The National Football Foundation released its 2022 College Football Hall of Fame ballot headlined by first-time nominees Andrew Luck, Reggie Bush and Marshawn Lynch. 
The base criteria for consideration includes a player being at least 10 years removed from his last collegiate season and having been deemed a first-team All-American by an NCAA-recognized organization. 
In addition to the newly-eligible folks, a host of big-time holdovers remain on the ballot including Ohio State's own Mike Doss and James Laurinaitis. Their credentials seem to stack up: 
Mike Doss, Ohio State-Defensive Back: Three-time First Team All-American, earning unanimous honors as a senior…2002 Big Ten Defensive Player of the Year and three-time First Team All-Big Ten selection…Led Buckeyes to the 2003 BCS National Championship, earning Defensive MVP honors.
James Laurinaitis, Ohio State-Linebacker: Three-time First Team All-American (consensus-2006, 2008; unanimous-2007)…Two-time Big Ten Defensive Player of the Year who led the Buckeyes to two national championship games and four consecutive conference titles…2007 Butkus and 2006 Nagurski recipient, leading OSU in tackles three-straight seasons.
Players elected to the 2022 class will be announced early next year with enshrinement set for December 6, 2022. 
Good luck to two dominant and classy players in Doss and Laurinaitis. 
Clemson's Gauntlet
ESPN's Bill Connelly does great work overall and his SP+ predictive rankings are pretty much the gold standard in evaluating matchups, particularly if you're a degenerate gambler. You can read more about his metrics and calculations here but the gist of it is, you should take stock in his numbers. 
Earlier this week, Connelly took a turn at evaluating Clemson's schedule and it's, even for an ACC team, wildly weak. I know, I know, that's hardly breaking news but holy smokes look at this garbage.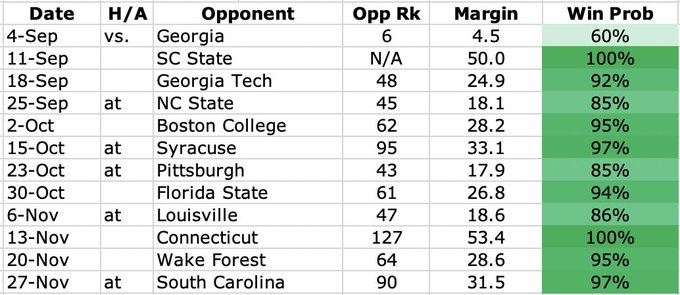 The Tigers have an 85% win probability in all but one game. The lone exception is the season-opener against Georgia. Eight games boast a win probability of 92% or higher. Hey look, part of this nonsense is because Clemson is a damn good program but some of these scrub opponent programs are embarrassing. Just Georgia slots within Connelly's Top-40. 
ICYMI
THE LOSEABLE INDEX: TIERS OF HOW DANGEROUS OHIO STATE'S OPPONENTS WILL BE IN 2021
Despite having to replace Justin Fields and a slew of other notable contributors, Ryan Day's 2021 squad still has its eyes firmly on another Big Ten title and College Football Playoff bid. Where do potential regular season landmines sit on the way to those goals? Colin Hass-Hill breaks down the schedule. 
Ramzy Nasrallah sizes up disconnected and bumbling Big Ten commissioner Kevin Warren in a must-read. And may we all be free from needing him to orchestrate any sort of crisis management going forward. 
FILM STUDY: CAN SEVYN BANKS BECOME OHIO STATE'S NEXT GREAT CORNERBACK?
The Czar of the All-22, Kyle Jones breaks down the film in search of answers to whether or not Sevyn Banks can be the lockdown cornerback Ohio State desperately needs him to be this fall. 
Up Next
Sunday-Sunday, June 6-13: 2021 U.S. Olympic Diving Trials to feature four Ohio State divers: Joey Canova, Lyle Yost and Jake Fielding (3 meter) and Jacob Siler (10 meter)
Wednesday-Saturday, June 9-12: Ohio State qualifiers will participate in the men's and women's track and field NCAA championships
Thursday, Sept. 2: Ohio State football opens its 2021 season at Minnesota
Saturday, Sept. 11: Ohio State football hosts Oregon in its 2021 home opener
Saturday, Nov. 27: Ohio State plays Michigan in The Game