What do Derek Stingley Jr. and Sevyn Banks have in common?

Yes, both are competing to be the first cornerback taken in the 2022 NFL draft. The LSU junior-to-be is expected by many to be a top-five selection a year from now, while many Ohio State fans were surprised to see Banks' name in the same mock drafts, with more than a few prognosticators projecting him to be a mid-first round pick.
Those within Buckeye Nation may be shocked to see anyone from last year's secondary considered a worthwhile prize at the next level, given its well-earned ranking as the sixth-worst pass defense in FBS. But those same folks may be even more unsettled when seeing which team ranked dead-last in those rankings: Stingley's LSU Tigers.
While Stingley's reputation as a marquee prospect has been years in the making, it didn't stop teams like Mississippi State, Missouri, and Arkansas from piling up passing yards against his team. It wasn't as if opponents simply threw to the opposite side, either, as the sophomore gave up 14 completions on 30 targets during the seven games in which he played last season (he missed three contests due to injury).
Pro Football Focus gave Stingley a coverage grade of 71.7 (out of 100) last season, which ranked 125th among FBS cornerbacks. By comparison, Alabama's Patrick Surtain II, thought by many to be the top prospect at the position in the most recent draft, graded out at 88.6, the fifth-highest mark for an FBS cornerback in 2020.
Banks, meanwhile, posted a grade of just 55.0, ranking him 673rd among FBS cornerbacks last fall. According to PFF, Banks allowed 31 receptions on 53 targets for 440 yards and four touchdowns. At the same time, he was credited with just one interception and six passes broken up in eight games.
When turning on the film, some trends show up in Banks' game. First and foremost, he gave up some big plays against wideouts willing to play with physicality.
Indiana's Miles Marshall got Banks turned the wrong with an outside release off the line but simply ran through the corner's attempts to slow him down. At 6'4" and 208 lbs, Marshall had a size advantage that he put to good use as Bank's weak attempt to grab him proved useless, leading to a long completion.
Similarly, though Clemson's Cornell Powell is listed at an inch shorter and just ten pounds heavier than Banks, he looked much more comfortable fighting for the ball on a back-shoulder fade during the Tigers' opening possession of the CFP semifinal.
While Buckeye fans assuredly believe this was a textbook example of offensive pass interference, Banks was clearly outmatched by a more aggressive opponent who went on to make the play.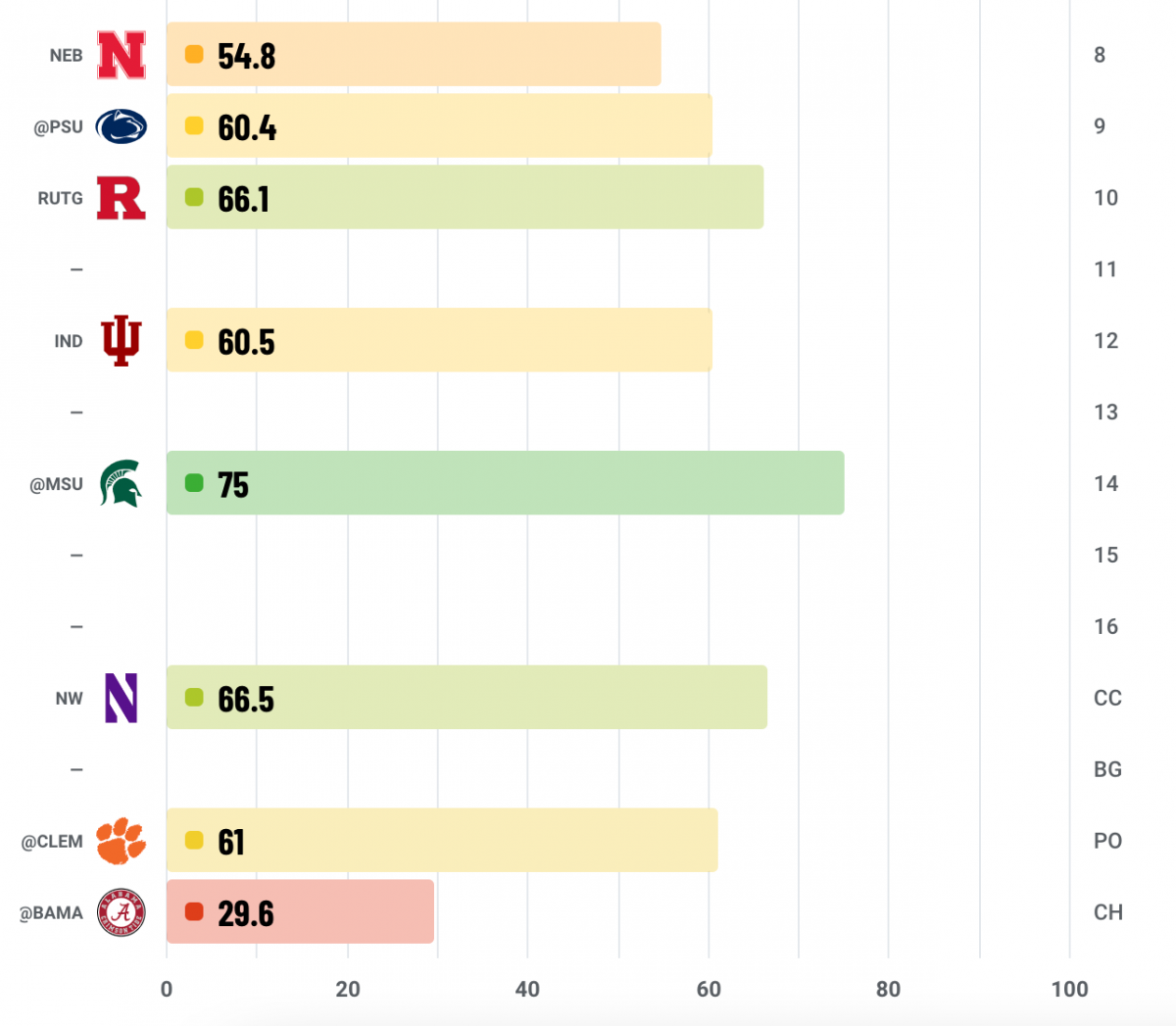 Speaking of getting outmatched, Banks' performance against Alabama had much to do with his PFF season grade. The site's analysts gave Banks a coverage grade of 28.7 for that game, as Devonta Smith caught all six of his targets and scoring a pair of touchdowns when matched up with the corner.
But Banks was hardly the first corner to find himself in Smith's rearview mirror, as Stingley struggled to corral the Heisman-winner as well. In fact, many of the completions attributed to Banks in the CFP championship were hardly his fault, as he was put in a no-win situation against an opponent who was far better prepared.  
For instance, three of the completions came after Smith started with a tight split and circled into the backfield as the ball was snapped, as if to take a handoff on an end-around. But while Banks tried to work through a traffic jam of crossing routes and follow the motion with little help or adjustments from his teammates, Smith quickly reversed course and came back out the way he came, leading to an easy touchdown.
On the next Alabama offensive snap, Smith repeated his path, though this time starting before the snap. The separation between the receiver and his assigned defender was so great that Banks had little chance, and even less help, when trying to catch up to the nation's most dynamic playmaker. 
But when Banks wasn't ask to trail Smith into the backfield and could simply line up across from him in coverage, he actually fared much better.
The Tide had a good sense for when the Buckeyes would be in man-coverage and when they would be in zone, and called plays accordingly. Even as Banks bailed out to a deep zone and Smith ran a quick out, Banks maintained leverage over the top and limited Smith to a short completion. 
Instead of focusing solely on a handful of negative plays, however, pro scouts have clearly latched on the many good reps Banks put on tape last fall. In fact, while many bemoaned his performance (along with the rest of the starting secondary) against Indiana, he quietly had a solid game outside of the long gain shown earlier, thanks in large part to his ability to employ Press Mirror technique.
Lined up below in the slot, Banks doesn't try to jam the receiver and hold him at the line, but rather, he tries to stay in front by shuffling laterally, similar to a basketball player defending a ballhandler. By the time the receiver finally commits to his release, the corner flips his hips open in that direction and can keep within an arm's distance.
Only when he sees the receiver begin to make a play for the ball with his eyes and hands will the corner do the same, as Banks does perfectly before knocking the ball out in this clip.
Such a technique maximizes Banks' biggest strength, which is his ability to get in and out of breaks quickly. Corners are at a constant disadvantage by not knowing where they will be going on any play, and the ability to recover and make up lost ground is vital.
In another example against the Hoosiers, we see Banks lined up in the slot over a bunch formation. As his receiver runs a whip route, starting on what looks like a short crossing route before pivoting quickly back outside, he appears to have created enough space for the QB to fire in a quick completion.
But instead, Banks drives off his inside (right) foot and runs through the receiver, making enough contact to jar the ball loose.
Banks' reaction speed was apparent in other ways as well. The Orlando native was quick to make plays on the ball, such as this running back screen in the Big Ten Championship. Not only does he move quick enough to avoid the blockers, but he maintains outside leverage to force the runner back inside and back towards Banks' teammates, should he not go down.
Among all members of Ohio State's starting secondary last season, Banks had the lowest missed-tackle rate according to PFF, just 10.7%. Only nose tackle Tommy Togiai (4.0%) and linebacker Tuf Borland (6.4%) had better rates among Buckeye starters.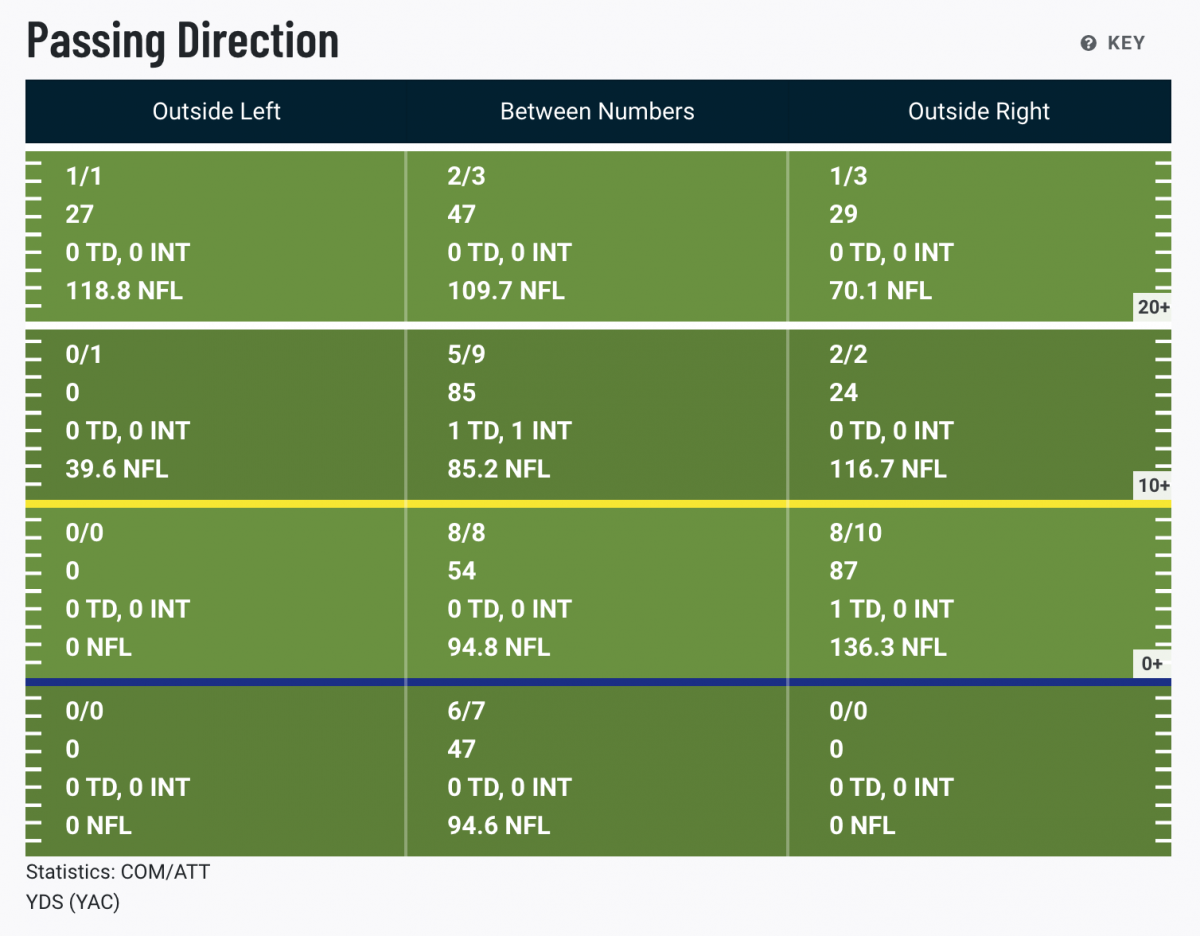 With an ability to mirror receivers and make tackles in the open field, it's no wonder the best quarterback Ohio State faced last season often looked the other way. From his position at right cornerback (where he played 408 of his 472 defensive snaps last season), Banks allowed just one completion to Trevor Lawrence, the early jump ball to Powell, in the CFP semifinal.
In fact, the best QB prospect in a decade simply avoided trying to attack Banks, looking to attack instead between the hashes and on the other side. 
Banks certainly benefitted from the presence of the corner on the opposite side, Shaun Wade, as Wade often drew the assignment of defending the opponent's top target early in the year. But Wade struggled to live up to his preseason billing as he fought through a lingering injury.
Banks, meanwhile, was able to develop in his shadow, quietly becoming a more reliable defender against both the run and the pass.
"Cornerback is a unique position," Ohio State head coach Ryan Day said earlier this spring. "You have to bring it every play, and you have to have a short memory. Those guys are all competing at it, and they're growing, they're getting better."
How good can Banks be? We'll just have to wait until the fall to find out.