Ryan Day has never lost a regular season game as a head coach. Ohio State hasn't lost a Big Ten game since getting Rondale Moore'd in 2018. The Buckeyes haven't lost a non-conference regular season game since Baker Mayfield stabbed their field with a flag the year before.
Is this finally the first year of the Day era in which Ohio State drops a game in the regular season? 
Twelve teams will try to upend recent history and pull an upset – and it would be an upset because unless something totally unexpected happens, the Buckeyes will be favorites in all 12 games. Some, though, are more dangerous than others.
Today, we're diving each regular season game into five tiers, beginning with the most loseable game and going all the way to the least loseable game on the schedule.
First up: A noon showdown in Columbus with one of the Pac-12's best.
Tier 1
Oregon (Sept. 11)
The no-doubt-about-it answer for the most loseable game on Ohio State's regular season schedule is the home opener in the second week of the season.
Like the Buckeyes, the Ducks will be breaking in a new quarterback. It's expected to be either Boston College transfer Anthony Brown (the heavy favorite), redshirt freshman Jay Butterfield or true freshman Ty Thompson. Also like the Buckeyes? They've got a talented roster surrounding the new starting quarterback that's good enough to have them as an early favorite to win their conference.
It begins up front with Kayvon Thibodeaux, a defensive end who'll be in the mix to go No. 1 overall in the next NFL draft. He's joined on defense by standout cornerback Mykael Wright, veteran safety Verone McKinley III and a few former five-star recruits – Noah Sewell, Justin Flowe and Dontae Manning – who'll want to make their marks. This should be the best defense Ohio State faces at least until the postseason, so it'll be one heck of a matchup for C.J. Stroud, Kyle McCord or Jack Miller.
Offensively, with apologies to Brown and company, Oregon won't give anybody flashbacks to the days of Marcus Mariota and Dennis Dixon. It'll rely on guys like two-time 1,000-yard rusher CJ Verdell and wideouts Johnny Johnson and Jaylon Redd to get the offense moving.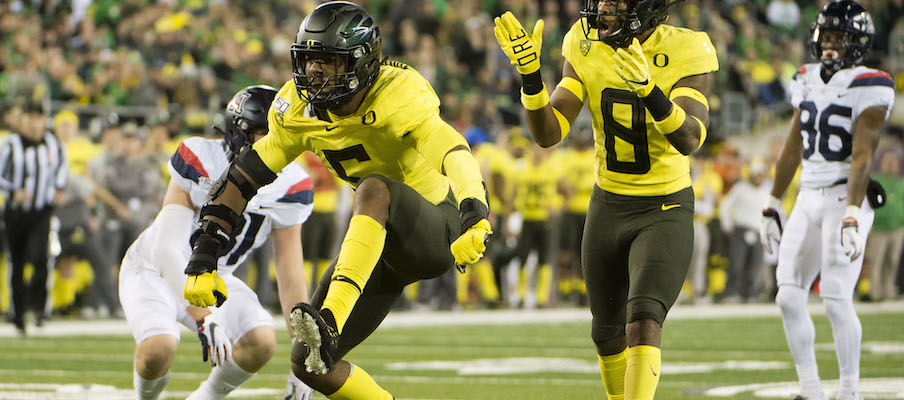 Tier 2
Indiana (Oct. 23)
A year ago, the Hoosiers were the sleeper on the schedule. Now, they might be the most dangerous Big Ten team Ohio State will face.
Michael Penix Jr., who put together one of the greatest quarterback performances versus the Buckeyes in recent memory, returns behind center. He'll have top targets Ty Fryfogle – who torched Ohio State last year – and Peyton Hendershot back with him. Indiana also will feature All-American linebacker Micah McFadden and All-American cornerback Tiawan Mullen, among others, on defense.
They're going to be good. Damn good.
This time, the Buckeyes know Allen's going to make them fight for a win.
Minnesota (Sept. 2)
I don't know. Maybe this is too high. I'll hear your arguments.
But…
This game's too weird for me to put in any lower tier.
Ohio State-Minnesota is on the road. It's expected to be played under the lights. It's weirdly on a Thursday. It's the season-opener for a team with a first-year starting Buckeye quarterback who'll have never thrown a pass in college. It's the first game for the shaky Ohio State secondary after getting torn to pieces by Alabama, and it comes against a veteran quarterback Tanner Morgan and quality wide receiver Chris Autman-Bell who are buoyed by All-American running back Mohamed Ibrahim. 
Oh, and it's the definition of a David vs. Goliath matchup with a coach in P.J. Fleck on the David side who'll pull every possible motivational ploy known to mankind to get his team juiced. 
No, I don't think Minnesota is the third-best team on Ohio State's schedule. But I think this is the third-most loseable game.
Tier 3
Penn State (Oct. 30)
There's no way to put the Nittany Lions any lower on this list. Not with how close they're played the Buckeyes in recent years. Neither team has won a game by two touchdowns or more since 2015. To his credit, James Franklin has always found a way to put some fear in Ohio State – and even win once.
The obvious question to be asked is simple: Can Sean Clifford actually be the one at quarterback to beat Ohio State? And if he's not, can the rest of the team carry him to victory? Clifford put forth an uninspiring season in 2020, yet Penn State appears destined to follow him onto the field once more this fall.
Outside of him, the Nittany Lions have talent elsewhere. At running back, Noah Cain leads a quality stable of options. Jahan Dotson bodied Ohio State's secondary a year ago. Offensive tackle Rasheed Walker, offensive guard Mike Miranda and safety Jaquan Brisker are among the best in the Big Ten at their respective positions. But are they enough to overcome significant concerns at quarterback? It's a question that hovers over everything Penn State's doing.
Michigan (Nov. 27)
Confession time: Multiple times in the late 2010s, I picked Jim Harbaugh's Michigan to beat Ohio State. Every time, the failed prediction stemmed from a similar train of thought: It has to happen at some point, right? Right!? I increasingly felt like Charlie Brown taking a knowing run at a football and whiffing.
Never again.
No, it does not have to happen at some point. And it probably won't in 2021.
The Wolverines, like the Buckeyes, are moving on to their next starting quarterback after the failed Joe Milton experiment. Cade McNamara is the projected starter, though maybe JJ McCarthy can overtake him by the season's end. Beyond that uncertainty and the poor quarterback track record that Harbaugh has had in Ann Arbor, Michigan is implementing a new defensive scheme, dealt with quite a few transfers and has never found much of an identity offensively.
Still, even with all of those questions and the Buckeyes' two decades of domination, the Wolverines are among the three most talented teams in the Big Ten. It's difficult for anybody to drop below the third tier when that's the case.
Maryland (Oct. 9)
Remember when the Terrapins nearly pulled an inexplicable upset of Ohio State in 2018? The score ended up being 52-51, with the Buckeyes eking out an overtime victory.
If Maryland is to have a shot to beat Ohio State for the first time ever, it might have to score into the 50s to do so. And it might be possible, depending on how much Kerry Coombs and Matt Barnes turn their much-maligned secondary around.
The Terrapins' passing offense has to be taken seriously.
Taulia Tagovailoa's first season as a starter was chock-full of peaks and valleys, but his positives – 676 yards, six touchdowns and one interception in a pair of games versus Penn State and Minnesota – were impressive. Plus, he'll be throwing to former five-star recruit Rakin Jarrett and All-Big Ten honoree Dontay Demus. 
The aerial attack might not be enough for the Terrapins to actually pull out a win, but it might keep this one closer than some expect. If the Buckeyes happen to lose in the regular season, it would make some sense that it comes against a passing offense with future NFL guys on the field.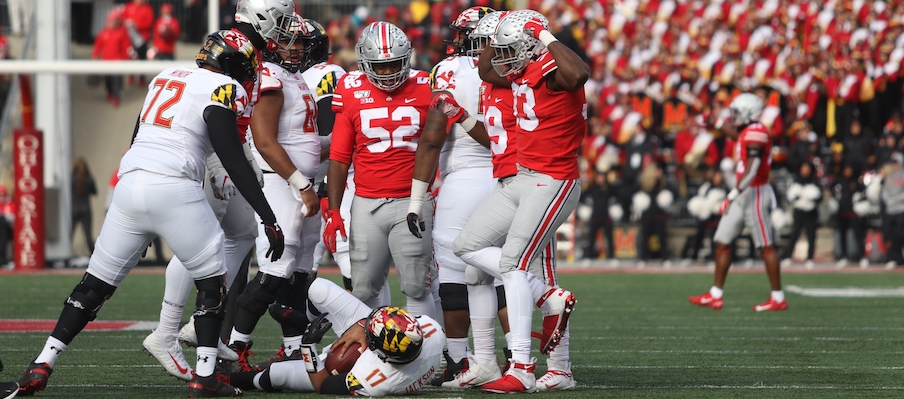 Tier 4
Nebraska (Nov. 6)
The Cornhuskers should be better...maybe?
They have to get Adrian Martinez on track, make up for some transfer losses (including Wan'Dale Robinson and Luke McCaffrey), integrate a few transfers they're counting on in massive ways (notably running back Markese Stepp from USC and wide receiver Samori Toure from Montana) and take significant strides defensively with nine starters back.
That's a lot to ask for from Scott Frost, whose Nebraska teams have consistently underperformed compared to expectations.
Purdue (Nov. 13)
Jeff Brohm's hopes rest on the shoulders of two players: David Bell and George Karlaftis. They're two legitimate studs who should have fruitful Big Ten careers. Bell's a reigning first-team All-Big Ten wide receiver and Karlaftis will be in All-American contention as a defensive end. They can strike fear in the Buckeyes.
The problem? Outside of them, this Purdue team is nothing more than ordinary, and their quarterback situation is one of the conference's worst.
Because of what happened the last time Ohio State met the Boilermakers, fans' guards are up, understandably so. But this home game shouldn't be nearly the same threat for the Buckeyes.
Rutgers (Oct. 2)
Keep chopping, baby. 
Greg Schiano's on the right track. The Scarlet Knights made progress in Year 1. His 2022 class of commits is remarkable compared to how Rutgers has historically recruited. 
But…
A competitive Ohio State-Rutgers game isn't happening. Not this year, at least. The roster's still too thin.
Michigan State (Nov. 20)
If you haven't been following the insanity known as Mel Tucker's transfer portal dalliances, get yourself up to speed with this tracker from The Only Colors. Michigan State has already seen 27 (TWENTY-SEVEN) players enter the portal this offseason, and it has brought in 18 so far.
It's May. Good luck projecting what the depth chart will look like by the time this late-season matchup arrives.
One thing's certain: This is a rebuilding year for the Spartans, and it shows every sign of being rough.
Tulsa (Sept. 18)
If the Tulsa game was in 2020 instead of 2021, it would've been fascinating. Ohio State would've had to deal with Zaven Collins, and as Khalil Mack taught last decade, facing a first-round NFL talent on a Group of Five team isn't always fun. 
Alas, it's set to kick off in four months. 
The Golden Hurricane – sweet name, by the way – should be a quality American Athletic Conference team once more. They bring a pair of first-team all-conference linemen, feature a 1,000-yard tailback and a 1,000-yard receiver, among other things.
Tulsa's talented for its level. But it'll be at a talent deficit come Week 3.
Tier 5
Akron (Sept. 25)
If you like backups, buddy do I have the game for you.
Make sure to say good luck to Ty Hamilton, Tyleik Williams, Steele Chambers, Denzel Burke, Elijah Gardiner, Cormontae Hamilton, Grant Toutant, Sam Hart, Jaylen Johnson and the rest of the reserves. They'll be seeing the field a lot in Week 4.