Since I started here at Eleven Warriors three Julys ago, I've released my unofficial preseason All-Big Ten team during the week of Big Ten Media Days each year.
Unfortunately, this week, there was no Big Ten Media Days – at least for now – as the event that was originally scheduled to take place this week was postponed indefinitely due to the coronavirus pandemic and the uncertainty surrounding the 2020 college football season.
If the Big Ten is able to proceed forward with its planned conference-only football season this fall, there likely will be Big Ten Media Days at some point – presumably in a virtual setting – for coaches and players to talk about their preparation for the season. But since there's no official preseason All-Big Ten team anyway, and Ohio State and other teams around the country are at least coming one step closer to playing by beginning walkthrough practices on Friday, I decided it was time to go ahead and make my predictions now for who will be the conference's best players at each position if a season is played this fall.
As has been the case in previous years, my preseason All-Big Ten picks are intended to predict who will make these teams at the end of the season – or more simply, who the best players at each position will be – so while past performance and previous All-Big Ten recognition were weighed significantly in the selection process, neither was a prerequisite for making this team.
Over the past three years, I've batted just over .500 in correctly predicting first-team All-Big Ten performers; last year, 14 of my 25 preseason picks went on to be official postseason first-team All-Big Ten choices, while I picked 11 of 25 correctly in 2018 and 13 of 25 correctly in 2017.
In hopes that we'll be able to debate All-Big Ten selections four months from now, my best guesses for who this year's top performers could be – using the same positional designations that are included on the conference's official All-Big Ten teams – are below.
Quarterback: Justin Fields, Ohio State
Absolutely no deliberation was needed here. Fields was the clear-cut best quarterback in the Big Ten last season – in hindsight, it was foolish to pick against him a year ago – and now he has a year of experience under his belt. As long as Fields stays healthy and plays a full 2020 season, he'll likely run away with Big Ten Quarterback of the Year honors again; the real question is whether he can also win national awards like the Heisman Trophy.
Running Back: Journey Brown, Penn State
Running Back: Trey Sermon, Ohio State
Last year, it was easy to predict that Jonathan Taylor and J.K. Dobbins would be the Big Ten's top two running backs (though I gave more consideration to Maryland's Anthony McFarland than I should admit now). With Taylor and Dobbins both now in the NFL, though, the battle to be the Big Ten's top running back in 2020 will be much more wide open.
Brown, who led all returning Big Ten running backs in yards per carry (6.9) and rushing touchdowns (12) last season, deserved more recognition than he got last year and should be in line for a heavier workload this season (though he'll still have competition for carries from Noah Cain and Devyn Ford). Sermon has yet to play in a Big Ten game, but the graduate transfer from Oklahoma has an excellent skill set, and it shouldn't come as a surprise if he emerges as the conference's best running back in 2020.
Wide Receiver: Rashod Bateman, Minnesota
Wide Receiver: Rondale Moore, Purdue
It's hard to leave Chris Olave off this list, as the Ohio State wide receiver is legitimately one of the best wide receivers in the country. Garrett Wilson is also on the verge of becoming a star for the Buckeyes, so it wouldn't be a surprise to see him have an All-Big Ten sophomore season. But with only two wide receiver spots available on the All-Big Ten team, I couldn't pick against Bateman and Moore.
Bateman led all Big Ten wide receivers in yards per catch (20.3) and was second in receiving yards (1,219) and third in receiving touchdowns (11) last season, and he's in line for an even bigger role in Minnesota's offense this year now that fellow 2019 first-team All-Big Ten receiver Tyler Johnson is in the NFL.
Moore's 2019 season was cut short after just four games due to a knee injury, but he was one of the most electrifying playmakers in all of college football in 2018 – earning Big Ten Receiver of the Year honors as a true freshman – and should re-emerge as one of the nation's biggest stars if he's healthy.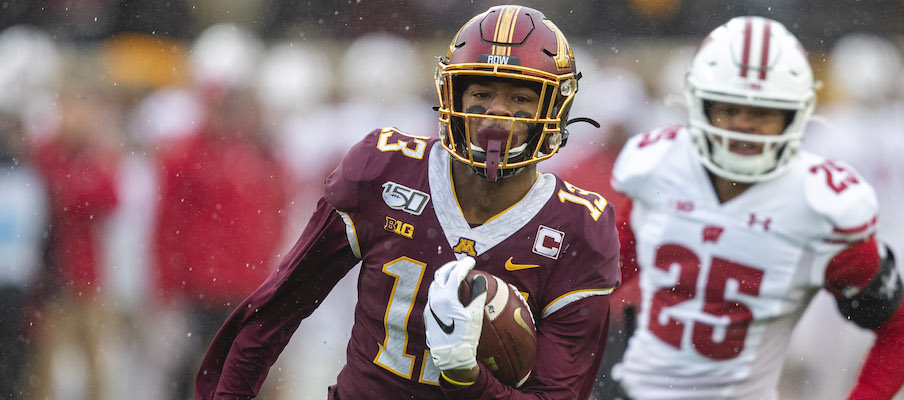 Tight End: Pat Freiermuth, Penn State
A complete tight end who is both a weapon as a receiver and an excellent blocker, Freiermuth is arguably the best returning tight end in all of college football. He was edged out for first-team All-Big Ten honors by Purdue's Brycen Hopkins last season, but he enters 2020 as an All-American candidate after choosing to stay at Penn State for another year.
Offensive Tackle: Alaric Jackson, Iowa
Offensive Tackle: Cole Van Lanen, Wisconsin
This was a tough choice between the conference's top three left tackles, as I believe Ohio State's Thayer Munford is more than capable of playing at a first-team All-Big Ten level if he can avoid the injury bug that bit him repeatedly last season. But the slight nod goes to Jackson and Van Lanen, who are both expected to be the stars of their respective offensive lines – at two programs that are known for great offensive line play – following the departures of their first-team All-Big Ten teammates from last season, Tristan Wirfs and Tyler Biadasz. 
Offensive Guard: Wyatt Davis, Ohio State
Offensive Guard: Blaise Andries, Minnesota
Last year, picking Davis as a preseason All-Big Ten selection felt like a bold move; now, selecting him is merely a formality. So good in his first season as a starter that he made BTN's All-Decade team for the 2010s, Davis is widely considered to be the best returning guard in all of college football, and he's an easy choice to be the best guard in the Big Ten.
The second All-Big Ten guard for 2020 is a tougher one to project, but the logical choice is Andries, who is the only other returning guard to make an all-conference team last season after earning third-team All-Big Ten honors in 2019.
Center: Josh Myers, Ohio State
While Davis received the most attention on Ohio State's interior offensive line in 2019, Myers was arguably just as excellent in his first season as the Buckeyes' starting center. Expected to be a Rimington Trophy and All-American candidate in 2020, Myers is the frontrunner to be the next All-Big Ten center now that two-time reigning All-Big Ten center Biadasz is in the NFL.
Defensive Line: George Karlaftis, Purdue
Defensive Line: Kwity Paye, Michigan
Defensive Line: Aidan Hutchinson, Michigan
Defensive Line: Zach Harrison, Ohio State
Like at running back, the All-Big Ten defensive linemen are much tougher to project this year than they were last year, when Ohio State's Chase Young, Iowa's A.J. Epenesa, Penn State's Yetur Gross-Matos and Michigan State's Kenny Willekes were all predictable choices to be first-team selections.
No defensive lineman is a clear-cut choice this year, but the frontrunner for Big Ten Defensive Lineman of the Year is probably Karlaftis, who led all returning conference defensive linemen with 17 tackles for loss and 7.5 sacks last year, when he was just a true freshman. Paye, who was ranked No. 1 on Bruce Feldman's Freaks list released earlier this week, and Hutchinson, who led all returning Big Ten defensive linemen with 68 total tackles last year, project to be the conference's best defensive end tandem.
The safe choice for the fourth spot would be Penn State defensive end Shaka Toney, who earned second-team All-Big Ten honors last season. But I'm going out on a limb and giving the last spot to Harrison, who flashed the potential to be Ohio State's next superstar defensive end as a true freshman last season and might be the most talented defensive lineman in the entire conference.
Linebacker: Micah Parsons, Penn State
Linebacker: Antjuan Simmons, Michigan State
Linebacker: Paddy Fisher, Northwestern
Parsons, a tremendous athlete who can do just about everything for Penn State's defense, is my preseason choice for Big Ten Defensive Player of the Year and an easy pick to repeat as a first-team All-Big Ten linebacker.
Simmons, a one-time Ohio State commit, led all returning Big Ten linebackers with 15 tackles for loss last season and is expected to be the star and leader of the Spartans' defense this year.
I gave consideration to Ohio State's Pete Werner, who still deserves more credit than he gets, for the third spot, but ultimately couldn't pick against Fisher, who has already earned either first- or second-team All-Big Ten honors in each of the last three seasons.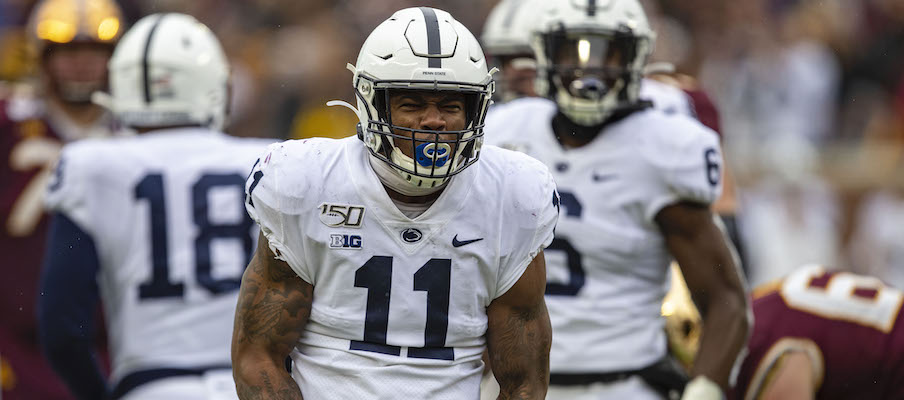 Defensive Back: Shaun Wade, Ohio State
Defensive Back: Ambry Thomas, Michigan
Defensive Back: Eric Burrell, Wisconsin
Defensive Back: Daxton Hill, Michigan
Wade, who probably deserved better than third-team All-Big Ten recognition last year, is the easy choice at defensive back. He's expected to be one of college football's best cornerbacks in 2020, and he stands out as the top returning DB in the conference.
Choosing the rest of the secondary was tougher, as I seriously considered seven different defensive backs to fill the other three spots, but I ultimately settled on Thomas, who many consider to be the second-best returning cornerback in the Big Ten; Burrell, who can line up all over the field and could be Wisconsin's top defender in 2020; and Hill, a five-star recruit from the class of 2019 who has the tools to be a breakout star safety for the Wolverines.
Penn State cornerback Tariq Castro-Fields and safety Lamont Wade, Indiana cornerback Tiawan Mullen and Michigan State safety Xavier Henderson also drew consideration at what I thought to be the toughest position group to project on the entire team.
Kicker: Blake Haubeil, Ohio State
Iowa's Keith Duncan set a Big Ten record last season by making 29 of his 34 field goal attempts, which earned him not only first-team All-Big Ten but first-team All-American honors last season, but I'm going against the grain here and picking Haubeil, who actually had a slightly better field goal percentage in 2019 (13-of-15) and has a stronger leg.
The biggest thing that could work against Haubeil is Ohio State probably won't settle for many field goals again this season, but he's one of the most talented kickers in the country and should be trusted to attempt more big kicks this year after making a 55-yard field goal at Northwestern last season.
Punter: Blake Hayes, Illinois
In Hayes, Ohio State's Drue Chrisman, Rutgers' Adam Korsak and Michigan's Will Hart, the Big Ten has an excellent quartet of experienced punters who are each strong all-conference candidates. But the nod here goes to Hayes, the reigning Big Ten Punter of the Year, who led the conference in punting average last season all the while attempting more punts than anyone else in the conference.
Return Specialist: Ihmir Smith-Marsette, Iowa
I'm going with the same exact logic for the final spot on the preseason All-Big Ten team as I did a year ago. While Moore could easily earn All-Big Ten honors at both receiver and returner, I'm picking Smith-Marsette – who led the conference in kickoff return yard average for the second year in a row last season, while also tying for the conference lead with two return touchdowns – in the interest of giving an additional player recognition.
Smith-Marsette was snubbed from last year's All-Big Ten selections, probably because he had only 17 total kickoff returns, but he was recognized as the Big Ten Return Specialist of the Year in 2018 and arguably should have been last year, too.