Welcome home, Terry.
Always great to have @TheTerry_25 home #GoBucks pic.twitter.com/s4Eto5kekk

— Ohio State Football (@OhioStateFB) June 27, 2022
Word of the Day: Inutile.
 BEST OF THE BEST. The Elite 11 quarterback camp has been inviting the nation's best quarterback prospects to compete against each other since 1999. And it turns out, the two best performers in the camp's history both went on to be Buckeyes.
2. C.J. Stroud

Stroud was one of the last QBs invited to the finals in 2019 but proceeded to catch fire with a record-setting pro day score that carried over to 7-on-7 play. He rose from a still relatively unknown recruit on the national level to earn Elite 11 MVP honors. His remarkable blend of arm velocity, accuracy and mobility had longtime Elite 11 coaches in awe. In his lone season as Ohio State's starter, Stroud threw for 4,435 yards and 44 touchdowns to just six interceptions, being named Big Ten Offensive Player of the Year and a Heisman finalist. He enters his second year already a Heisman favorite poised to have an even better season.

1. Justin Fields

Fields, who clocked a 4.5 40 at 220 pounds during the testing component, had as dominant of a showing in the opening 7-on-7 component of the Elite 11 as anyone on record. He didn't throw a single interception, zipping the ball into tight spaces while leading his team to the title and besting favorite and consensus No. 1 overall prospect Trevor Lawrence for MVP honors. After transferring from Georgia, Fields went on to lead Ohio State to a 20-2 record with back-to-back Big Ten championships and College Football Playoff appearances. Fields was selected by the Chicago Bears with the 11th pick in the 2021 NFL draft and is about to begin his second season, looking to turn around the Bears franchise.
I'd say their careers turned out well!
In all seriousness, the hit rate of top performers at this camp is kinda crazy. Of the 20 names listed in the article, a good 70 percent went on to have very solid college football careers and the top seven are legit stars. So while I've always been of the opinion that camps like this don't really predict success, maybe we should pay a little more attention to this one.
Unfortunately, Ohio State's going to have to wait a bit to add any names to this list since Dylan Raiola won't be eligible to compete in the Elite 11 Finals until next year (unless, of course, a particular Baylor pledge wants to reconsider his commitment).
 ALUMNI SOFTBALL. If you've ever dreamed of watching Andy Katzenmoyer pimp home runs in a charity softball game, I bring you good news: this year's Cardale Jones Charity Softball Game is officially set, and $20 can get you in the gates.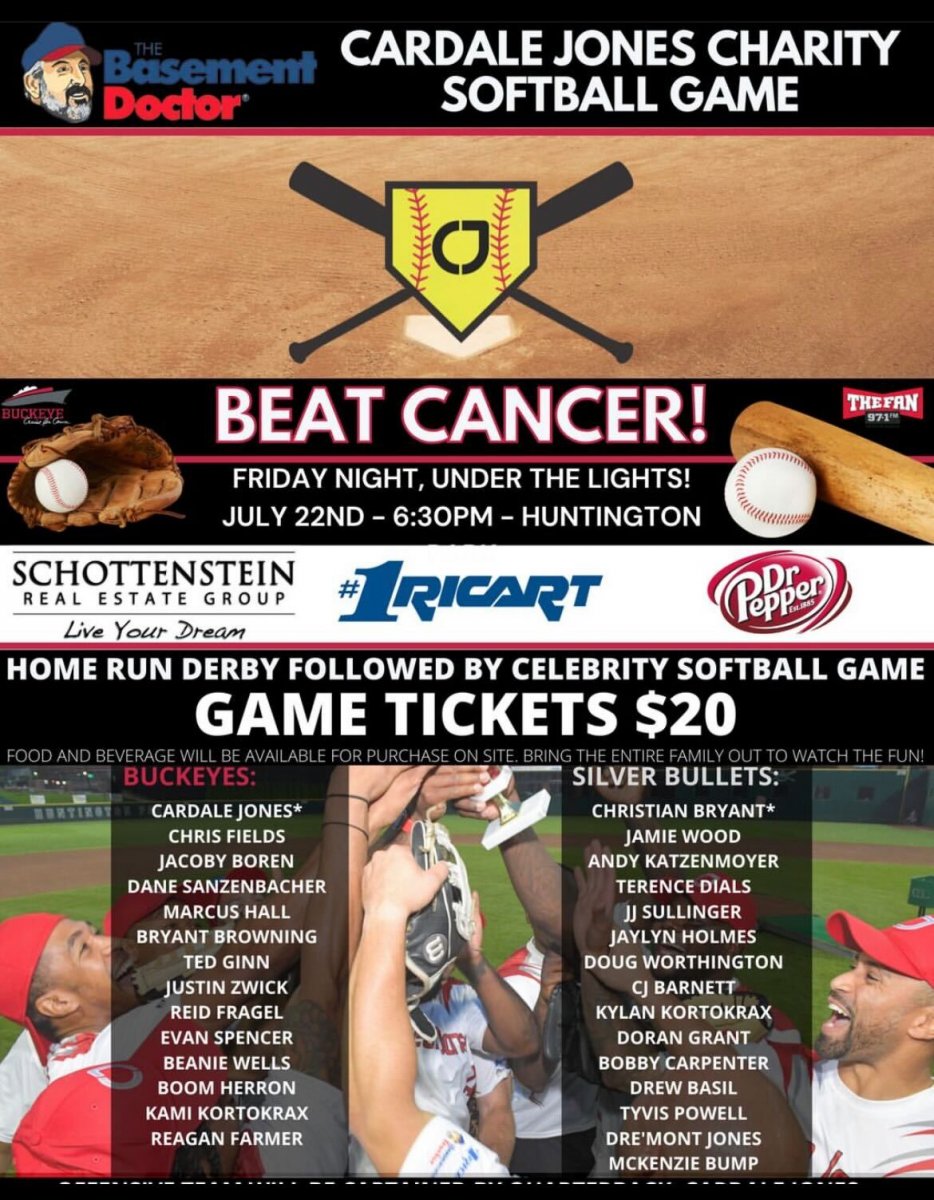 As a noted charity softball game bookmaker, I'm setting the line at Silver Bullets -140, Buckeyes +130, and I am willing to house any and all wagers (my lawyers have advised me to inform you all that I am kidding).
 ALL ABOARD THE BANDWAGON. I've hinted at this a few times now, but I want to make this prediction crystal clear so I can brag about it endlessly when I'm inevitably correct (or conveniently never mention it if I'm wrong): Brice Sensabaugh is going to end up as one of the best players Chris Holtmann ever recruits or coaches.
Chris Holtmann really gave me all the information I needed for this #take when he called him "Duane Washington, but 6-foot-6," but then I saw this video of him just cutting dudes down at the Kingdom League and holy shit I am in.
Kingdom League debut for Ohio State freshman Brice Sensabaugh @KingdomSLeague @bricepsensa pic.twitter.com/sljD0iNBCS

— Jake Spegal (@JakeSpegal270) June 27, 2022
I'm not going to go all out and predict him as a one-and-done or anything (mostly because uh... please don't do us like that, Brice!), but guys that big just don't usually move that well, with or without the ball. He's every bit of 6-foot-6, 240 pounds, but he moves and shoots like a guard.
Dude is a sentient bucket, and I'm absolutely here for it.
 WEIRD FLEX. It looks like we got ourselves a little bicep controversy brewing in the Woody, and as your official tour guide through the offseason, it is my patriotic duty to post about it online.
In this corner, we've got Mark Pantoni claiming his swoleness is swoler than Emeka Egbuka's.
Fun fact of the day -

My biceps measured bigger than @emeka_egbuka

@NikoPalazeti

— Mark Pantoni (@markpantoni) June 27, 2022
But Mr. Egbuka was having none of that claim.
Fake news https://t.co/bJxwMhOXGT

— Emeka Egbuka (@emeka_egbuka) June 27, 2022
And it seems like he ain't the only one making accusations of bad measurements...
I swear coach always takes off some inches on the measuring tape

— Ben Christman (@BenChristman_) June 27, 2022
It sounds like we might need a good, old-fashioned flex-off to settle things once and for all.
However this turns out, though, I think Emeka's next move should be to immediately shift the competition to 40 times.
 SONG OF THE DAY. "I Wanna Get Better" by Bleachers.
 NOT STICKING TO SPORTS. Amtrak spent 11 years and $450 million to save riders 100 seconds... Crypto is crashing but the tech behind it could save luxury brands billions... A mystery rocket crashes into the Moon and leaves a baffling 'double crater'... The great video game heist... The erotics of infographics...