In case y'all missed it, I had a little text message run-in with "Brian Hartline" yesterday.
Cant make this stuff up.

Trying to raise $$ for NIL https://t.co/fK3IOixktr

— Brian Hartline (@brianhartline) January 24, 2022
If I get a text from Tony Alford today seeking Amazon Gift cards, I'll be sure to publish the sequel.
Word of the Day: Ignominious.
 50 YEARS AGO... I must admit, while I was aware of the infamous brawl that broke out during the Ohio State vs. Minnesota hoops game 50 years ago today, I had no idea just how serious it was, and what sort of long-term impacts it had on the Buckeye basketball program.
I was also unaware that it was far less a brawl and far more a mugging.
"I remember it in detail. It was the scariest moment I've ever experienced in my life," former OSU guard Gary Repella said of the mayhem inside Williams Arena, where a revved-up crowd of 17,775 were joined by another 10,000 in the adjacent hockey arena watching on closed circuit. 

It began with 36 seconds left in a game the Buckeyes led 50-44, when Witte was fouled flagrantly by Minnesota's Clyde Turner while attempting a layup. Sitting on the court, Witte reached for the hand of Gophers' 6-foot-9 center Corky Taylor, who offered to help the Ohio State 7-footer to his feet. But as Witte rose Taylor kneed him in the groin, dropping the OSU big man back to the floor. Then all hell broke loose.  After a few minutes of terror, officials and coaches agreed to call the game early, but the damage was done.

"Their fans were on the court fighting with us. Coming up behind us. Tackling us. Punching us. I remember six or seven Minnesota players running around the court fighting with people. I was terrified," said Repella, who was lucky to escape injury."

Wagar was not so fortunate. Attacked from behind by Gophers center Dave Winfield, now better known as a baseball hall of famer, the OSU junior sustained a concussion during the chaos that eventually saw him, Witte and OSU forward Mark Minor taken to the hospital by ambulance. Minor was treated for cuts and abrasions and released, but Wagar and Witte spent the night in the intensive care unit. Witte required 29 stitches in his face and suffered a scratched cornea after getting stomped in the head by Minnesota center Ron Behagen, who had fouled out with 13 minutes remaining.

...

"Brewer grabbed me from behind and threw me," Testerman said. "I went up into the stands and fans started hitting me and holding me down. One guy kept jacking me in the jaw and a girl was hitting me with a purse. Fortunately, there was a security guard who pulled me out."

...

The brawl affected (Ohio State head coach Fred) Taylor emotionally as much as it impacted his players physically. His record in 13 ½ seasons up to the Minnesota game was 246-95 (.721); after that he went 49-63 (.438) before retiring at age 52 following the 1975-76 season.
Fittingly, Ohio State plays Minnesota in Williams Arena on Thursday, just two days after the 50th anniversary of the events.
I'm not sure this is the sort of thing you commemorate, hold a moment of silence for or address in any official capacity if you're Minnesota, but something tells me the weight of the event will be hanging over the game no matter what.
 B1G BEST. I bring you good news this morning: Tyleik Williams was the best pass-rushing interior lineman in the Big Ten this past season.
Tyleik Williams: Highest pass rush win rate among Big Ten interior DLs (22.1%) pic.twitter.com/XteU8CDNjQ

— PFF Draft (@PFF_College) January 24, 2022
I also have even better news: he was also a true freshman. So the conference (and college football at large) is going to have to deal with him for at least two more seasons.
Best of luck!
 LET IT FLY. When Duane Washington Jr. is feeling it, he's the "boomshakalaka he's on fire!" sound incarnate.
And he was definitely feeling it on Tuesday, setting a new franchise rookie record for threes in a game. 
Duane Washington Jr. set a new franchise rookie record with 7 3-pointers tonight. @dwizthekid4 | #GoldBlooded pic.twitter.com/l0eqkG48IK

— Indiana Pacers (@Pacers) January 25, 2022
The upset of the year is that this record was NOT previously held by Reggie Miller; it was held by Chuck Person and Chris Duarte, who each had a game with six threes.
In any case, Duane went ahead and wrote his name in the franchise's history book less than a month after his first career start. Not bad!
 WHEN YOU GOT TO GO... The Niners practiced at a local Wisconsin high school on Friday night to help prepare for the cold conditions in Green Bay.
It seems to have worked – the Niners won 13-10 on a last-second field goal. But apparently, it all came at the sacrifice of something very important – a bathroom.
But based on a photo acquired by TMZ, Nick Bosa made do just fine anyway.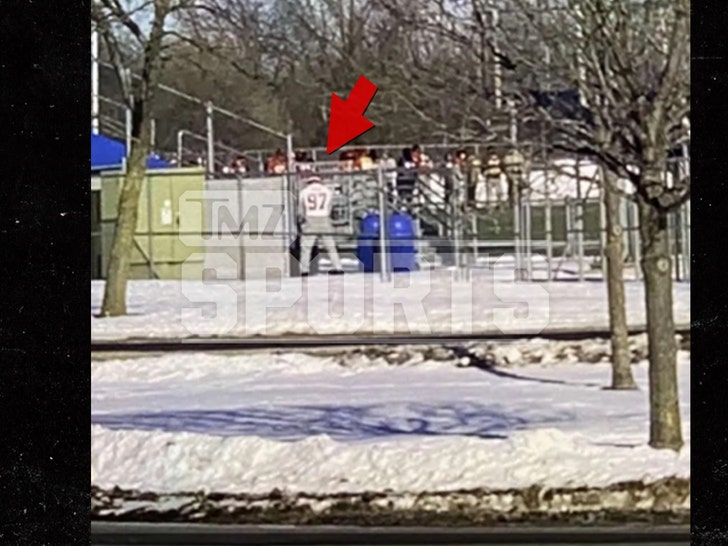 Stay frosty, Nick. Buckeyes have a historically bad relationship with peeing outside.
 SONG OF THE DAY. "Come and Get Your Love" by Redbone.
 NOT STICKING TO SPORTS. A grandma teams up with police to bust a scammer targeting the elderly... The restaurant that only hires recovering drug users... An English island seeks a landlord-king who likes solitude, seals and beer... How a rare brain mutation spread across America... The future of psychedelic medicine will be drugs you've never heard of... The growing obsession with those who game the system... The gold rush returns to California...