When you're 6-foot-8, 350 pounds, you generally get what you want more often than not. Especially the aux cord.
Jaxon Smith-Njigba on who's in charge of the music in the Buckeye locker room:

"Dawand Jones usually has it in control in the locker room just because he loves music. He's very passionate about it. And he's 6-8, 350. So no one's really going to say anything."

— Griffin Strom (@GriffinStrom3) December 29, 2021
I am openly petitioning for Ryan Day to take this mentality with the red zone offense on Saturday. After watching watching Minnesota's Daniel Faalele score a touchdown earlier in the week, I realized I've never needed anything more than I've needed a Dawand Jones touchdown.
Minnesota brought in the big man to score

Daniel Faalele is 6'9 380 lbs! pic.twitter.com/hQsye0FAS4

— ESPN (@espn) December 29, 2021
Can you imagine the touchdown dance?
Word of the Day: Caterwaul.
 ROSY RUNDOWN. The game is obviously the main course this weekend, but if you're in town, TBDBITL will be in action multiple times to keep you entertained.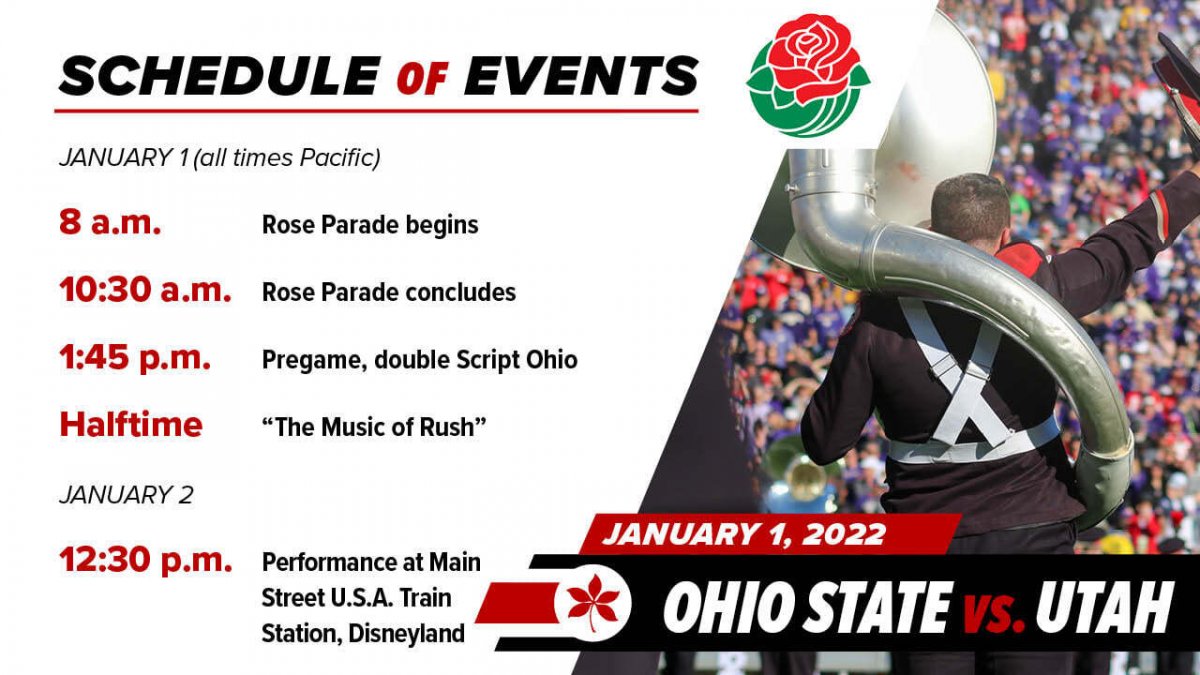 I assume most out-of-towners will be departing shortly after the game, but I'll tell you what, Disneyland with The Ohio State University Marching Band would be one hell of a way to celebrate a Rose Bowl victory and kick off the New Year.
 FROM THE TOP ROPE. C.J. Stroud isn't exactly one to hold back his true and honest thoughts. And bless him for that because sometimes it gives us some glorious unfiltered smoke like this:
Ohio State QB CJ Stroud on SoCal kids going out of state: "You go to USC & UCLA games, and quite honestly, it's just kind of boring. Without all the people. They kind of just are there on vacation. You go to the other schools out of state & their fans are kind of like fanatics."

— Joe Reedy (@joereedy) December 29, 2021
What makes Strouds comments so hilarious is that they aren't even the least bit controversial!
Welcome to #USC Homecoming 2021 with less than 15-minutes till kickoff.

Today will be one of those games when you can hear individual shouts from the crowd. pic.twitter.com/onG4WUwOXg

— Marc Kulkin (@MarcKulkin) October 30, 2021
Ohio State has its own attendance woes, but they're much more in the galaxy of "we can't consistently get 100,000 people to come watch our team annihilate Akron." USC's average attendance is much more comparable to the average Ohio State non-contact scrimmage.
 TWO-WAY TRE? Ohio State already took one running back and turned him into one of the team's top linebackers and they're looking to do it again with Arizona State transfer DeaMonte Trayanum.
If they need a third, TreVeyon Henderson wants you to know he's ready and willing.
Ohio State running back TreVeyon Henderson said he would make a good defensive player.

If they put me on defense, I can make some plays. pic.twitter.com/eU68FB8IjD

— The Lantern (@TheLantern) December 29, 2021
Honestly, I say go for it. Give him some garbage time reps at linebacker. Lord knows Ohio State players need to do everything they can to boost their Heisman odds if they're ever going to win that trophy again.
 LONG SNAPPERS, TOO! Long snappers funny, because if they truly do their job 100 percent correctly, there's really no reason for a casual fan to ever so much as learn their name.
In that case, it's good news that we went an entire season and I cannot recall hearing "Bradley Robinson" said even once during the broadcasts. Which means...
Rubio Long Snapping is proud to announce the class of 2021 College All-Americans!

Keep up the great work on and off the field Damon, Ross, Antonio and Bradley! pic.twitter.com/tKp0ozW94S

— Rubio Long Snapping (@TheChrisRubio) December 29, 2021
This is Ohio State, where we aim for first place in anything and everything. But given that I sincerely could not come anywhere close to correctly evaluating a single one of Robinson's snaps, I think I'm just gonna be happy with having the fourth-best long snapper in the country.
 SONG OF THE DAY. "Never Gonna Give You Up" by Rick Astley.
 NOT STICKING TO SPORTS. You can buy a conservative midwestern home with a full-on strip club in the basement... Inside the effort to exonerate the man who served 59 years behind bars for one of the most heinous crimes in history... Fortnite's servers went down, and millions of gamers (and their parents) didn't know what to do... A friendly family man's 50-year secret: he was fugitive, too... Rick Astley was really confused the first time he got 'Rickrolled'...