Mondays inherently suck, but I've got a silver lining for you – at least you don't have to take this car to work.
Would you drive it? pic.twitter.com/z7h35OzPuJ

— CFB Home (@CFBHome) July 26, 2020
My favorite part is the fellow in the replies bragging about how Michigan is No. 3 in the country in terms of television ratings, which is incredible for several reasons, primarily that it's completely on-brand to get cocky about third place.
Word of the Day: Threnody.
 URBAN MEYER WEIGHS IN. We already know that if there's a spring college football season, Shaun Wade ain't playing. And it sure sounds like that's the advice Urban Meyer would give any other player in a similar circumstance.
Urban Meyer doesn't have to face the problem that many of his coaching contemporaries could in the upcoming months. The former Ohio State head coach doesn't envy the situations they might be dealing with, especially if college football moves to the spring.

In that scenario, many talented players with potential pro futures would face a hard choice: stick with their teams or punt on the season to begin early prep for the 2021 NFL draft.

"It'd be hard for me not to advise them and tell them to play," Meyer told Yahoo Sports. "To play in spring and then go play in OTAs in the National Football League, that's not fair."

...

"If you have a chance after you fulfilled your commitment to a university to go and earn a living playing football," Meyer said, "I don't know if I'd advise a guy to play a spring season before going to the NFL draft."
I think the thing we never really address here is that nobody *wants* to have to sit out the season. It's not like these guys are sitting at home hoping that the season is moved to the spring so they don't have to play.
Wade came back to Ohio State because he's barely played a college snap at the position he's asking NFL teams to draft him to play. If he doesn't have at least some game film of him playing outside, his draft stock is not going to be what it should be, regardless of how many others choose to sit.
But hey, these are bridges we'll cross if we get to them. As of now, I'm still planning to spend my fall Saturdays watching Shaun Wade, Justin Fields, Wyatt Davis and company do cruel things to overmatched opponents for 60 minutes.
 KEEP 'EM HUMBLE. Urban Meyer may not have been the biggest Xs and Os guy, especially late in his career, but the dude was an absolute motivational master. I took his coaching football class in college, and the guy taught one 30-minute lecture and it had me thinking I was ready to be a corporate CEO.
He knew how to get the best out of his players – on the field and off the field – even if that meant putting his star running back's ass on the bench.
"The best way to keep people humble is competition." - Urban Meyer pic.twitter.com/5bULiBj8i8

— James Light (@JamesALight) July 26, 2020
After some brief digging, I've determined that the game was Ohio State's 55-14 win over Illinois in 2014, which I vividly remember was a night game with alternate uniforms, for some reason. I guess you gotta go pull out all the stops for the Illibuck.
Props to Samuel for the breakout performance, but for those of you with short memories, that was far from the most incredible thing that happened that game.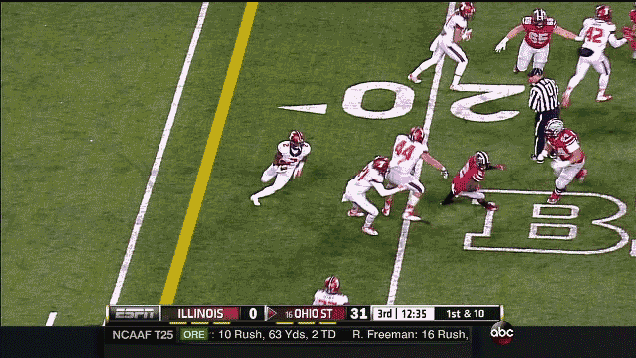 The best part was, it wasn't even a fumble – the runner was ruled down. So this poor fellow lives in gifstory forever after getting hit-sticked by a 250-pound quarterback, and he didn't even get the turnover as a consolation prize.
 TWITTER FINGERS. Ohio State is a combined 15-1 against Michigan and Penn State over the past eight years, but that isn't stopped each of their respective quarterbacks from sending some big Tweets.
Amen brotha

— J.J. McCarthy (@jjmccarthy09) July 24, 2020
I guess nothing unites conference rivals like losing to another conference rival. Maybe if they combined rosters they'd beat Ohio State more than once every 15 tries!
 PAST VS. FUTURE. Ezekiel Elliott may very well be the best running back to ever suit up for the Buckeyes, but TreVeyon Henderson ain't just going to let him keep that title without a fight.
And it looks like he's coming for the throne before he even gets to campus.
Me!!

— TreVeyon Henderson (@TreVeyonH4) July 25, 2020
Henderson might get Zeke in 100 meters, but I'm not sure there's anyone in the world who's catching him in an 85-yard sprint.
 RIP REGIS. We lost a proper legend this weekend.
Regis Philbin never failed to make me laugh, even in the midst of his favorite football team getting clowned by my favorite football team.
Rest easy, Regis. I hope you get to watch your Irish play on loop forever – with much more favorable results than that one.
 SONG OF THE DAY. "The Men That Drive Me Places" by Ben Rector.
 NOT STICKING TO SPORTS. One boat, one chase, $75 million in cocaine... A man is fined for pretending to be a ghost in a cemetery... The CDC suggests gloryholes for safer sex during COVID-19... The elderly couple who models other people's forgotten laundry... The master that everybody saw and nobody cared to talk about...