I'm sick.
I've been able to make peace with most Buckeye losses sooner than later, but this one... This one's gonna haunt me like a standard white ghost for the rest of my days on this floating rock.
Don't get me wrong, there have been some soul-sucking losses in my Buckeye lifetime, but there's always been a reason why – a coordinator needs firing, one side of the ball is inept, players are young and in over there heads, the deep ball is broken, or anything else like that. It's just always been fixable. There's always something to be angry about and fix by next season.
But this...
This was the best and most dominant Ohio State team I've ever seen. The roster was made up of the most talented recruiting class in program history in those players' third seasons. It featured the best football player in the country, the best corner in the country, the best running back in the country, one of the best quarterbacks in the country and arguably the best offensive line in the country. The coaching staff was one of the most complete Ohio State staffs ever. And you saw all of that on the field every single game.
There's nothing to fix, there's nothing to correct, there's nobody to fire, there's nobody to scapegoat. The more I think about this game and this season, the only thing I want to do is run it back with everything intact, exactly how it was.
Every fiber of my being earnestly believes that Ohio State wins that game 9 out of 10 times. We're just living in that 10 percent right now, and it required a special combination of some next-level bullshit to come to fruition.
Word of the Day: Deplore.
 WHAT IT TOOK. Since I watched a should-be touchdown pass sail safely into the arms of a Clemson defender, I've been asking myself how the hell Ohio State lost that game, and I've landed on nine fairly improbable things. 
Justin Fields' injury and apparent lack of mobility.
Two dropped touchdowns from J.K. Dobbins in the red zone.
The targeting penalty that extended Clemson's drive after the Buckeyes stopped them on third down.
Shade Wade's ejection, removing one of the most important players for the rest of the game.
J.K. Dobbins' injury that sidelined him for about a quarter of the game and limited him when he returned.
The absolutely absurd overturned fumble that was initially an Ohio State touchdown.
The roughing the punter penalty that gave Clemson a first down and led to a touchdown.
The punt that hit the Clemson returner but somehow bounced right back to him.
The miscommunication between Justin Fields and Chris Olave on the interception.
If any single one of the unlikely, unlucky and totally unforeseeable events on that list either doesn't happen or goes in Ohio State's favor instead, the Buckeyes win the game. If half of them go Ohio State's way, the game's a blowout.
I now know how Thanos felt.
 THE TURNING POINT. Ohio State was rolling Clemson like a cheap rug through two quarters and it looked like it was only getting worse when Shaun Wade crunched Trevor Lawrence in the backfield on third down – then came the targeting call that changed the entire game.
I'm sure your eyes could tell you that Clemson was a completely different team before and after that ejection, but the numbers make it damn near vomit-inducing.
From @ESPNStatsInfo: Before the targeting call against #Buckeyes Shaun Wade, #Clemson had no points and averaged 4.3 yards per play. After the call, Clemson had 29 points and averaged 8.4 yards per play.

— Adam Rittenberg (@ESPNRittenberg) December 29, 2019
To be clear, I think targeting was the right call, because Wade did lead with the crown of his helmet, which is against the rules regardless of where he hits the quarterback. I even said as much during the game.
But if that's just a simple sack, Ohio State has a chance to go up 23-0 and keep its most versatile defender on the field for the rest of the game. There's no coming back from that if you're Clemson, and that's going to haunt me forever.
 WIN EXPECTANCY. If you aren't sick to your stomach yet, this will probably do it. Ohio State's postgame win expectancy was 59 percent. If you're a little fuzzy on what that even means, here's an explainer: 
Presented in the team stat profiles, this makes the following statement: "Based on the key stats from this game — success rate, big plays, field position components, turnovers, etc. — you could have expected to win it X percent of the time." Luck and randomness play a major role in the game of football, and this is an attempt to look at just how random a given outcome may have been
So basically, even after all of that extremely improbable bullshit happened, Ohio State still had a 59 percent chance to win the game given the stats. And that's probably because the Buckeyes controlled most of the game.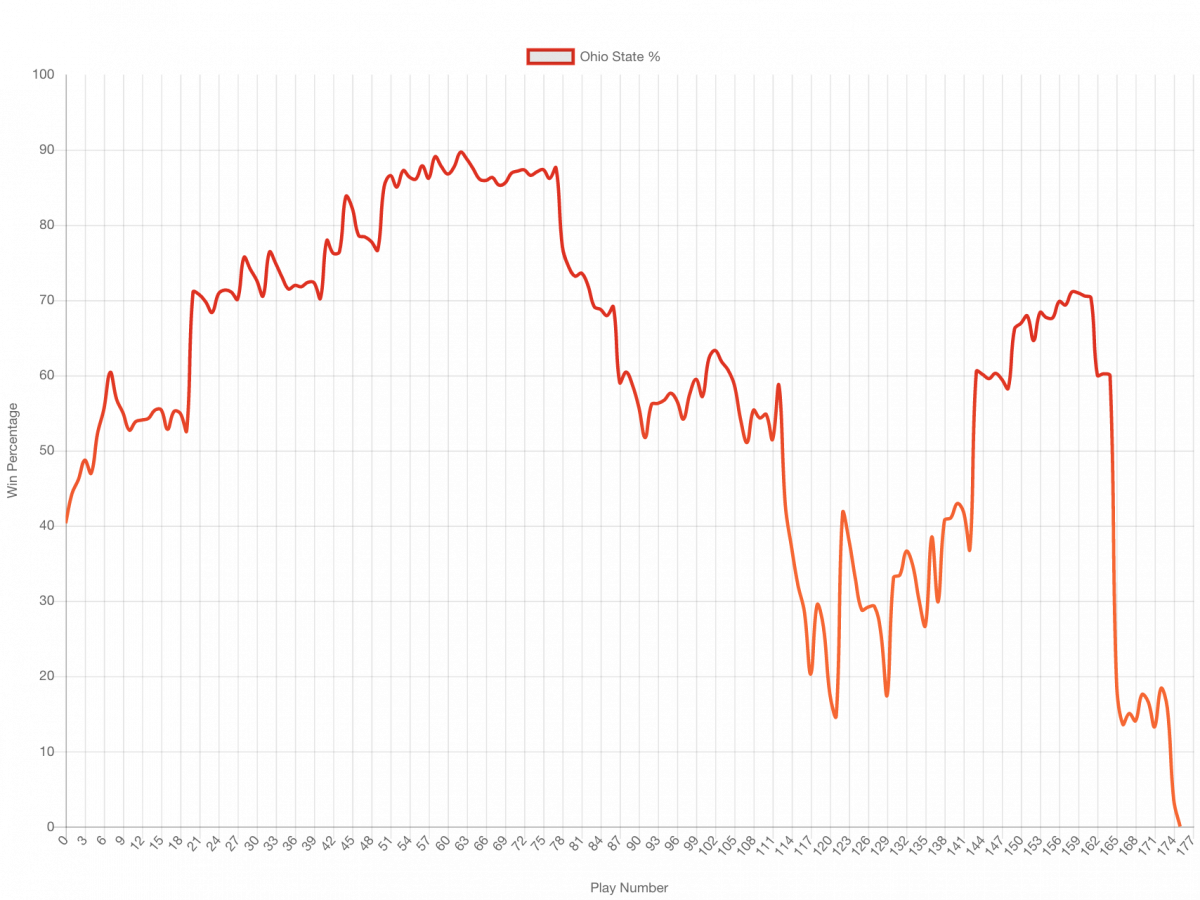 There was no part of me that ever thought Ohio State was going to lose that game all the way up until that final play, which was an interception on what was probably going to be a perfectly thrown ball to an open receiver in the end zone.
Good lord, this is never going to get better, is it?
 GIVE ME A DAMN BREAK. Now, lost in all of this is that Clemson is an extremely talented team that never quite and played one hell of a game. I cannot emphasize enough that Dabo Swinney makes it absolutely impossible to be happy for that team or anybody associated with it.
The song Respect by Aretha Franklin blared through the Clemson locker room.

— Pete Thamel (@PeteThamel) December 29, 2019
Yes, show some respect to the three-point favorite that needed a laundry list of extremely improbable things to go right to squeak out a victory in the final seconds of the game.
Joe Burrow, you know what to do.
 "PLEASURE CATCHING YOUR BALLS." There are a lot of Buckeye players who suited up for the final time on Saturday night, but there's one who touched the ball every single game whose years of success ironically ensured that the average Ohio State fan never learned his name.
What a ride its been with my guy... Not how we imagined it ending but grateful for our time together. Been a pleasure catching your balls and enjoy the next level brother #Mannelly pic.twitter.com/RODSBYlFe4

— Drue Chrisman (@DChrisman91) December 30, 2019
Shoutout to long snapper Liam McCullough, the most consistent player on the team for years. I grudgingly concede he won't be a first-round pick, but I'll be furious if he doesn't wind up on an NFL roster one way or another.
 NOT STICKING TO SPORTS. A ghost ship containing human remains washes ashore in Japan... Uruguay seizes six tons of cocaine worth over $1 billion... The story of a dying prisoner granted compassionate release... Inside the simulated CIA "town" where young spies learn how to flip cars, gun down terrorists and survive torture... "It only took one pill": How addiction starts... Disney characters say tourists inappropriately touched them... MI6's floor plans were lost by a building contractor.