One more sleep until we feel that confetti fly. I hope your Friday brings you daydreams of big rings.
Word of the Day: Inamorata.
 SHAUN WADE TO THE DRAFT? With J.K. Dobbins, Chase Young and Jeff Okudah almost surely heading pro after the season, Shaun Wade is basically the only underclassman with a decision to make, and it looks like he's leaning towards the money.
Tony Pauline of Pro Football Network has reason the believe that Wade will take his talents to the next level following the season.
I was told you can expect Clemson LB Isaiah Simmons, Alabama OT Alex Leatherwood, and Ohio State DB Shaun Wade to enter the 2020 NFL Draft.

Simmons is a top-15 talent on my board. Leatherwood is a bottom-half of round one guy. I presently grade Wade as a third-round prospect, though I could see him moving into the second round.
I'm nowhere near shocked that he'd leave, and frankly think he's more than ready for The League after watching him this season, but I would be shocked if he actually got a third-round grade or if he actually left with a third-round grade.
Because to my expert blogger eye, that's a clear-cut first-round talent.
 HOME AWAY FROM HOME. I think every sane and reasonable person on the planet expects a Buckeye-heavy crowd in Indianapolis this weekend, but the actual projections are looking beyond absurd.
Vivid Seats is currently predicting a 93 percent to 7 percent split between Ohio state fans and Wisconsin fans. That's like, "this is just a home game, but inside" good.
A fan forecast from @VividSeats projects the crowd split at the Big Ten championship game to be about 93/7 in favor of Ohio State. Might as well play it in Columbus.

— Joey Kaufman (@joeyrkaufman) December 5, 2019
I wanted to doubt that number, because it just feels too lopsided to be real, but then I put myself in the shoes of a Wisconsin fan and realized there's not a shot in hell I'd even think about making the trip. Shit, I would have serious pause about going even if the tickets were free.
Maybe they should just be glad it's not worse.
Crazy that Ohio State will have a friendlier crowd for a neutral site conference championship game than Michigan's had against the Buckeyes at any point in my memory.
 TWO HUNGRY TEAMS. It's early, but the Buckeye football and men's basketball teams have taken very similar paths so far this year: absolutely annihilating everyone in their way, ranked or unranked.
The basketball team is beating teams – ranked or not – by an absurd average of 25 points per game while the football team is beating teams by an average of 38 points and ranked teams by an average of 28 points.
And as Andy Anders of The Lantern points out, the motivation is quite similar – both teams are playing like they've got something to prove.
"We don't want to be that team that just slips up one week and ends up costing us our whole season," sophomore tight end Jeremy Ruckert said following the football team's victory against Maryland Nov. 9. "We really have that in the back of our minds every week. It's like March Madness."

Meanwhile, in the same six-year timeframe, Ohio State men's basketball had spent just one week ranked inside the AP top 10 entering the 2019-20 season.

...

With two top 10 wins by at least 25 points in eight games to open this season, Ohio State is out to prove that work is nearing success. No other team in college basketball history has beaten two top 10 teams by 25 points prior to conference tournament play.

"We're very hungry," freshman guard D.J. Carton said after a win against then-No. 10 Villanova Nov. 13. "We've been very hungry all season long, and I think we have things to prove. We've got a lot of things to learn, a lot of things to build upon, but I feel like we're playing pretty good basketball right now, and we're playing together as a unit."

Both teams now stare down the barrel of potential program-defining seasons. Football is three wins from a national title, while basketball's hot start gives it legitimate Final Four hype for the first time in seven years.
Meanwhile, the women's hoops team knocked off No. 2 Louisville last night, so top teams are getting dumped all over the place.
It's been one hell of a week year so far, but it won't mean jack unless it ends with some hardware.
 FINALS WEEK SANTA. Regardless of what your seasonal study music may tell you, finals week is the furthest thing from "the most wonderful time of the year." I've been there, I get it.
But thankfully, we've got local hero "Finals Week Santa" doing what he can to bring the Christmas spirit on campus.
He chatted with friends about what he ought to do with the nearly 12-foot pole of PVC pipe. By the end of the semester, Flaws had swapped the original "Saturdays are for the boys" with a message of academic support — "Kick a-- on your finals!" — and took it to campus on the last day of classes.

And Finals Santa was born.

Now a junior, (Will) Flaws was back serving up smiles and candy canes across campus Wednesday, a floppy red Santa hat atop his head, his grin barely peeking through the fake furry white beard on his face. He dressed jollily in a red blazer and Christmas tie, but he kept true to college-student comfort with a pair of holiday dinosaur pajama bottoms.

He waved with a gloved hand as students passed by.

"Candy cane?" he offered, gesturing to a big wagon full of hundreds of miniature Christmas candies and holding the giant sign against gusts of wind.

"I just try to do nice things," said Flaws, now 21.
It sounds like Finals Week Santa is now a proper campus legend right alongside the Oval Bag Pipe Guy and Help Is On The Way.
God bless campus and its delightful weirdness.
 FATALITY. It looks like the Buckeyes ain't quite done beating Michigan this week as Cam Brown put Michigan receiver Donavan Peoples-Jones in a bodybag online.
Brown posted a photo on Instagram featuring himself lining up against DPJ on Saturday, and Peoples-Jones took the opportunity to toss a jab at the Buckeye corner in the comments.
The conversation did not end well for him.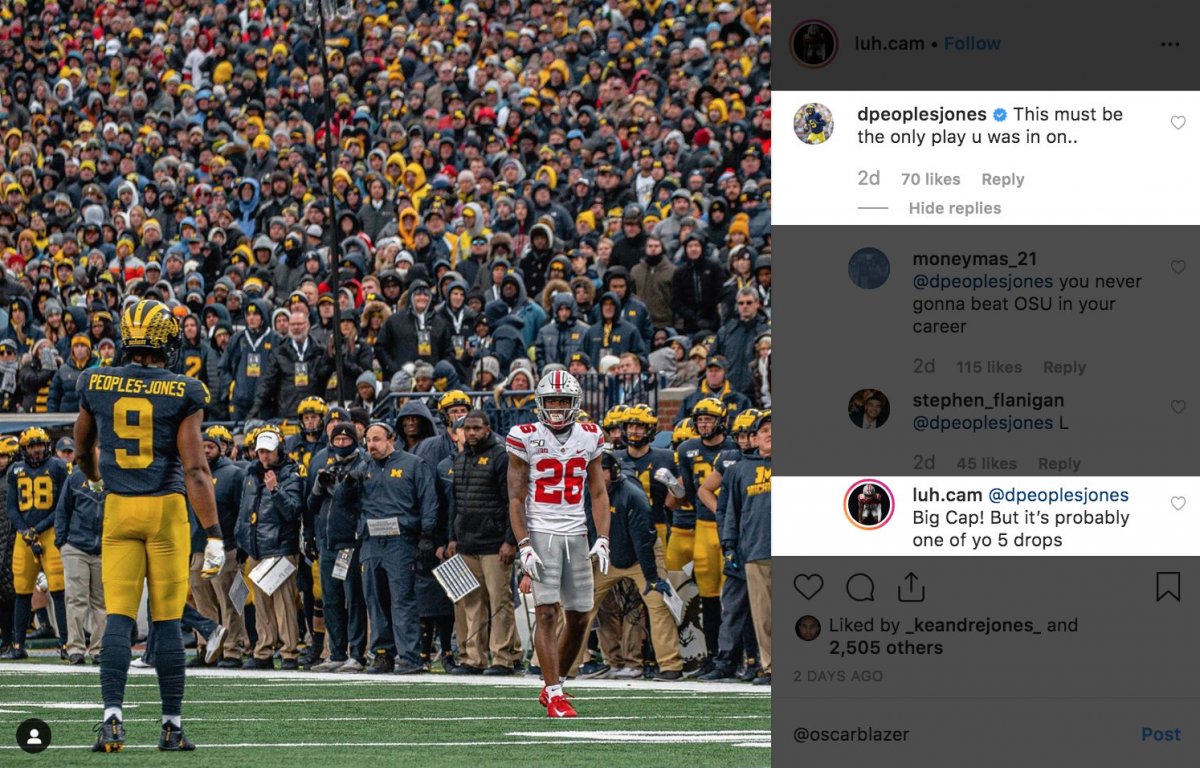 "It's probably one of yo 5 drops" doesn't have quite the same ring as "shit happens, bum juice," but I'll take it.
 NOT STICKING TO SPORTS. The rise of restaurants with no diners... A man is accused of using his Playstation to sell cocaine... In a bid against Apple, Pablo Escobar's brother launches a $350 foldable phone... Apple will release an iPhone without any ports in 2021... The case of the felonious bread.