Today, we're back to your regularly scheduled 4:59 Skull Sessions. All is well.
Word of the Day: Surfeit.
 BRINGING HONOR TO THE FAMILY. Beating Michigan ain't just an Ohio State football tradition, it's a family tradition. Families of Buckeye players enjoy the hell out of every win over that team, too.
And on Saturday, the Buckeyes tied their record for the longest winning streak in Ann Arbor at four games, matching the run in 1961, 1963, 1965 and 1967. Michigan hasn't won four straight in Columbus since the series began with Michigan going 10-0-1 and winning on the road in 1901, 1904, 1906 and 1908.

That means these family reunions on the road, when the Buckeyes emerge from enemy territory looking for familiar faces, are never about consolation, only jubilation. Never have these Ohio State families looked for their sons so they could offer a shoulder to cry on.

"It's amazing. We've been blessed," Montez Peterson, the stepfather of fifth-year senior receiver K.J. Hill, said shortly after sharing the excitement of Hill's third-quarter touchdown catch after the win. "I'm loving what's happening right now."

...

"We feel special," said Charles Harrison, soon after he'd finished celebrating the win with his son, senior linebacker Malik Harrison. The Harrison family grew up around this game in the Columbus suburbs. "Not that many kids went 4-0 against Michigan. We so feel blessed. It's like being in the Heisman House -- the Heisman House of beating Michigan."
I'd like to say I'll have that same pride in my son one day as he's standing victorious outside of the Big House, but the unfortunate truth is that he'll have half of my genes, which are built for blogging and not blocking.
The only way anyone from my bloodline is getting a pair of Gold Pants is if it's as a student manager. And that might even be too physically demanding.
 TOBACCO ROLLED. Remember yesterday morning when I politely reminded you all that Ohio State is outscoring opponents by an average of 25 points per game this year? Peep that score.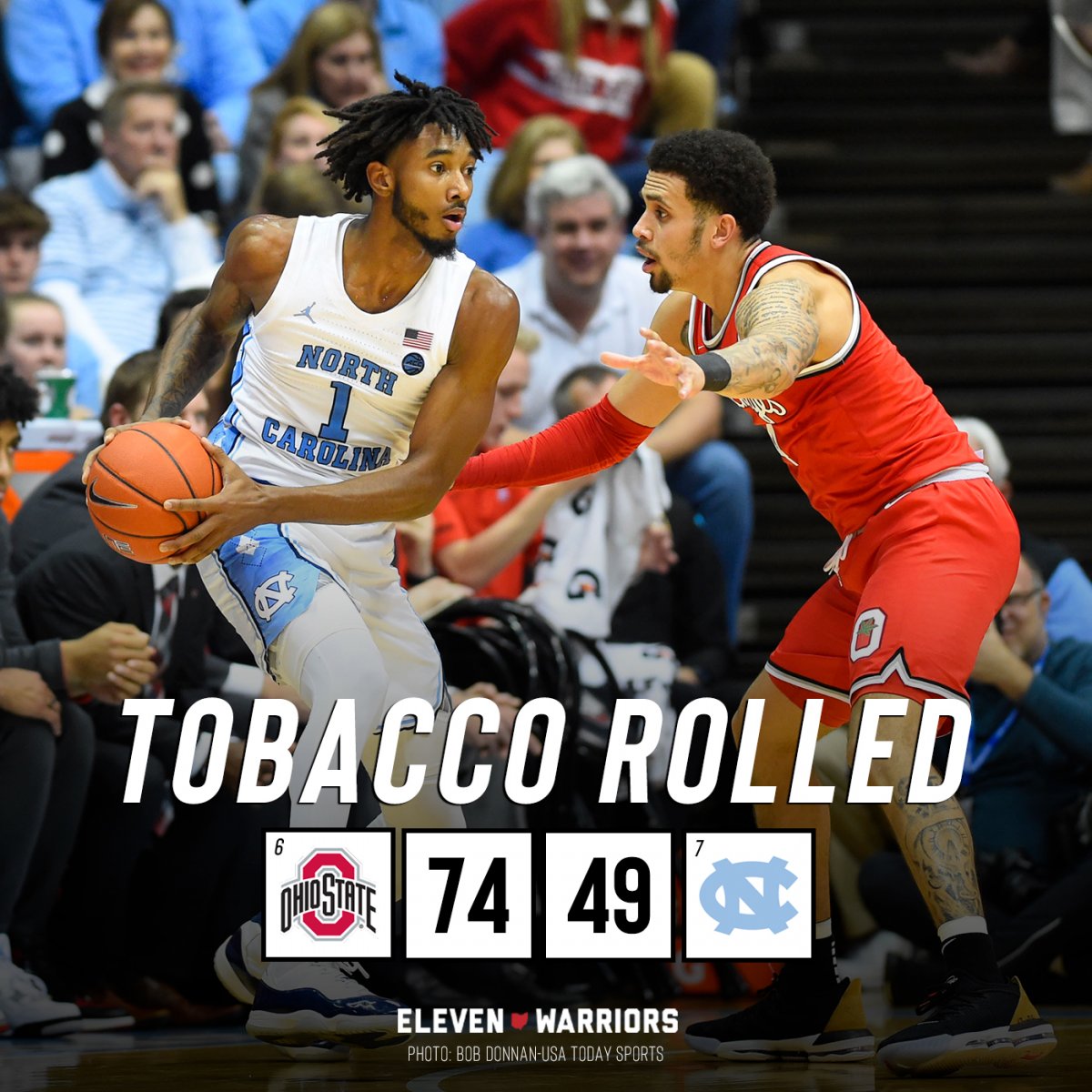 Reminder: Ohio State closed as four-point underdogs in this game, for some reason. Instead, they're heading home with a historically lopsided win that puts the Buckeyes in some damn good company.
No. 6 Ohio State beat No. 7 North Carolina 74-49...

The Buckeyes are the 4th team in AP poll history to beat two top-10 teams by at least 25 points in the same season. Each of the previous 3 teams went on to win the National Championship. pic.twitter.com/maIakcC0oh

— ESPN Stats & Info (@ESPNStatsInfo) December 5, 2019
Anyway, that was fun as hell, and it led to some absolutely absurd stats.
Some wild stats from Ohio State's blowout of UNC.

-Second-largest margin of victory by a UNC opponent in Dean Dome history
-The 23-point margin in the second half was the largest by an opponent in any half in the Dean Dome ever
-UNC's lowest FG percentage in the Dean Dome ever

— Colin Hass-Hill (@chasshill) December 5, 2019
Killer stat from @notthefakeSVP and @StanfordSteve82 tonight

Ohio State is just the 2nd school ever to win an AP Top-10 matchup in football and basketball over a 5-day span. pic.twitter.com/xxua6be3pF

— Eleven Warriors (@11W) December 5, 2019
And the Buckeyes are now the No. 2 in the KenPom ratings and No. 1 in Bart Torvik. Because why the hell not be the best at everything?
 THE NEXT PANCAKE MAN. Wyatt Davis is out here doing his best Orlando Pace impression – only, as a guard.
Evidence @OhioStateFB @wyattdavis53 is the best RG in America... pic.twitter.com/6dKe6PKXXq

— Cole Cubelic (@colecubelic) December 4, 2019
I don't know if it's the best in the country, but between Davis' regular bullying and Jonah Jackson's nine knockdowns, the Buckeyes have to have the most violent offensive line in the country.
 BLUE VS. BLUE. Welcome to Ohio, where every day is a day to beat Michigan, even for our police officers.
Popped a flat in Ohio this morning. While we were changing it, a police officer came to help.

This is the second one this morning, both from Michigan. We cant stop blowing you guys out, huh?

Amazing

— Zach Shaw (@_ZachShaw) December 4, 2019
I haven't the faintest idea of how law enforcement medals work, but I do know that this fellow needs one.
THE Ohio State Highway Patrol.
 THE BEEF I NEVER KNEW I NEEDED. It looks like Urban Meyer has found a new place to channel his rivalry energy – that other network.
Just interviewed Urban Meyer. At one point talked about this year doing tv, he says "I had fun - turns out folks wanna talk about football, they don't want to see jumpin' in lakes or goin on rollercoasters"
...
...I feel I may know what he was alluding to.
The man is competitive.

— Mike Hall (@BTNMikeHall) December 4, 2019
He has absolutely no idea how to turn off his competitiveness and it's nothing short of incredible. But also, Pat McAfee wasn't just going to take the heat without firing back...
I know it can be hard to remember things but it was a river not a lake.

My mom as soon as it happened said When you were in the air, I started having heart complications OUT OF NOWHERE

Shes been completely fine ever since.. happy for her.

Anyways, thanks 4 watching Coach. https://t.co/7yjDJAlGIP

— Pat McAfee (@PatMcAfeeShow) December 4, 2019
I had no idea I needed a rivalry between Pat McAfee and Urban Meyer, but it's here!
 NOT STICKING TO SPORTS. For 20 years, a Tennessee baby thief kidnapped more than 5,000 children from the streets, hospitals, and shantytowns of Memphis... Back-to-back flight booking is a brilliant travel idea, but it is possibly risky...  Good mental health isn't about being happy all the time... The life and death of Jim Devlin, baseball's original cheat... A driver is charged with DWI and accused of throwing urine-soaked socks at an officer.